Lemonade is one of the quintessential signs of summer. It's a cool and refreshing beverage that just about everyone loves. One of the signs that warmer weather is here, at least in my area, are the lemonade stands that start popping up.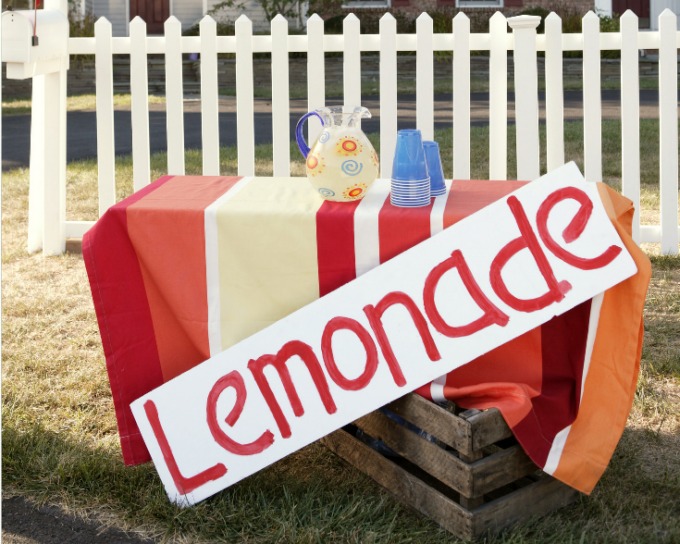 Teach the kids a lesson in commerce and earning money this year. Here's everything they'll need to have the most awesome lemonade stand in town.
Not looking for a new business venture? That's okay, too! These lemonade stand ideas make for a perfect themed party, too. And if you need some inspiration for what to serve, check out these amazing lemonade ideas.
Must Have Lemonade Stand Essentials
These items are all from Amazon. You know what that means – quick shipping, a discounted price, and they can be at your house in practically no time with Prime delivery. Links may be commissioned. We'll make a small percentage if you shop through them, at no additional cost to you.
Wooden Lemonade Stand – If you don't have a lemonade stand and aren't looking to DIY one, this is the perfect solution to have the best lemonade stand on the block! Yes, you could just use a folding table, but where's the fun in that??
Alex's Lemonade Stand Citrus Juicer – Make the job fun, instead of a labor of love, with this electric citrus juicer with the Alex's Lemonade Stand logo. Plus, you're supporting a great charity with this juicer.
Burlap Lemonade Banner – Add a lot of flair with this adorable burlap banner that will advertise for you! It'll help lure customers in, too.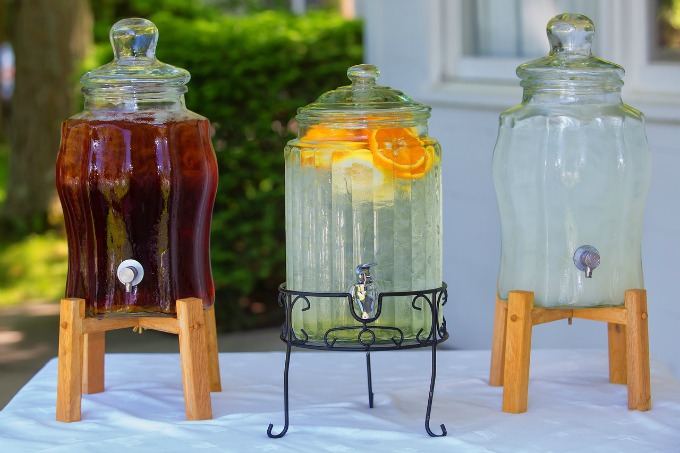 Yellow Polka Dot Table Cloth – How bright and cheery is this? It's easy to keep your work area easy to clean and super colorful with this yellow polka dot table cloth. Wiping up is a breeze and you can reuse this for future lemonade stand business days!
Double Drink Dispensing Station – After squeezing lots of lemons, you'll be ready for business with your lemonade stand. Have your sweet juice ready to dispense in style with this double drink dispenser. This would be perfect for adding variety to your offerings; limeade or strawberry lemonade anyone?
Paper Lemonade Cups – This big pack of paper cups is perfect for any lemonade stand. The paper options like these are also better for the environment. That;s a win-win situation!
Lemonade Stand Decorating Kit – Maybe you're not quite ready for the big stand yet. It's okay, we all have to start somewhere. Make your lemonade stand a one of a kind operation with this decorating kit. Add your own unique touches to draw the customers in.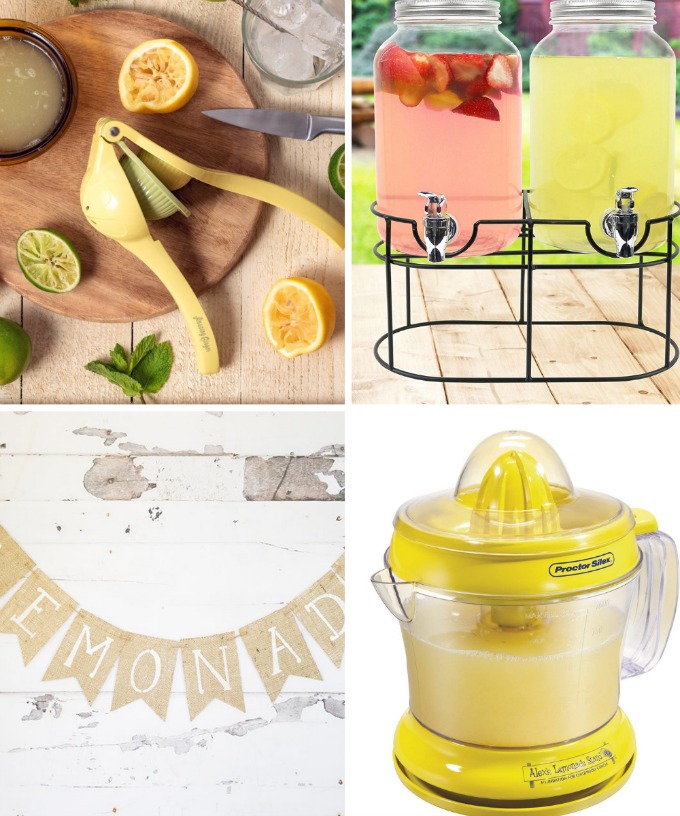 Paper Straws – Paper straws are eco friendly and chic. These ones are pink and yellow for the ideal compliment to a cup of ice cold lemonade. After all, you can charge a premium price for presentation.
Lemon Balloons – All businesses need to invest in marketing. From blocks away, potential customers will spot these fruity balloons and find it hard to resist stopping for a cool and refreshing beverage on a hot day.
Wooden Lemonade Plaque – This lemonade plaque is functional as advertising, but it's also fun. Add it to your stand for a professional look customers will love.
Treat Bags with Ties for Baked Goods – If you want to offer more than lemonade, you might need to get some treat bags with ties for baked goods. These are perfect for cookies, cakes and rice krispie treats! What better way to learn about the art of the upsell.
Lemon Printed Paper Napkins – Spills happen, and people are messy, as any business owner knows. Having some special napkins on hand is a must for any business. These are printed with lemons, for a special touch that might set you apart from the crowd. For cleaning up a spill, you might want to invest in these great dishcloths.
Metal Lemon Squeezer – Good old fashioned lemonade requires some effort. This metal squeezer doesn't require electricity, and makes the job so much easier than doing the squeezing by hand!
Lemonade Stand Signs – If you want to attract a lot of customers, you can't advertise enough. These signs will let everyone know to be on the lookout for your stand, where refreshment awaits!
Lemonade Stand Crew T Shirts – When your stand opens for business, let the crowd know who is on the crew. Everyone will want to wear these adorable shirts long after summer passes.
With these items, those other stands don't have a chance against you. This would also make a really great lemonade themed party