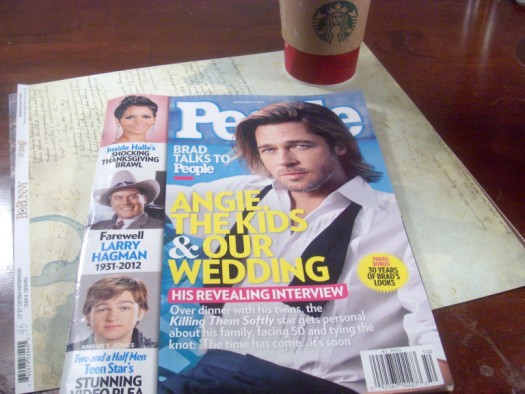 When you kick back and relax, how do you like to do it? Me? I like to escape. I also like to be informed. Therefore, People Magazine is the perfect relaxation escape for me! I like to either kick back on my bed and read the magazine, or in the warmer months, I'll go outside and check it out. Sometimes, I may even read it over a cup of coffee.
One of the things that I like about People Magazine is seeing the celebrity wedding photos. While I always like to catch up on the latest celebrity news, what I really like is the little tidbits of who was seen where or what they were wearing.
This was a particularly great issue for me, as my one true tween love is on the cover. Yes, yes. I have been in love with Brad Pitt since I first saw him in Thelma and Louise. I mean, you gotta admit – the guy's pretty easy on the eyes.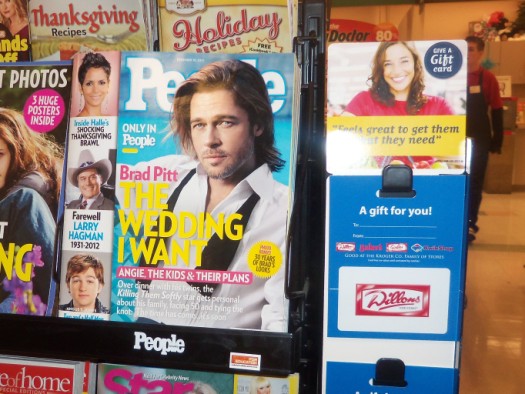 I swear he was beckoning to me from the magazine rack.
For some reason, I always wanted to be featured in People Magazine. I never wanted to be like, a movie star or a singer, or a model. I'm not really sure I ever wanted to be famous. I wanted to be featured as one of the normal people that they do a story on each week. What can I say? I'm a different and unique individual!
I think it really started around the time that Baby Jessica fell in the well. That was the first national news story that really had an impact on me, and I understood what was happening. My mom subscribed to People Magazine, and there was a story in there about the event.
Oh, hello lover!
I also love the TV & Movie reviews. I like to see a wide variety of movies, and in my area, we don't hear much about some of the more off-beat or independent releases. And, for some reason, one of my favorite features of People Magazine has always been Passages. That's where they list the goings-on of the celebs. Like births, weddings, divorces, etc that don't necessarily need a full story.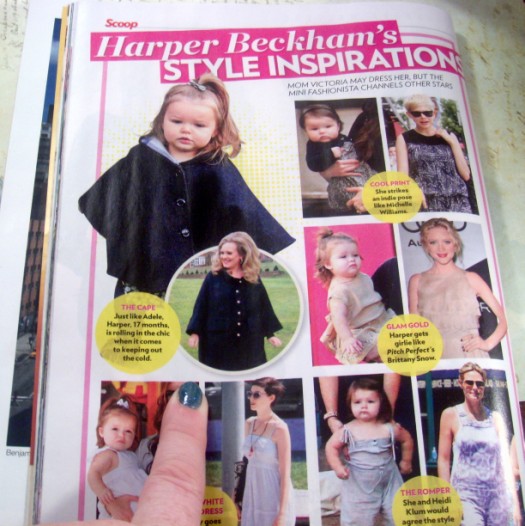 Harper Beckham, fashion maven
One other thing that I really like is the StyleWatch. I think that's what spawned InStyle Magazine! How cute is this feature about Harper Beckham? I'm particularly in love with the Harper & Adele cape photos.
You can even catch up with all the goings on on People Magazine's website! These are just some of the ways I kick back with People Magazine? How do you do it?
This shop is part of a social shopper marketing insight campaign with Pollinate Media Group™, but all my opinions are my own http://cmp.ly/3/KqtZiE.