Peppermint Hot Chocolate is one of the great joys of the holiday season. I always get excited when it comes out, and a little sad when it goes away.  Now I can celebrate all year long with these amazing Peppermint Hot Chocolate cupcakes.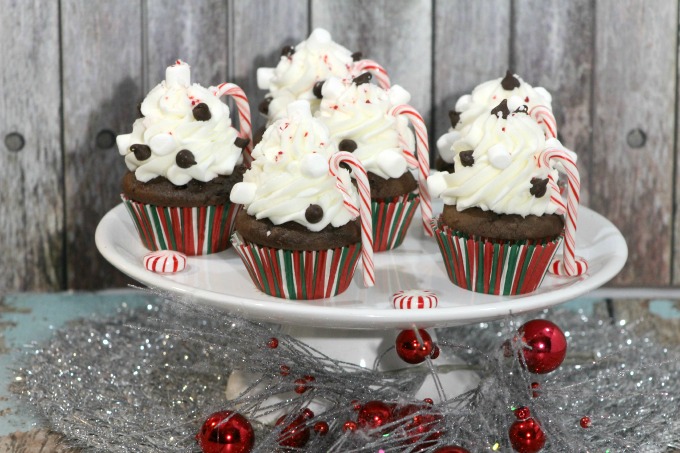 They're sweet and chocolatey with the right hint of mint. None of the flavors are too overpowering, and are just right. Plus, these Peppermint Hot Chocolate Cupcakes are made from scratch, and pretty easy to do.
Peppermint Hot Chocolate Cupcake Recipe
Peppermint Hot Chocolate Cupcakes
Ingredients
For the Cupcakes

1 C all-purpose flour
1 tsp cinnamon
3/4 tsp baking soda
1/2 tsp salt
1/2 C hot water
1/2 C cocoa powder
6 TBSP butter, room temp
3/4 C sugar
1 large egg
1/4 C vegetable oil
1 tsp vanilla extract

For the Frosting

2 C powdered sugar sugar
1/2 C butter, room temp
1/2 tsp peppermint extract
3 Tbsp whipping cream or milk

For decorating

1 bag mini marshmallows
1 C mini chocolate chips
1 C crushed peppermint candy
1 bag small candy canes
Instructions
Cupcake Directions

Preheat oven to 350 degrees. Line acupcake pan with cupcake paper liners.
Whisk flour, cinnamon, baking soda, and salt in s medium bowl. Set aside.
Mix hot water and cocoa powder in a small bowl. Set aside.
Using a mixer, cream together butter and sugar until light and fluffy.
Add in the egg, vegetable oil, and vanilla and mix until well combined.
Add half the flour mixture, beating until smooth.
Mix in Cocoa/water mixture until well blended, then beat in remaining flour mixture. Batter should be smooth and fluffy.
Scoop batter into paper-lined muffin cups, filing ¾ of the way with batter.
Bake at 350 degrees for 20-25 minutes or until an inserted toothpick comes out clean.
Remove from oven allowing cupcakes to cool. Place individual cupcakes on a wire rack to cool completely.

Frosting directions

Cream the butter, peppermint extract and powdered sugar until it's light and fluffy, about 3 to 5 minutes.
If it's too dry, add cream or milk, a Tablespoon at a time, until the frosting is of spreading consistency. If you draw a knife through the frosting, the shape(where the missing frosting would be) will hold.
Fill an Icing bag with your prepared frosting, making sure to fit the bag with a star tip. Twist the open end of the pastry bag to push the frosting to the tip.
Starting from the outside edge, and working toward the center, pipe stars onto the cupcake, filling the entire top.

Decorating

Decorate the cupcakes with mini-marshmallows,chocolate chips, and crushed candy canes. Insert a small candy cane into the frosting.
7.8.1.2
101
https://www.gretasday.com/how-to-make-peppermint-hot-chocolate-cupcakes/
See how easy those were?  Yes, you too can bake from scratch. Like this recipe? Don't forget to share it using the buttons below, or up top, too!