I am a sucker for a sweet treat. Long before cupcakes had taken the nation by storm, there was another treat we all loved. The whoopie pie. Two cake like cookies with a lovely filling sandwiched in between them? Oh yes please!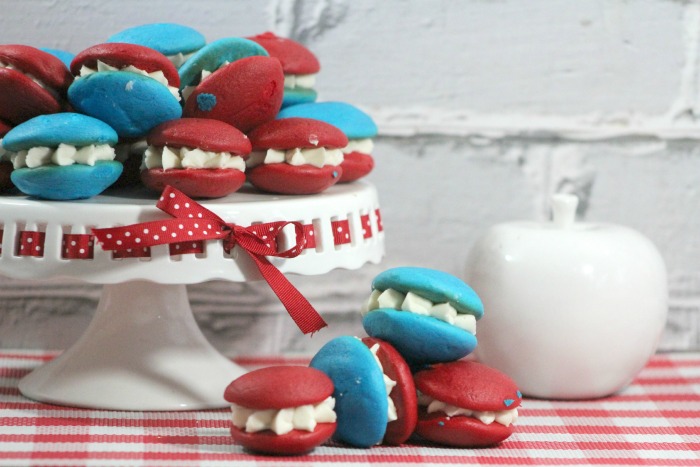 I was always under the impression that Whoopie Pies were a southern delicacy. Apparently, I was wrong, as basically most of New England has claimed to be the birthplace of whoopie pies. Our whoopie pies are colored Red, White, and Blue, and were made especially for the summer. Make up a big ol' batch of these delectable sweet treats and be the hit of the party!

Patriotic Whoopie Pies Recipe
Links may be commissioned.
There are a couple things you'll want that will make these patriotic whoopie pies easier, and frankly, prettier. The first is a small ice cream scoop. These are a lifesaver when making baked goods that you want to come out somewhat even. I have several sizes of these, and use them for everything from meatballs to cookies to cupcakes and muffins. This one is a great set, too. You'll want a large star tip to get the beautiful ruffles effect on the filling. And some gel food coloring to get that gorgeous coloring of the patriotic whoopie pie cookies. You'll also want a really good quality vanilla. This is a great vanilla extract, or you can make your own vanilla extract.
Yield: 24
Patriotic Whoopie Pies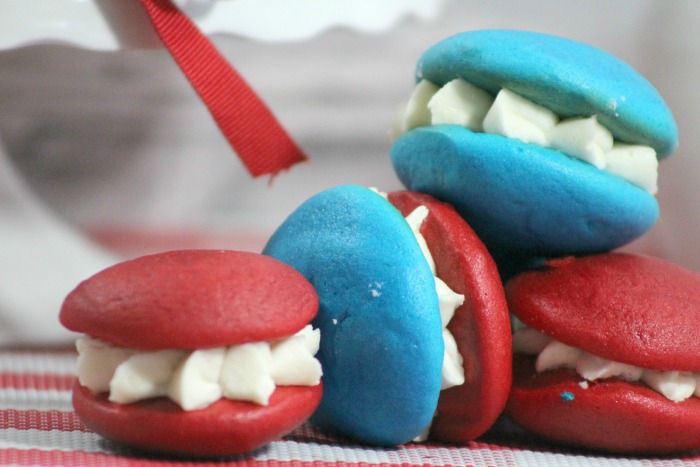 Whoopie pies are a New England classic. We've given these a patriotic twist, but you can make them any color to match your theme.

Prep Time 25 minutes

Cook Time 15 minutes

Total Time 40 minutes
Ingredients
3 C flour
1 1/2 tsp baking powder
1 tsp baking soda
2 C sugar
4 eggs
4 tsp vanilla
1 C soft unsalted butter
1 C sour cream
Red & blue gel food coloring
Whoopie Pie Filling
1 cup unsalted butter, softened
1 1/2 cups powdered sugar
Instructions
Preheat oven to 350 degrees.
Line the cookie sheets with parchment paper. Set aside.
Stir to combine the dry ingredients; flour, baking powder, and baking soda.
Cream the soft butter and sugar until light and creamy.
Add eggs, one at a time, to the creamed butter mixture. Make sure you mix thoroughly after each addition.
Add the vanilla.
Alternate adding the flour mixture with the sour cream starting and ending with the flour mixture. Mix well.
Divide the prepared batter into halves.
In the first bowl of batter add 3-5 drops of red gel food coloring. Stir well until thoroughly mixed.
In the second bowl of the batter add 3-5 drops of blue gel food coloring. Stir well until thoroughly mixed.
Using a small ice cream scoop, drop spoonfuls of the red batter first on a parchment lined cookie sheet. Level the the ice cream scoop with a table knife for even sized cookies.
Repeat for the blue colored batter and follow the directions listed above.
Bake the whoopee pies at 350 degrees for 10-11 minutes.
Let cool for 10 minutes, leaving the whoopee pies on the cookie sheet.
Transfer the cooled whoopee pies from the cookie sheet to a wire rack to cool completely.
Whoopie Pie Filling
Cream the butter and powdered sugar.
Add the vanilla.
Continue to beat until the filling is stiff.
Fill a pastry bag that's fitted with a large star frosting tip. Twist the open end of the pastry bag and push the filling out through the tip.
Match the shapes and sizes of the cooled Whoopie Pies either red on red, blue on blue, or red on blue.
Select one for the top and the other for the bottom.
Using the filled pastry bag with the star tip, apply the filling in one thick application on your bottom cookie. Place the top on the filled whoopee pie bottom.
Nutrition Information:
Yield:
24
Serving Size:
1
Amount Per Serving: Calories: 316Total Fat: 18gSaturated Fat: 11gTrans Fat: 0gUnsaturated Fat: 6gCholesterol: 77mgSodium: 100mgCarbohydrates: 36gFiber: 0gSugar: 24gProtein: 3g

Nutritional information is provided as a courtesy, and may not be accurate.

If you wanted to dress these whoopie pie cookies up even more, you could add baking sprinkles or even some colored sugar to them. Simply pour the decorations in a shallow plate – I like to use a paper plate – and roll the cookies in them. The sprinkles will stick to the filling, and will have that little extra something.
Will you be making whoopie pies for your next gathering? They're perfectly portable, too, and are so great for a family get together, a party, or a picnic.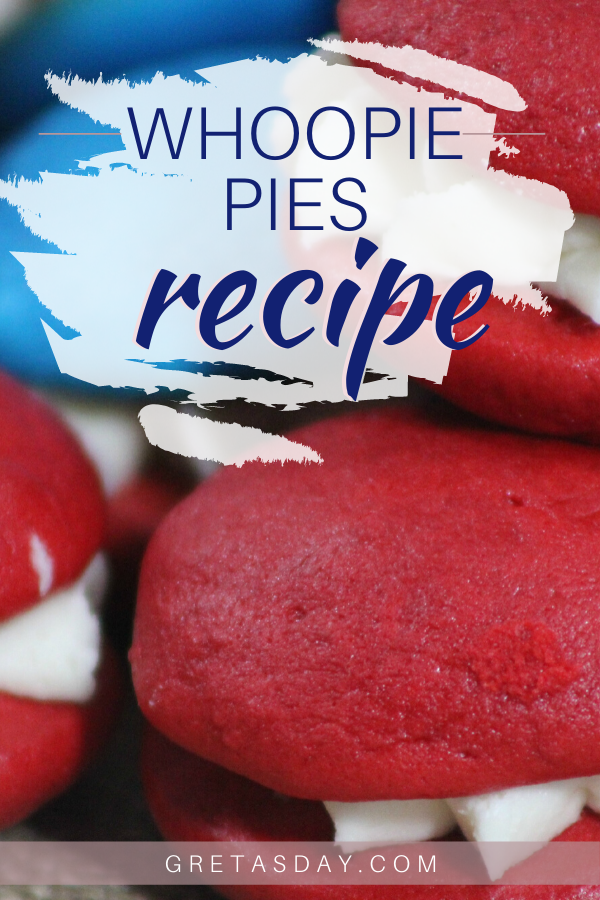 For more fun creative summer ideas, check out a few of my favorite blogs.