I love potstickers. I've made them a few times, but I always felt they weren't quite right – like something was missing. This recipe looks so easy that I'm gonna give it another go!
The word for "pot stickers" in Chinese is guotie, literally "pot-stick," a name they have earned from their cooking method. Chinese cooks first steam guotie in giant flat-bottomed iron pans. When all the water is
absorbed by the dumplings, they are left in the pan to get crispy and "stick" to the pan. We recommend using a nonstick skillet when making these so that the dumplings don't actually stick to the pan forever.
These Guotie Pot Stickers make amazing appetizers served with the dipping sauce. We like to make more dumplings than we can eat and freeze the extra for later.
Guotie Pot Sticker Recipe and Dipping Sauce
Yield: 12
Guotie Pot Stickers Recipe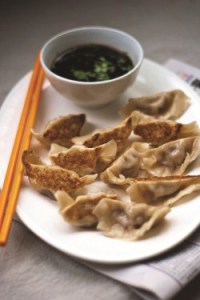 Prep Time 10 minutes

Cook Time 12 minutes

Total Time 22 minutes
Ingredients
Dipping Sauce
1 cup Chinese black rice vinegar
1/2 teaspoon minced fresh ginger
1 teaspoon toasted sesame oil
1 tablespoon minced fresh cilantro
1/4 cup light soy sauce
1 tablespoon sugar
Dumplings
12 ounces ground beef or ground pork
1 tablespoon light soy sauce
1 tablespoon cornstarch
1 teaspoon minced fresh ginger
3/4 cup minced green onions, green and white parts
1/2 teaspoon sugar
2 teaspoons toasted sesame oil
Pinch of salt
About 36 round Dumpling Wrappers
3 tablespoons vegetable oil
3/4 cup water
Instructions
To make the dipping sauce, whisk together the black rice vinegar, ginger, sesame oil, cilantro, soy sauce, and sugar in a small bowl. Set aside.
To make the dumplings,
combine the meat, soy sauce, cornstarch, ginger, green onions, sugar, sesame oil, and salt in a bowl and stir in one direction with a chopstick until just mixed.
Fill a small bowl with some water. Hold a dumpling wrapper in the palm of your hand and place 1 heaping teaspoon of filling in the center.
Dip your finger in the bowl of water and run it around the edge to help make a good seal.
Lightly fold the wrapper over on itself, but don't touch the edges together. Starting at one end, use your fingers to make a small pleat on the side of the wrapper closest to you, then press the pleat into the other side and pinch together firmly.
Keep making pleats down the dumpling opening in this way until completely sealed.
Repeat this process with the remaining filling and wrappers.
Freeze any dumplings that you don't intend to cook immediately.
Heat 1 tablespoon of the vegetable oil in a nonstick skillet over medium-high heat.
Place 12 dumplings pleat side up in the pan so that they are just touching each other. Cover and cook for 1 minute.
Decrease the heat to medium-low, pour 1/4 cup of the water into the pan, and cook, covered, for 8 to 10 minutes, until all the water is absorbed by the dumplings and their bottoms are crusty brown.
Repeat this process 2 more times with the remaining dumplings, oil, and water. Serve the dumplings with a side of the dipping sauce.
Nutrition Information:
Yield:
12
Serving Size:
1

Amount Per Serving:

Calories: 387 Total Fat: 16g Saturated Fat: 4g Trans Fat: 0g Unsaturated Fat: 11g Cholesterol: 36mg Sodium: 1381mg Carbohydrates: 42g Fiber: 2g Sugar: 4g Protein: 16g

Nutritional info is provided as a convenience and may not be accurate. This reads high on sodium because of the sauce. It's not nearly that high.

I think I can manage these traditional potsticker dumplings.

—From Feeding the Dragon: A Culinary Travelogue Through China with Recipes by Nate and Mary
Kate Tate/Andrews McMeel Publishing. Published with permission.