One of my favorite treats in the summer is a really good glass of lemonade. That tart-sweet taste that's oh so cold on a hot day is just like heaven. Well, kick up your classic lemonade a notch with this delicious Blueberry Strawberry Lemonade recipe. Made with fresh lemons, strawberries, and blueberries, it's a real taste sensation that's sure to please everyone.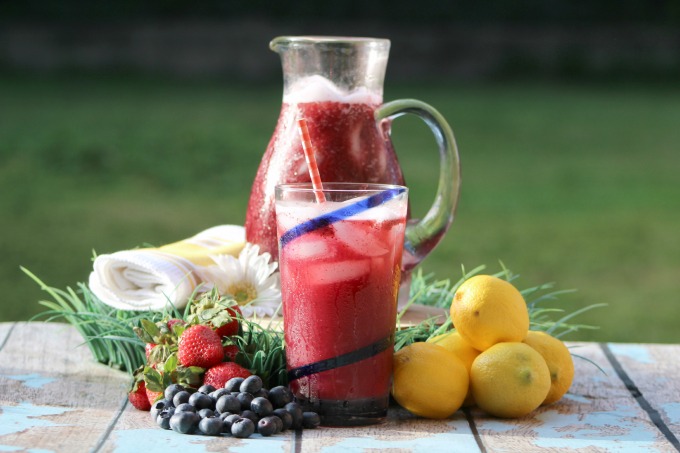 Links may be affiliate links. They help support our site at no additional cost to you.
There are a few things that you'll need to make this Blueberry Strawberry Lemonade recipe. One is a fine mesh sieve. This will help you strain the fibrous bits from the berries, and the lemonade, if you so choose. A countertop ice maker is always handy, especially when company is over, or if you have a large family. And of course, you don't want to forget a great pitcher. I actually have a few of these, and I really like them because they fit in the door of the fridge.
Fresh Blueberry Strawberry Lemonade Recipe
Yield: 1 Gallon
Fresh Blueberry Strawberry Lemonade Recipe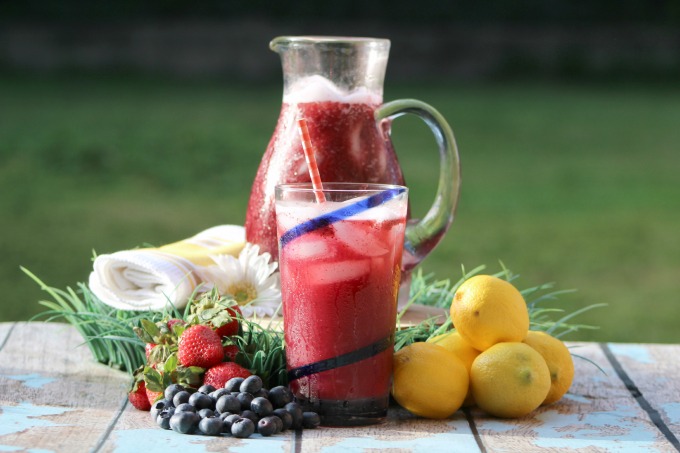 Additional Time
10 minutes
Ingredients
1 cup strawberries, quartered and hulled
1 cup blueberries
1 C sugar
1 C water
Zest from 2 lemons (approx 2 TBSP)
Juice of 6 lemons (approx 3/4 cup)
1 gallon of cold water
Ice
Instructions
In a saucepan, bring the 1 cup of water to a boil. Add the sugar and lemon zest, stirring constantly until sugar has dissolved. Set aside. We've made simple syrup!
Pour the gallon of water into a pitcher and add the lemon juice. Stir well to combine.
Mix in the simple syrup with the lemon zest, adjusting for taste. Stir well until the simple syrup has been thoroughly mixed. If you like a tarter drink, use less simple syrup.
In a blender, combine the strawberries and blueberries. Puree until smooth.
Strain through a fine mesh sieve to remove the seeds and fibrous bits.
Fill a pitcher about 1/4 of the way with ice, and add berry puree until the pitcher is 1/3 to half full.
Top off with lemonade.
Stir well to combine.
Fill glasses with ice, and pour yourself a nice, refreshing glass of Fresh Blueberry Strawberry Lemonade.
Nutrition Information:
Yield:
8
Serving Size:
8 oz
Amount Per Serving:
Calories:

155
Total Fat:

0g
Saturated Fat:

0g
Trans Fat:

0g
Unsaturated Fat:

0g
Cholesterol:

0mg
Sodium:

41mg
Carbohydrates:

41g
Fiber:

3g
Sugar:

34g
Protein:

1g
Doesn't this sound delicious? It's the perfect drink for late summer, and no one has to know how easy it was. Psssttt…you could even use frozen berries. I won't tell! If you love lemonade, be sure to check out our Strawberry Lemonade Mojito Mocktail or the Copycat Chik Fil A Frozen Lemonade, too!