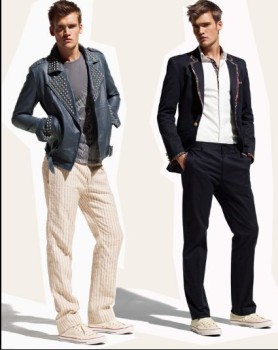 Why is it so hard to shop for guys?  Or even for guys to shop for themselves.  Sometimes, when left to their own devices, it's amazing what they come back with.  It's not like they need that many things.  Nice pants, nice button down shirts, shorts that aren't gym shorts, and maybe some polo or golf shirts.  I mean, they need other stuff, too, but that's the basis of a business casual wardrobe.
Of course, every man should have at least two great suits. He can probably get away with one suit, depending on his career,  and adding a great collection of ties.  Another one of my favorite items for men is sweaters.  We're not talking Cosby sweaters, but a nice traditional sweater with a bit of a v-neck is a great look for most guys.
Casual clothes are a different story.  While some people really dislike the printed tees for guys, I'm generally ok with them.  AS long as they're tasteful and not too sophomoric, that is.  There are great options out there.   Let us clear one thing up though.  Athletic shorts and track pants are not casual wear – they're workout wear.
Now, let's talk men's shoes.  Your guy needs shower shoes for the gym and going to the beach or the pool.  He needs a couple pairs of dress shoes.  Some sneakers are mandatory, for running, jumping, and playing.  Maybe a nice pair of sandals or flip flops – nice being the key word.  A pair or two of casual shoes pretty much rounds out his wardrobe.