I'm the first to admit it – I like to shop.  I like to go out and buy new things, and add them to my closet. Some of these things are the newest trends.  However, I don't always want to break the bank for something that's not a classic piece.
This is especially true when it comes to designer trends, looks, and items.  For a classic leather bag, like this Coach ACE Satchel, that's going to last practically forever, yeah, I might spend $500 or $600.  But for something that's a quicky disposable trend like grunge fashion?  Nope, not happening.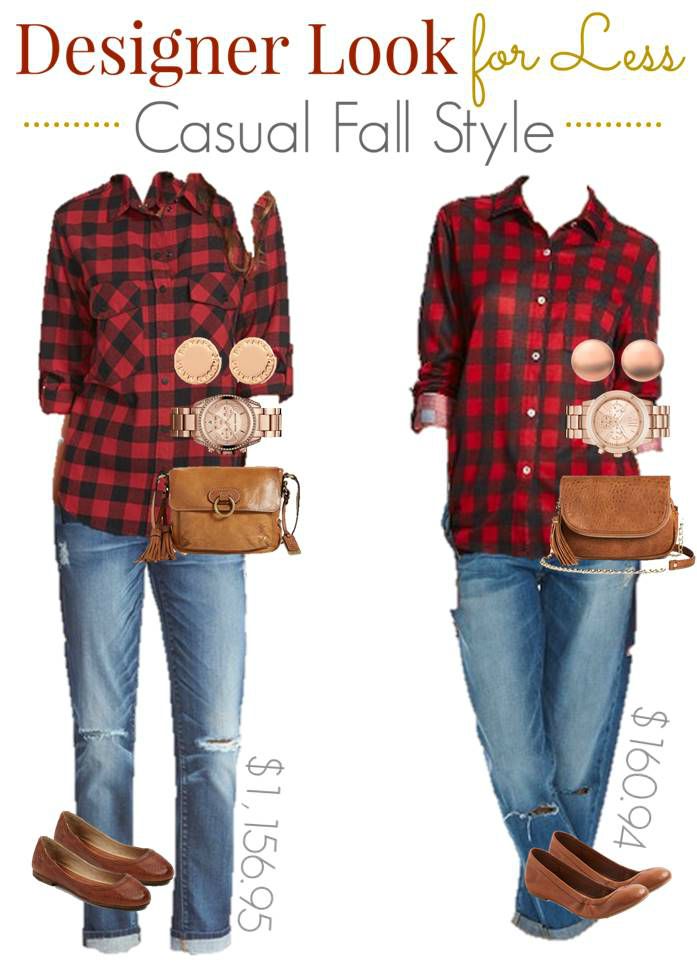 That's the case with the current grunge fashion trend.  I mean, really?  $250 for jeans or a flannel shirt?  REALLY?!?! Uh, no.  Not happening, at least not here. We've taken a designer look and shown you how to get the look for less.  A lot less.
Fall Plaid Grunge Fashion | Get the Look
The Designer Grunge Fashion Look ($1150+)
All of these items are from Nordstrom.  Affiliate links.
Sanctuary Boyfriend Shirt ($79) – Ok, that's actually not a bad price for a nice quality top.
Seven for All Mankind Distressed Boyfriend Jeans ($225) – I think we can do better than this.
Frye Carson Ballet Flats ($158) – Not a terrible price for good quality shoes, actually.  Frye is known for their quality and their shoes last and last.
Frye Esther Bag ($378) – This is an investment piece, and could be justified.  But I think you can find similar quality at a better price.  This bag is similar and $50 less.
Michael Kors Chronograph Watch ($275) – Rose Gold is one of the hot trend in jewelry.  I don't think I'd spend $275 on what's basically a costume jewelry watch.  High end, good quality costume jewelry, but costume nonetheless.
Marc Jacobs Logo Earrings ($42) – Again, rose gold is so hot right now.  Not a bad price, but nothing special.  Like I said above, we can do better. We can *probably* get real rose gold for not a whole lot more.
The Grunge Fashion Look for Less (Under $150)
All of these items are from Target.  Affiliate links.
Self Esteem Plaid Shirt ($20) – This isn't flannel, but sure looks like it.  The poly/spandex blend helps prevent you from getting too boxy of a shape, too.
Destroyed Boyfriend Crop Jeans ($30) – While destroyed and distressed denim is a trend that's riding high, do you really want to spend a lot on it?  No?  I don't either.
Brooklyn Ballet Flats ($17) – These are cute, and perfect for an occasional shoe, or if you don't have foot issues. I'm really digging the quilted design. Similar to the shoes shown.
Crossbody Foldover Bag ($30) – There are two MAJOR trends in bags right now – crossbody bags and fringe.  Well, fringe is everywhere. This is a great shape and good size – not too big, not too small.  Available in 6 colors, too.
Mossimo Boyfriend Watch ($20) – Rose gold is really popular, but it doesn't go with everything.  This is a perfect pricepoint for a trend that will flare out.
Tressa Rose Gold Earrings ($29) – These are sterling silver that has a rose gold colored finish. Cute and something that's a little better quality than the designer look.
While both fall plaid grunge fashion looks are great, one is also very pocketbook friendly.  And really, can you tell the difference easily between the two outfits?