"I participated in a campaign on behalf of Mom Central Consulting for Starburst. I received product samples to facilitate my review and promotional item as a thank you for participating."
Recently, I discovered two of my favorite things had come together, and created an even better item.  What are these two items, you ask?  Starburst and candy corn!  Oh yes, Starburst Candy Corn is now a thing, and it's pretty fantastic.

One of the great things about it is the vivid colors, which just lend themselves to a food craft.  Since my people aren't really looking for a Halloween party with little ones, we tend to do things a little differently. I think that these little Starburst Candy Corn Party Favors would be great for a fall wedding.
How to Make Starburst Candy Corn Party Favors
Materials
Bag of Starburst Candy Corn
Small jars.  I'm using a miniature canning jar from a craft store.  It's about 4 inches tall.
Ribbon that's wide enough to cover  your jar lid.  I'm using a linen ribbon that's about an inch wide.
Smaller Ribbon.  I used a striped ribbon in the same colors as the candy corns.  It's about ½ inch wide.
Steps
Wash & dry your jars.  Who knows who has touched them or where they've been.  And we're filling them with edibles.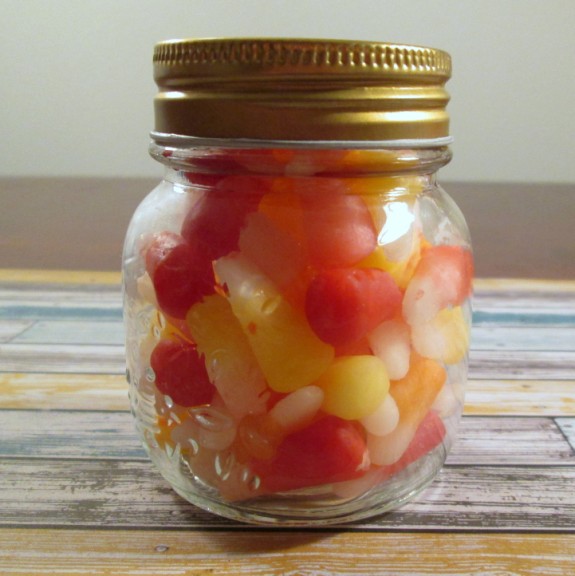 Fill your jars with Starburst Candy Corn.  Screw the lid on tight.  I'd say you could easily get 4-5 jars out of a bag of candy.  Depending on the size of your jar, that is.
Take your wide ribbon and wrap it around the lid of your jar to measure.  Add an inch or two, and cut it off the spool.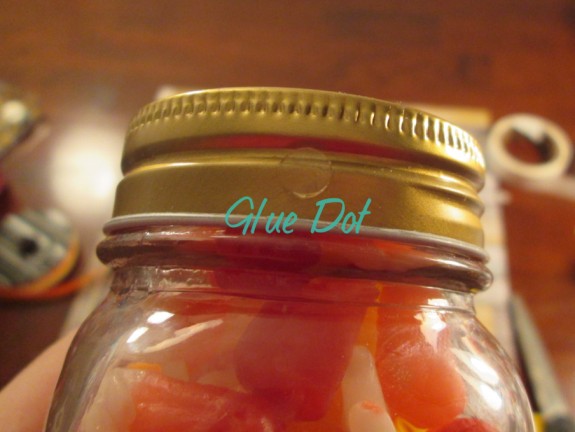 Place a glue dot on the side of the lid of your jar.  Stick the ribbon down.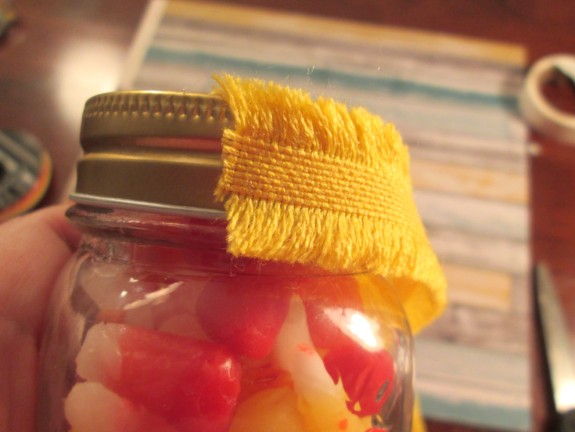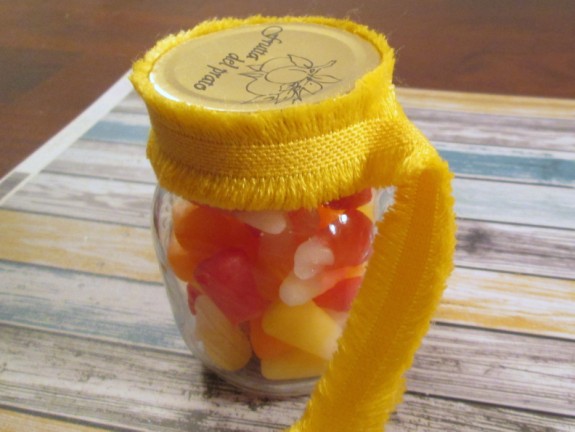 Wrap the ribbon all the way around the lid, securing as you feel is necessary.  I think I used three dots for my jar.  Overlap the ends, slightly, and trim the excess.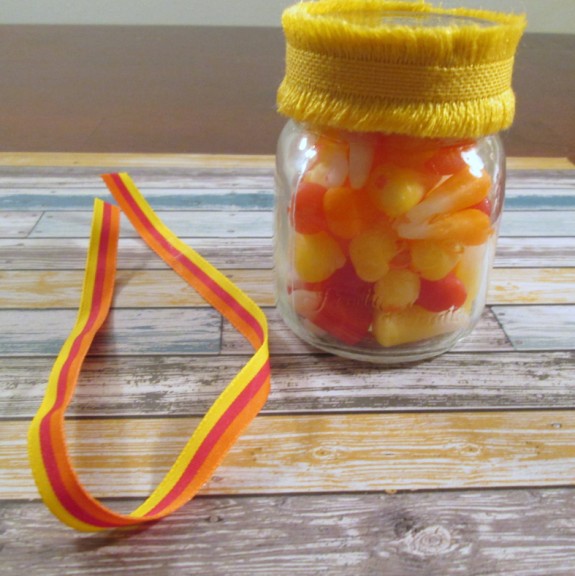 Take your narrow ribbon, and wrap around the jar lid, centered on the wide ribbon.  Tie a square knot, and adjust the tails as necessary.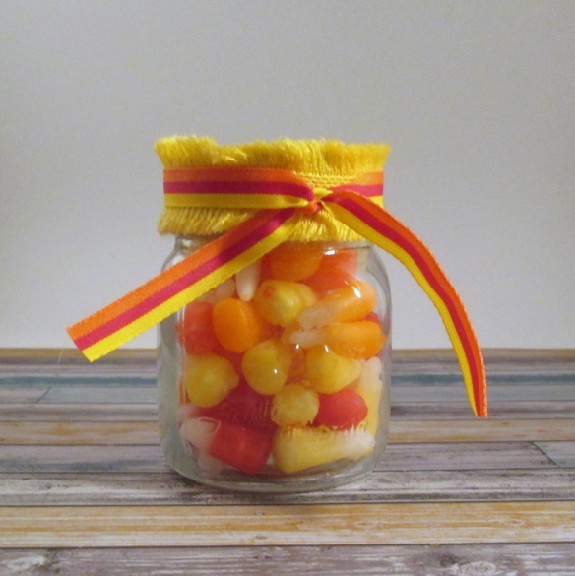 You now have a great party favor, place setting, or gift for your guests.  It's quick, fairly inexpensive, and easy.
I'm not the only one that loves Starburst Candy Corn, either.  Nope. Tori Spelling has been crafting up a storm with the treats, too.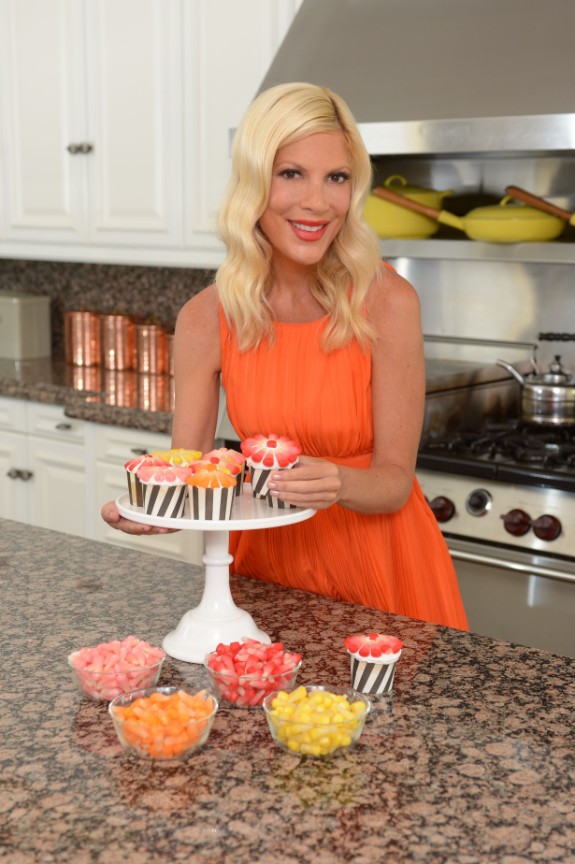 Check out the cute cupcakes that she's decorating!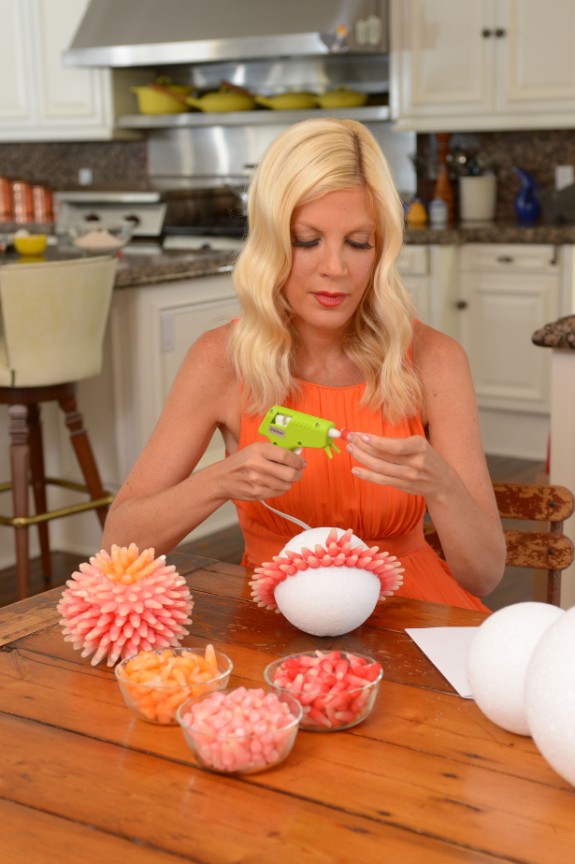 Or the Mum Ball, similar to those dried bean balls that were oh so popular.
Are you going to try the Starburst Candy Corn Party Favors?  Or even the candy?  Let me know!