More and more people are decorating for Halloween, and this DIY Ghost Ornament is a perfect addition. And I don't mean a little skeleton in the yard or a pumpkin on the porch. There are lots of people nowadays that go all out, inside and outside of their home or workplace. There are even people doing Halloween trees.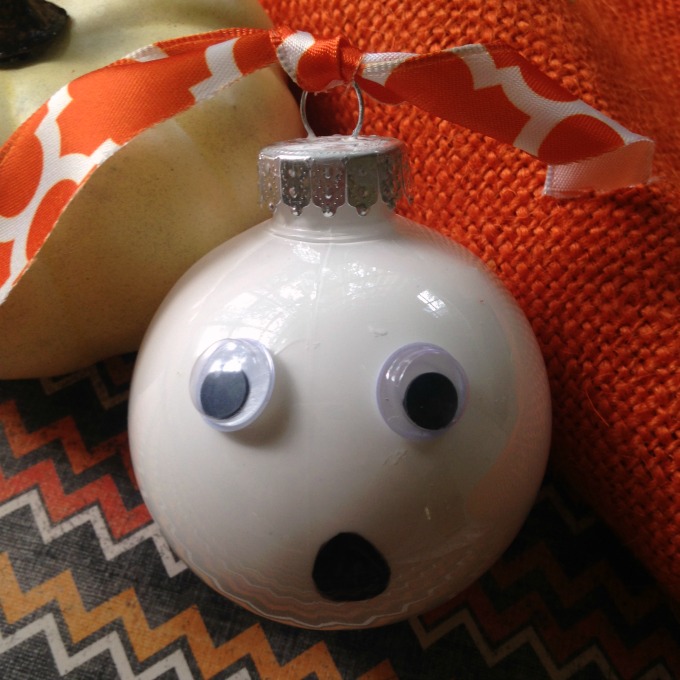 This DIY Ghost ornament would be a great fit for a Halloween tree or an addition to a wreath. And it's so easy to make.
Links may be commissioned.
I can hear you asking now "What's a Halloween tree?" Some people are taking a white or black Christmas tree, while others are using a twiggy branch or several. They're then decorating it for Halloween with ornaments, ribbon, garland, and so much more. They both work, and they both look great.
How to Make a DIY Ghost Ornament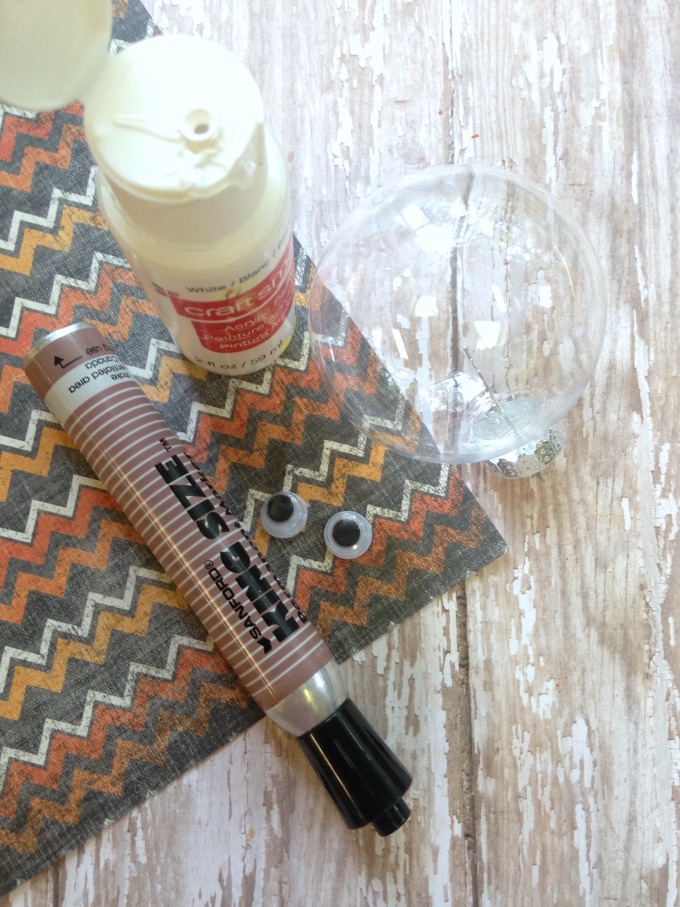 Supplies
White acrylic craft paint
Ribbon
Permanent marker
Plastic cups
Directions
Take the top off the ornament and set aside.
Squirt some white acrylic craft pain into the opening. Probably a tablespoon or so.
Swirl the paint around so that the inside of the ornament is covered completely. If you need more paint, add more.
Turn the ornament upside down and let the excess paint drain out. I like to use a plastic cup like the ones you use for a BBQ for this. This should only take a couple minutes, and you can reuse the paint.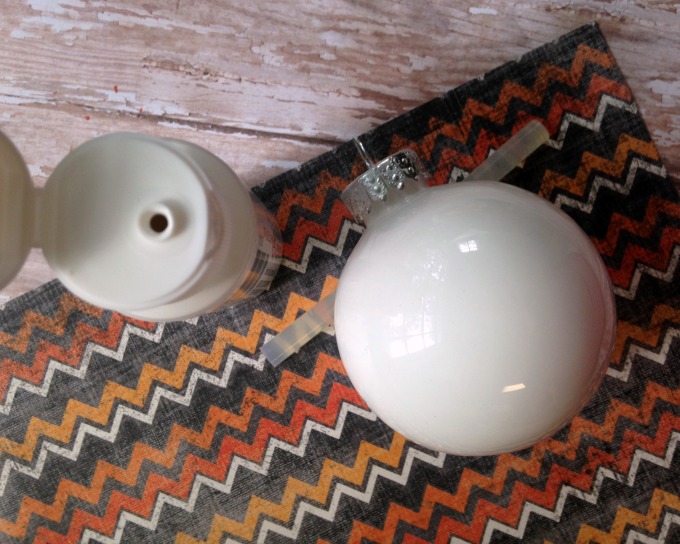 Place the top back on the ornament.
Glue on googly eyes. You can either freehand this, and guesstimate. Or you can make a small mark where you'd like the eyes to go, and place the eyes over the marks.
Using a permanent marker, draw on a mouth. Get creative, and make it fun or cute or spooky. This is going to give your ghost all of its personality.
Tie a length of ribbon onto your ornament, and hang it up!
Isn't this DIY Ghost Ornament easy to make? And the results really are practically fail proof. You could create a whole ghost family in an afternoon. If you felt particularly adventurous, you could do these with glitter instead. Simply follow our Glitter Ornament tutorial for the first part.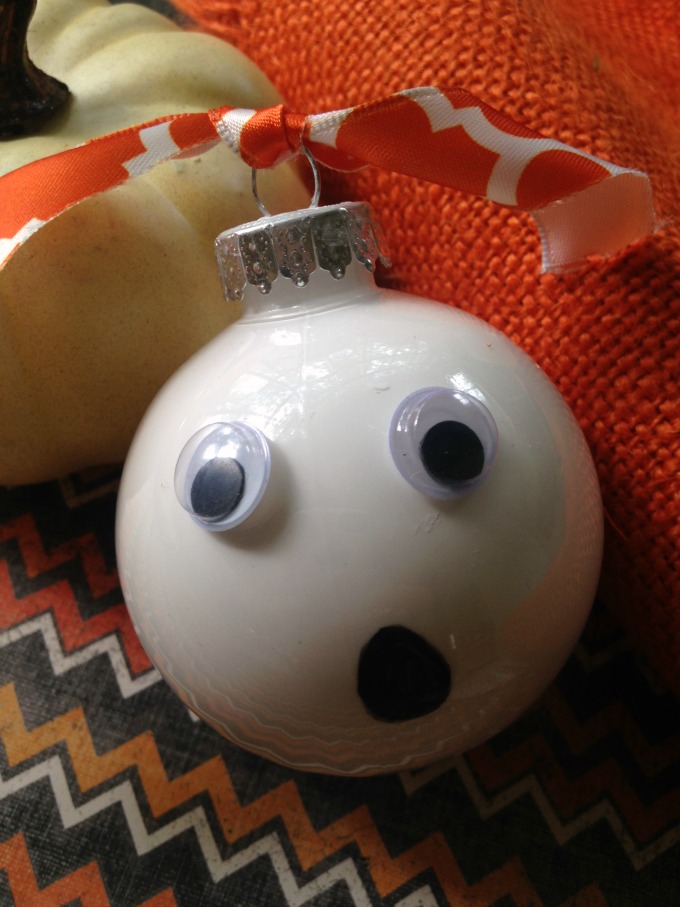 Yield: 1
DIY Ghost Ornament for Halloween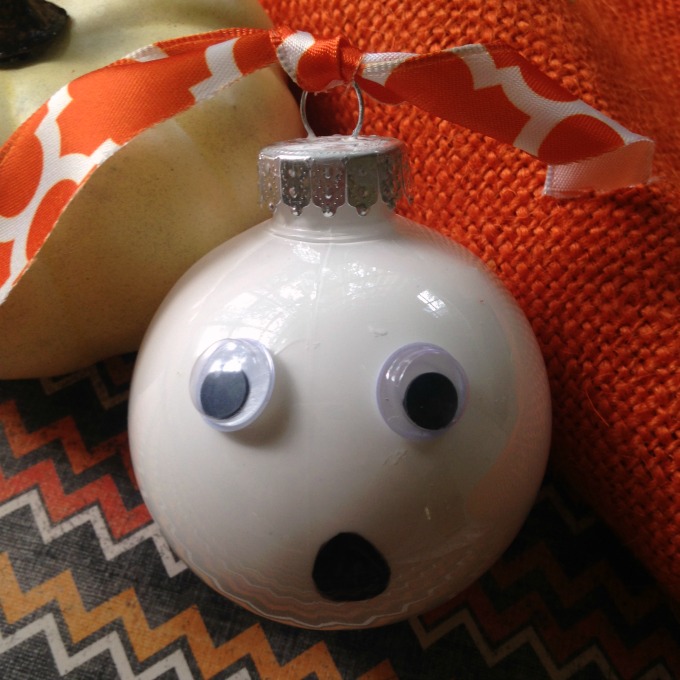 An adorable DIY Ghost ornament. It's so simple and easy to make, and perfect for a kids project, with some adult supervision.

Active Time 10 minutes

Additional Time 5 minutes

Total Time 15 minutes

Difficulty Easy

Estimated Cost 10
Materials
Clear ornament
White craft paint
Black marker or black felt
Pr. Googly eyes
Craft glue
Tools
Scissors
Black Permanent Marker
Instructions
Begin by removing the top of the ornament and adding a generous amount of white craft paint.
Move the ornament around slowly so the paint covers the entire inside. Drain the excess paint. Replace the lid and allow to dry.
Use your black marker OR cut a small circle out of black felt and attach it to the ornament for a mouth.
Add a dab of glue to the back of each eye and press it to the upper half of the ornament for the ghost's eyes.
Tie a piece of ribbon on, andyou're all set.
Now that you've checked this easy craft project for Halloween out, don't forget to pin it for later. Use the red Pinterest button above, or the buttons.