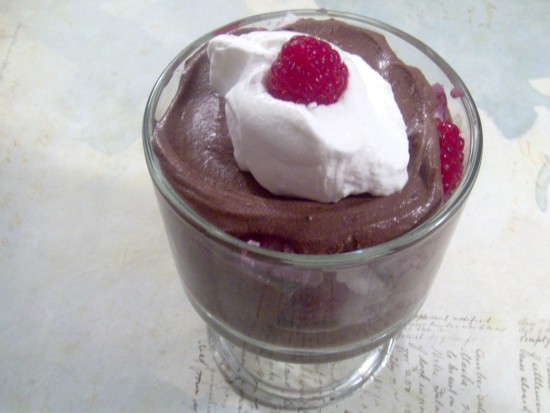 I am a huge fan of Chocolate Mousse. I have been, ever since I was introduced to it when I was 9 or 10. Whenever I'm looking for something decadent and elegant, I think about mousse. This is a modern twist on the traditional Chocolate Mousse, as it has the added mystery ingredient of ChocolatRouge chocolate wine!
Chocolate Mousse Trifle Recipe
Serve with ChocolatRouge Milk Chocolate wine, made from rich cream, red wine and natural chocolate flavors.
Sponge or Pound cake, cut into pieces that fit neatly into cups
Raspberries (optional)

Simple Syrup Ingredients:
1/4 cup granulated sugar
1/4 cup water
1/2 cup chocolate wine, such as ChocolatRouge Cream
Chocolate Mousse Ingredients:
2 1/2 cups heavy cream, divided
12 ounces milk chocolate, finely chopped
1 teaspoon vanilla
Whipped Cream Garnish:
1/2cup heavy cream
1 TBSP Sugar

How to make the syrup:
Bring sugar and water to a boil in small saucepan, stirring until sugar has dissolved. Add wine and cook for about 5 more minutes or until syrup consistency. Let sit.

How to Make Chocolate Mousse:
Prepare an ice-water bath; set aside. Heat the cream until it's hot, but not boiling. Add the chopped chocolate. Stir until the chocolate is melted. Set in the ice water bath until cooled. After this cools, beat with a mixer until stiff peaks form – about 5 minutes.

How to Make Whipped Cream:
Chill bowl and beaters until they're cold. Put the cream in the bowl, and beat until soft peaks form. Sprinkle the sugar over the top, and continue beating until stiff peaks form.
Helpful hint: I made the whipped cream first, then made the chocolate mousse. Since they're both cream-based, it's totally fine!And I didn't have to wash them. Win-win.
To assemble:
Spread 1/3 of the mousse into bottom of 6 small cups (2 inches in diameter). Top mousse with cake and spoon on syrup. Add a few raspberries, some whipped cream, then another layer of mousse. Place remaining cake on top; spoon with remaining syrup. Add a couple more raspberries, then mousse. Cover with plastic wrap, and refrigerate for several hours.
When ready to serve, whip cream with sugar. Top trifle cups with the whipped cream, and add a raspberry for garnish.

Here are a bunch of other great Valentine's Day themed recipes to peruse.