Are you looking for a quick and easy seafood recipe that's bursting with flavor? Look no further than this Spicy Cajun Snapper with Mango-Avocado Salsa recipe. This dish is perfect for those who love spicy and tangy flavors, and it's also packed with healthy ingredients like mango, avocado, and snapper.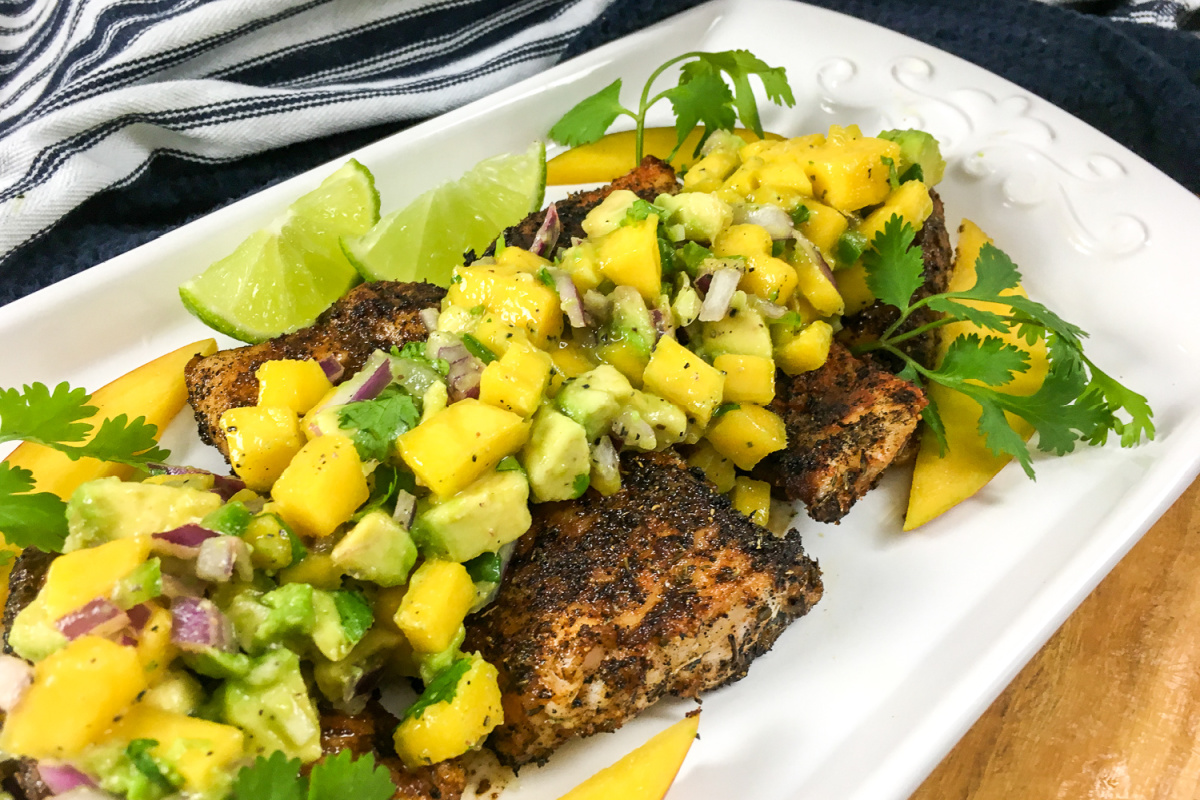 Even better, it can be on the table in less than 30 minutes, which makes it a perfect busy weeknight meal.
The combination of spicy cajun seasoning and refreshing mango-avocado salsa creates a perfect balance of flavors and textures. The spicy-sweet-creamy combination in the Spicy Cajun Snapper is a classic that everyone can enjoy.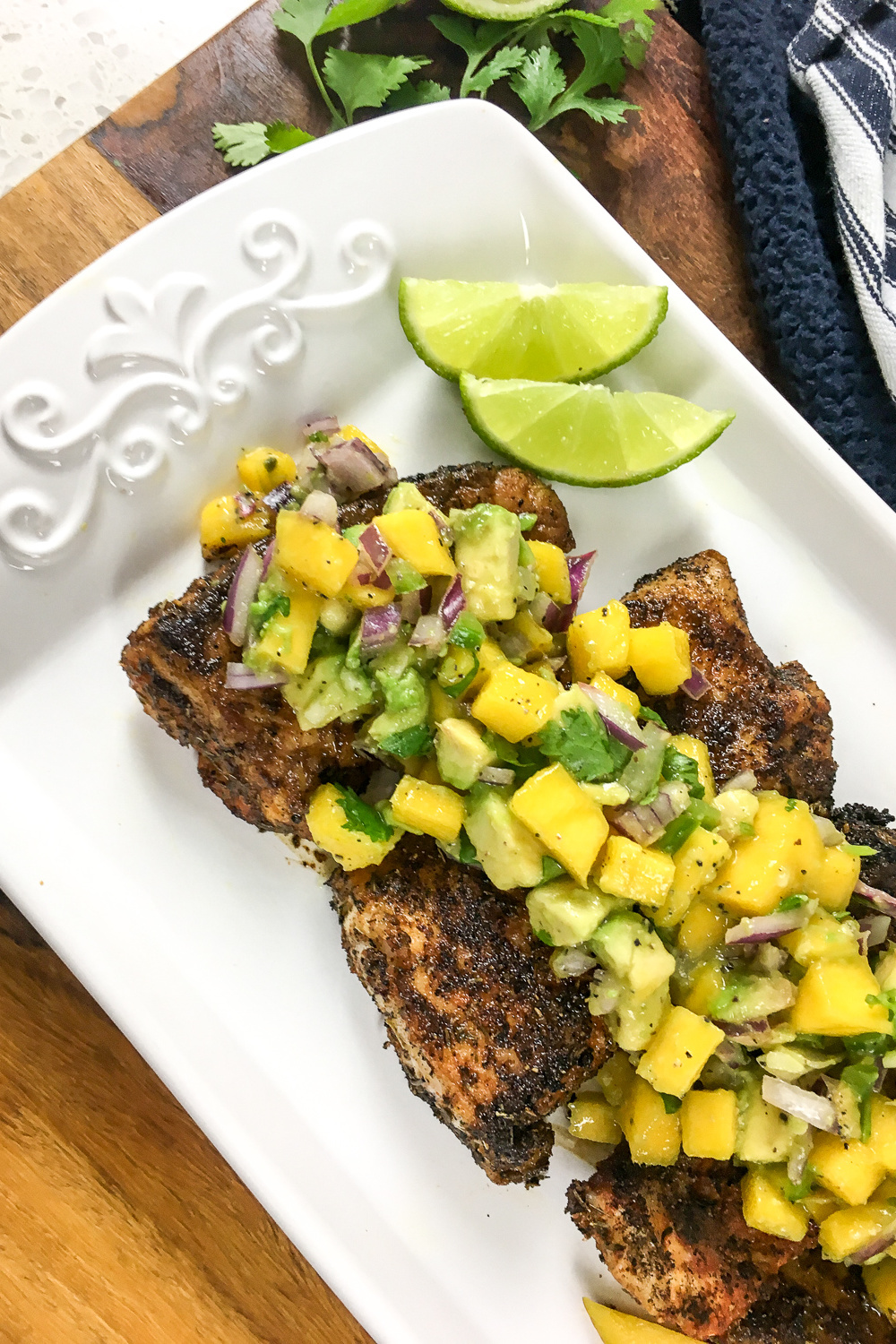 30 Minute Spicy Cajun Snapper with Mango-Avocado Salsa Recipe
Links may be commissioned
Ingredients:
For the Spicy Cajun Seasoning:
1 T. paprika
1 t. garlic powder
1 t. onion powder
½ – 1t. cayenne pepper*
¾ t. dried thyme
¾ t. dried oregano
1½ t. sea salt
¾ t. ground black pepper
For the Mango-Avocado Salsa:
1 large mango, peeled and diced
1 large avocado, peeled and diced
½ small red onion, diced
½ medium jalapeño pepper, diced
2 cloves garlic, minced
3 T. fresh cilantro, finely chopped
3 T. fresh lime juice
2 T. extra virgin olive oil, divided
For the Snapper Fillets:
4 5-oz. red or yellowtail snapper fillets
Instructions:
Start by preparing the spicy Cajun seasoning. In a small bowl, combine the paprika, garlic powder, onion powder, cayenne pepper, dried thyme, dried oregano, sea salt, and black pepper. Stir to combine and set aside.
Next, prepare the mango-avocado salsa. In a large bowl, combine the diced mango, avocado, red onion, jalapeño pepper, minced garlic, and fresh cilantro. Add the fresh lime juice and season with salt and black pepper, to taste. Stir to combine and set aside.
Sprinkle the Spicy Cajun Seasoning onto both sides of the snapper fillets. Rub gently to ensure the seasoning is evenly distributed and adheres well.
Heat a tablespoon of olive oil in a large skillet over medium heat. Place the seasoned snapper fillets into the hot skillet and cook until they are nicely browned and flake easily with a fork, approximately 3-5 minutes per side. The cooking time will depend on the thickness of the fillets.
Remove from heat and serve immediately with some of the mango-avocado salsa on top.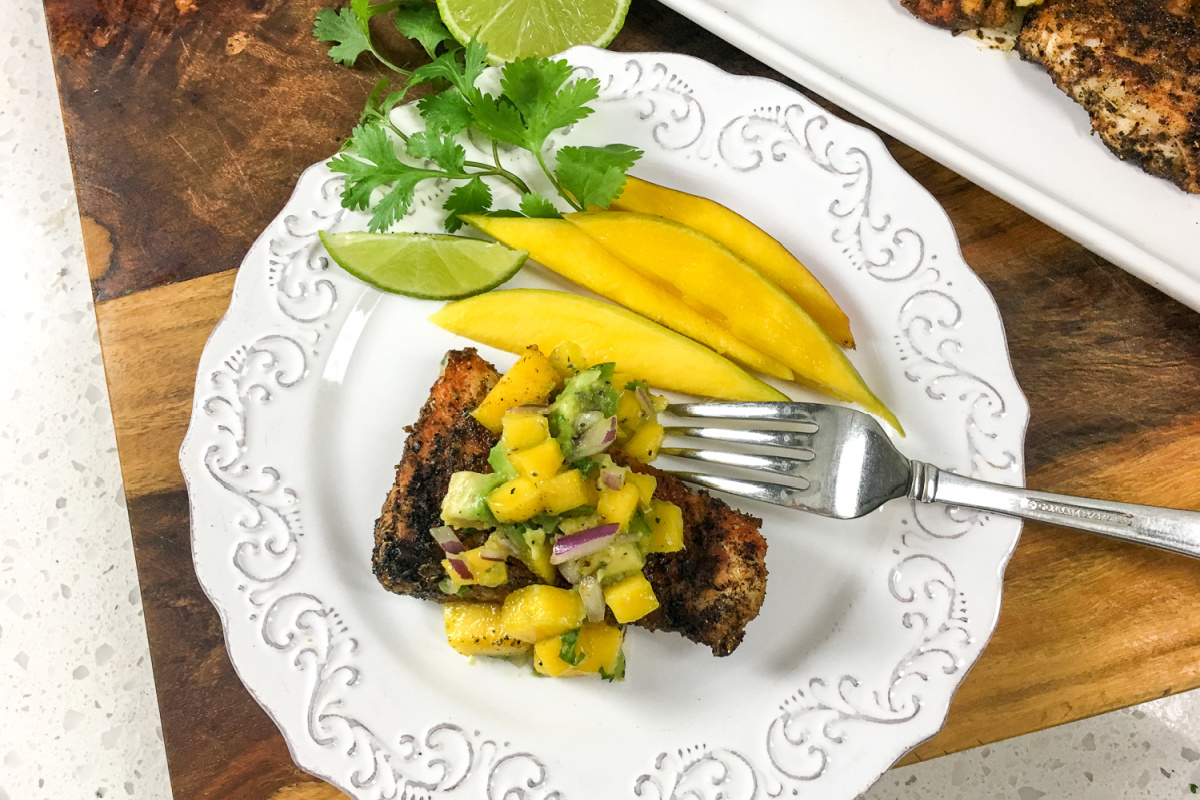 This Spicy Cajun Snapper with Mango-Avocado Salsa recipe is not only delicious, but it's also loaded with health benefits. Snapper is an excellent source of lean protein and is rich in omega-3 fatty acids, which can help reduce inflammation and promote heart health. The mango-avocado salsa is packed with antioxidants, fiber, and healthy fats, making it a perfect addition to this dish. Additionally, the spices in the Cajun seasoning have antioxidant and anti-inflammatory properties.
This recipe is also incredibly versatile. You can use any type of white fish, like cod or halibut, or even chicken instead of snapper. You can also adjust the amount of cayenne pepper to your desired level of heat.
Tools and Gadgets
While you don't necessarily need any special tools or gadgets to make this recipe, there are a few items that may come in handy:
A sharp knife: You'll need a sharp knife to dice the mango, avocado, red onion, and jalapeño pepper for the salsa.
Cutting board: You'll need a cutting board to chop the ingredients for the salsa.
Skillet: A large skillet is essential for cooking the snapper fillets. A non-stick skillet is preferred as it will help prevent the fillets from sticking to the pan.
Spatula: You'll need a spatula to flip the snapper fillets while they're cooking. I really like a fish spatula, not only for cooking fish, but in my day to day life.
Measuring spoons: You'll need measuring spoons to measure out the ingredients for the spicy Cajun seasoning.
Small bowl: You'll need a small bowl to mix together the ingredients for the spicy Cajun seasoning.
Garlic press: While not necessary, a garlic press can make mincing the garlic for the salsa easier.
Citrus juicer: If you have one, a citrus juicer can make extracting juice from the limes easier.
Overall, these tools and gadgets can make the cooking process easier and more efficient. However, if you don't have them, you can still make the recipe with just a knife, cutting board, skillet, and measuring spoons.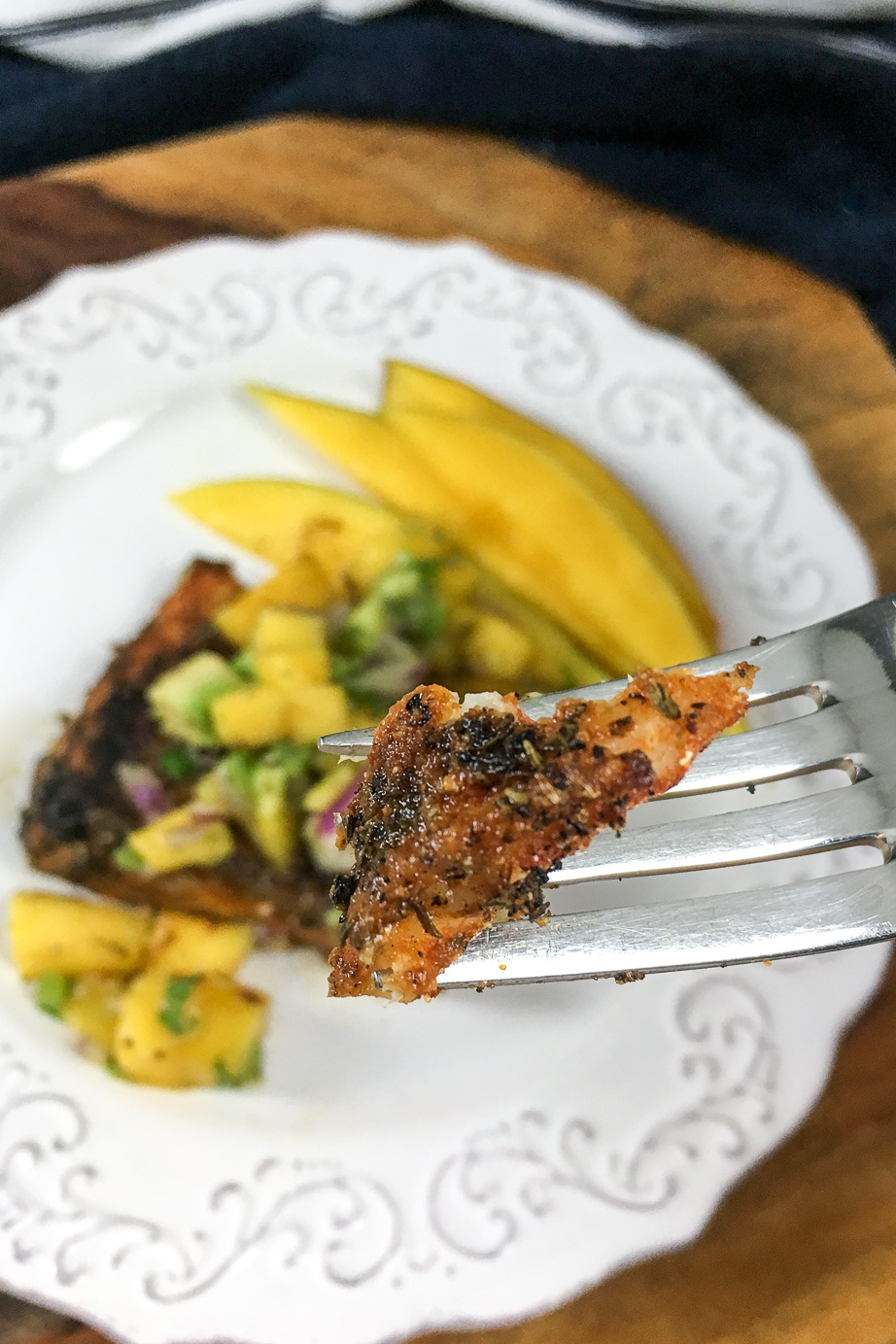 Tips and Tricks for making Spicy Cajun Snapper with Mango-Avocado Salsa
When preparing the mango-avocado salsa, make sure to dice the ingredients into small, bite-sized pieces. This will ensure that the flavors are evenly distributed and that you get a bit of everything in every bite.
If you're short on time, you can prepare the spicy Cajun seasoning and mango-avocado salsa in advance and refrigerate them until you're ready to cook the snapper fillets. This will save you time when you're ready to cook. Make sure the salsa container is airtight, or perhaps add the avocado right before serving, so it doesn't get discolored.
When cooking the snapper fillets, it's important not to overcrowd the pan. If you try to cook too many fillets at once, they won't cook evenly and may stick to the pan. Cook them in batches if necessary.
If you don't have access to fresh snapper fillets, you can use frozen fillets instead. Just make sure to thaw them completely before cooking.
This cajun snapper recipe pairs well with a variety of side dishes, such as rice, quinoa, roasted vegetables, or a side salad. Feel free to experiment and find your own favorite combination.
Finally, don't be afraid to adjust the seasoning and salsa to your liking. If you prefer less spice, you can reduce the amount of cayenne pepper in the seasoning. If you love cilantro, you can add more to the salsa. The possibilities are endless!
In conclusion, this Spicy Cajun Snapper with Mango-Avocado Salsa is a delicious and healthy seafood recipe that's easy to make and packed with flavor. It's perfect for a quick weeknight dinner or a special occasion. Give it a try and impress your family and friends with your cooking skills!