The literal meaning of brachycephalic is "short-headed." Although brachycephalic breeds are great companions, they are prone to developing abnormalities and other health complications. The commonality in these pups is a shortened snout that affects their breathing and can lead to other abnormalities. For these beloved breeds, early intervention is the best way to prevent further issues related to brachycephalic airway syndrome.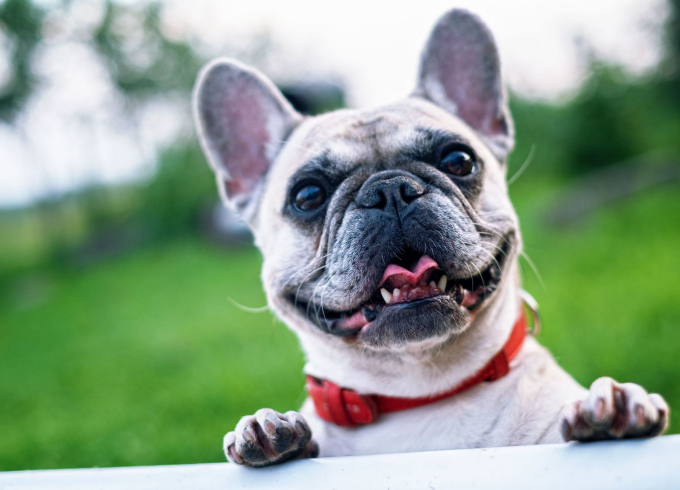 What is Brachycephalic Airway Syndrome?
Brachycephalic airway syndrome is classified as an increase in upper airway resistance caused by abnormalities in the structure of the skull and nasal passages in these affected breeds. This irregular structure of the nasal orifices is inherent among certain dogs and causes upper airway resistance. However, the upper airway is not usually irregular at birth, but instead, develops with age.
The breeds that are at risk for brachycephalic airway syndrome include French Bulldogs, English Bulldogs, Pugs, Boxer Dogs, Boston Terriers, Pekingese, Lhasa Apsos, Shih Tzus, and Bullmastiffs. Other mixed breeds can inherit the trait from ancestors, as well. These brachycephalic dogs appear to have flat faces with very short snouts, but their characteristics do not end here. Rather, most brachycephalic dogs develop abnormalities and other health conditions that can negatively impact their quality of life if they are not addressed early in life.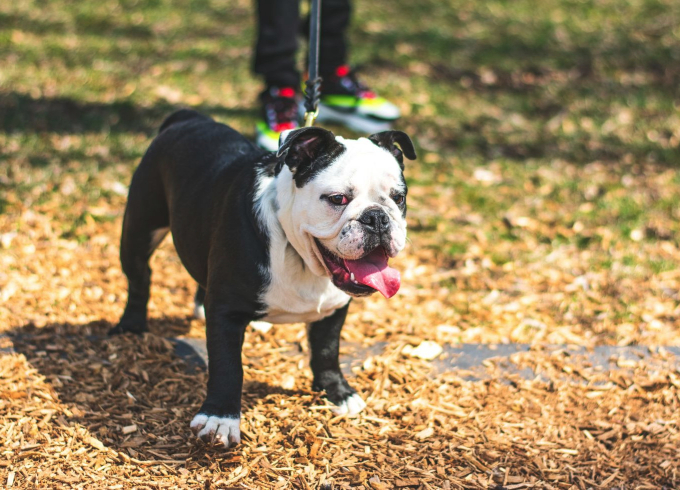 Abnormalities Cause by Brachycephalic Airway Syndrome
Various abnormalities resulting from brachycephalic airway syndrome will restrict airways, inhibit breathing, and affect other areas of the body, such as the gastrointestinal tract. The following upper airway abnormalities result from brachycephalic airway syndrome.
Stenotic nares are narrow nostrils that restrict airflow. This abnormality is the first sign that a dog may be suffering from brachycephalic airway syndrome.
Nasopharyngeal turbinate involves bone that is covered by tissue, blocking the entrance to the airway and obstructing airflow.
Elongated soft palates are too long for the length of the mouth, blocking the entrance to the trachea and further obstructing the airway.
Laryngeal collapse occurs when the larynx, or voice box, cannot open due to chronic stress from other abnormalities.
Hypoplastic trachea is a trachea that is smaller in diameter than normal, which restricts normal airflow to the lungs.
Everted laryngeal saccules involve the small sacs in the larynx that are sucked into the airway by pressure from an increase of respiratory effort.
All these abnormalities vary in severity but can lead to other, more complicated issues, such as changes in the lungs or issues with the gastrointestinal tract.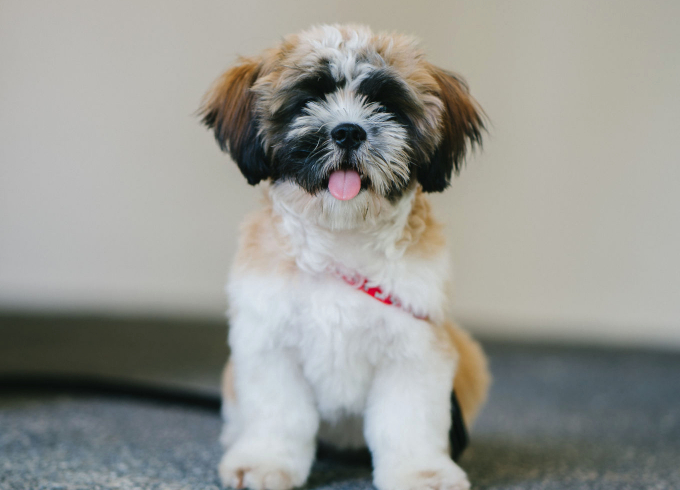 Clinical Signs of Brachycephalic Airway Syndrome
The most telltale sign of brachycephalic airway syndrome is an increased effort to breathe and inhale. Clinical signs vary for each patient, but many dogs have shown the following symptoms:
Trouble breathing
Easily tired
Intolerance to exercise and heat
Respiratory noise
Snoring
Wheezing
Snorting
Obesity
Coughing
Gagging
Gastrointestinal tract issues, such as reaching, vomiting, and lack of appetite
These clinical signs vary from mild to severe in patients. Mildly affected dogs will breathe loudly, especially during exercise. These dogs will likely snort when they are excited and snore when asleep. Severely affected dogs have even more pronounced airway noise, tire easily, and may even collapse or faint during active periods. Obesity is common in dogs with brachycephalic airway syndrome, which often worsens these symptoms.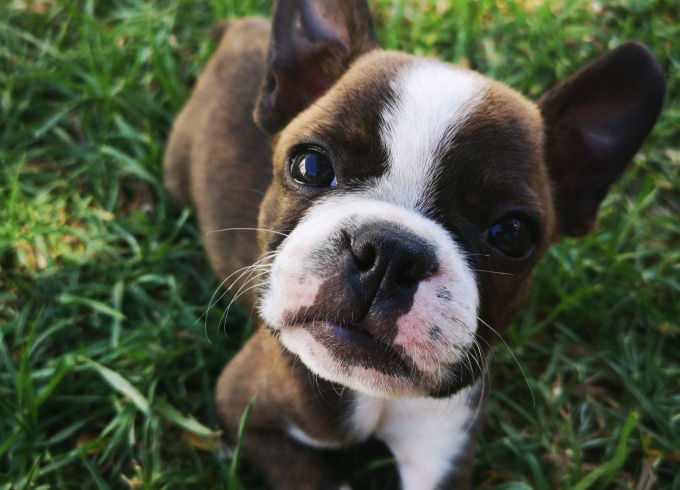 Diagnosing Brachycephalic Airway Syndrome
Dogs are usually diagnosed with brachycephalic airway syndrome at a young age, between one and four years old. A diagnosis is made based on the dog's breed, clinical signs, and physical exams. Veterinarians can detect stenotic snares just by looking up the snout. Other, more serious abnormalities require heavy sedation or general anesthesia in order to make an appropriate diagnosis.
Unfortunately, these breeds are at risk of responding poorly to general anesthesia because of their restricted airways. For this reason, the veterinarian will recommend blood work and chest x-rays to assess the overall health of the patient and minimize risks. While under general anesthesia, the vet will make a diagnosis, and usually, perform the necessary reconstruction surgery.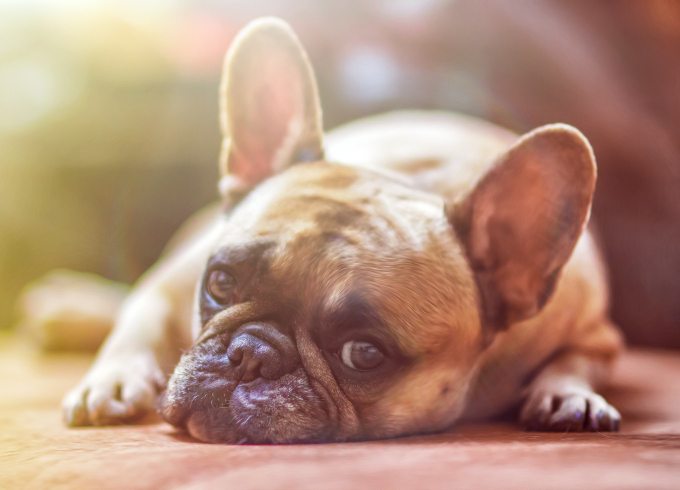 Treatment of Brachycephalic Airway Syndrome
Surgery is the best way to correct these abnormalities and reduce the symptoms of brachycephalic airway syndrome. Many vets will strongly recommend immediate surgical intervention, because the earlier these abnormalities are corrected, the lower the risk of secondary changes in the airway. Surgery will improve airway function and prevent more serious health concerns from developing later in the patient's life.
Several surgical options are available to correct brachycephalic airway syndrome. A less aggressive approach is to correct the patient's stenotic nares at the same time as their spay or neuter procedure. This approach has a low risk of complications and yields positive results. The only potential downside is that patients may need additional correction surgery in the future because of growth-related changes.
Another approach to revision surgery is to delay the spay or neuter surgery until ten to 12 months of age. At this time, the dog will be closer to skeletal maturity, so it is less likely that the patient will need further treatment. Waiting until the soft palate is closer to fully grown will require a riskier operation. Either of these operations will help prevent brachycephalic airway syndrome from progressing.
Although surgery is the most effective form of treatment for brachycephalic airway syndrome, other measures can be beneficial to the dog, as well. First, obesity worsens the symptoms, so weight loss treatment is necessary for any overweight patients. Additionally, dog owners can control exercise levels and prevent stress on the lungs. Hot and humid weather will also worsen symptoms, so dogs should be kept in the air conditioning during the summer months.
Medications can help ease certain symptoms. Corticosteroids, NSAIDs, and oxygen therapy can provide short-term relief for dogs with airway inflammation or respiratory distress. Medications can also help treat intestinal tract inflammation and vomiting. Medication and other forms of treatment can help symptoms, but surgery is the most favorable option for a permanent treatment of brachycephalic airway syndrome.
If you are considering bringing a new puppy into your home, you should always consider potential risks or inherent conditions that come with the breed. Like all dogs, brachycephalic breeds are wonderful companion pets and can live happy, healthy lives with early intervention and appropriate treatment plans.