What do the following people have in common?
Bobby Flay, Rick Bayless, Greta Brinkley?
If you guessed we are all famous chefs, you are wrong!
If you guessed that we all love cooking, eating and all things food, that would be close.
But the answer is:
We all are in love with our
Boos Block Cutting Boards
!
When I was growing up, we had a butcher block; one of those huge, heavy tables that you can chop on.
But I never had room for one in my own home, and honestly, I have been using a paddle-sized plastic cutting board for the past few years.
It was serviceable, but was small, slid on a damp countertop, and didn't make me feel 'chef-ey'.
Have you ever discovered that you didn't know you needed something until you got one?
Or that a great tool can make a job so much easier?
Have you ever wondered why it took you so long to have the epiphany?
Along came the Boos Block cutting board, and I can chop, chop, chop 'till the cows come home!
I feel very Julia Child when I use my Boos block, and know that everything I cook will be better!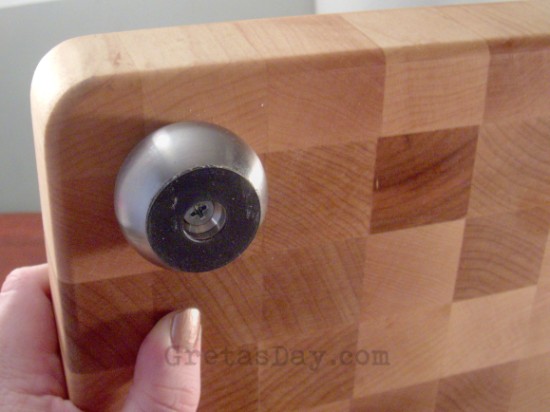 A little about the board:
Boos Blocks have been made in the USA, since 1887.
Any company still in business after 125 years, making a handcrafted item, has a big thumbs up in my book.
The Boos Block cutting boards are heavy!
This is no light weight product that will move around on your countertop when you're trying to prepare your food.
It also has a juice groove, stainless steel feet, and is almost 2 inches thick.
I know I can chop, slice, and cut anything on this board and it will do the job.
Boos Block care is easy – use the Boos Mystery Oil and Boos Cream on your board once a month to keep it looking like new.
Don't cut fish or chicken on it.
Don't let moisture sit on the board for extended periods of time.
Scrape with a bench scraper when you are finished using it.
Don't put your Boos Block in the dishwasher.
Rachael Ray, Paula Deen, Alton Brown, the Iron Chefs of Iron Chef America, Tyler Florence, Giada de Laurentiis, Mario Batali, and Emeril Lagasse are just a few other chefs that use Boos Blocks.
And Martha, the queen of all things good, has one too.
I guess I'm in pretty good company!