I love Berry Crisp. I find it to be one of those foods that is good for dessert or for breakfast. It's gotta be better for you than sugary cereals, right? Or is that just a good excuse to have dessert for breakfast?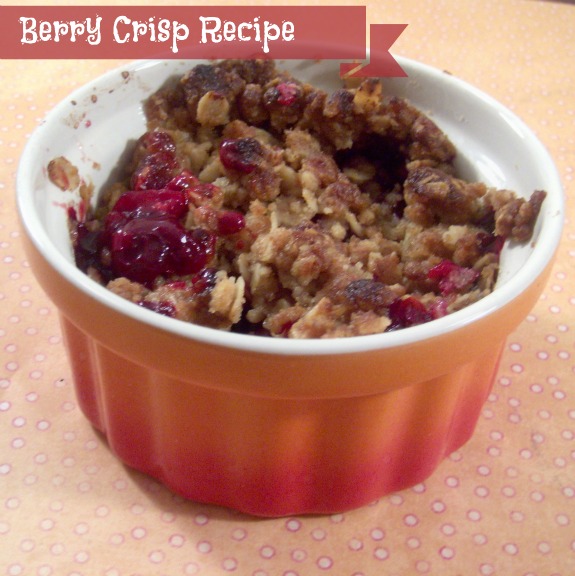 This is my berry crisp recipe.
Berry Crisp Recipe
Greta Brinkley
Yields 6
Berry Crisp
A deliciously rich and satisfying berry crisp. Can be made using fresh or frozen berries, and just about any kind of berries work. This also makes a wonderful breakfast. This is on the tart side. If you like yours sweeter, add a couple tablespoons of sugar.
10 minPrep Time
20 minCook Time
30 minTotal Time
Ingredients
2 – 12 ounce bags frozen berries (blackberries, blueberries, raspberries or a mix)
2 Tablespoons Cornstarch
1 teaspoon Lemon Juice
For the topping:
1/2 cup butter or margarine (1 stick)
3/4 cup brown sugar
3/4 cup flour
3/4 cup rolled oats
1/4 teaspoon salt
1 1/2 teaspoons cinnamon
1/2 teaspoon ginger
Instructions
Preheat oven to 425 degrees. In a bowl, combine the frozen berries, cornstarch, and lemon juice. Stir to coat the berries in the cornstarch, and divide the berry mixture between 6 ramekins. Set on a cookie sheet.
Soften the butter in the microwave (or leave on a counter for a couple of hours). Put in a mixing bowl. Add brown sugar, flour, oats, and spices to the bowl.
Using a fork, break up the butter, and mash everything together. It should be crumbly; it can have little pea sized lumps for butter, but you want all of the ingredients incorporated. (I mash it so the butter squishes between the tines of the fork, giving it a little stir every so often. If you keep squishing and mashing, it will take about 2 or 3 minutes to mix the topping.)
When the topping is mixed, start spooning it over the berries, trying to distribute evenly over the tops, with a similar amount on each crisp.
Put your cookie sheet, with the individual crisps in the oven. Immediately turn the heat down to 350 degrees. Bake for about 20 minutes until the berry filling is bubbly, and the tops are nicely browned. If the tops are getting too dark, cover them with foil, and turn the oven down to 325 degrees.
Remove from oven and let cool about 30 minutes. Great when served with ice cream, whipped cream, or even plain!
Optional – you can put the berries into an 8 inch pan, then cover with the topping. Bake at 350 degrees for about 30-40 minutes, till the center is bubbly.
7.6.7
1
https://www.gretasday.com/berry-crisp-breakfast-of-champions/

A couple of ingredient notes:
Yes, you can use fresh berries. They're gonna get cooked down, though, so I use frozen and save the fresh ones for a recipe where presentation matters.
This is a little more on the tart side. That's my preference and it sweetens up nicely with ice cream or whipped cream. However, you could add a couple tablespoons of sugar to the berries for a sweeter crumble.