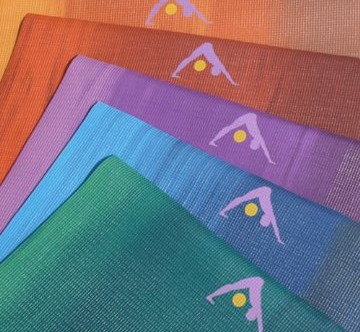 Yoga is one of those activates that allows your body and mind to become one. It's great for reducing stress, clearing your mind, and increasing your physical fitness. While Yoga used to be only for the crunchiest of the crunchy, in the past 10years or so, it's really entered the mainstream. I mean, hey – even professional athletes are huge fans of yoga!
Aurorae Yoga is a family owned business. They've been making yoga mats since 2001. The company has won several awards, including a top service award from Amazon. Dennis Ingui started doing yoga when he had cancer. He found yoga to be a great outlet to regain his strength and develop his own inner peace. And the rest, as they say, is history.
The Northern Lights yoga mat is unique in many ways. First off, it's extra long. This mat is a giant 24 x 72 inches. Yeah, 2 ft wide and 6 feet long! That's almost unheard of for yoga mats. Next, it's extra thick. The extra thickness provide cushioning for your hands, knees, and various other joints. There's also a Golden Sun focal icon to help focus your energy. Northern Lights yoga mats are also odor free. Anyone that's ever opened a gym bag knows how important that is!
Aurorae Yoga is committed to the environment, too. The Northern Lights yoga mat is made from PER (polymer environmental resin) and is biodegradable. These are phthalates, latex, and silicone free, too.
I have to admit though – my favorite feature is the gorgeous colors! These Northern Lights yoga mats are in fantastic ombre shades of your favorite colors. The Northern Lights yoga mats colors are designed to replicate the famous Aurora Borealis. Sunset is golden yellows and oranges. Passion runs oranges to rich reds. Wilderness has earthy greens of the forest. Sky, which is pretty self-explanatory! And, finally, there's Energy, which is gorgeous shades of purple.
Aurorae yoga mats are durable and long lasting. Investing in a luxe yoga mat will make you so much happier during sessions.