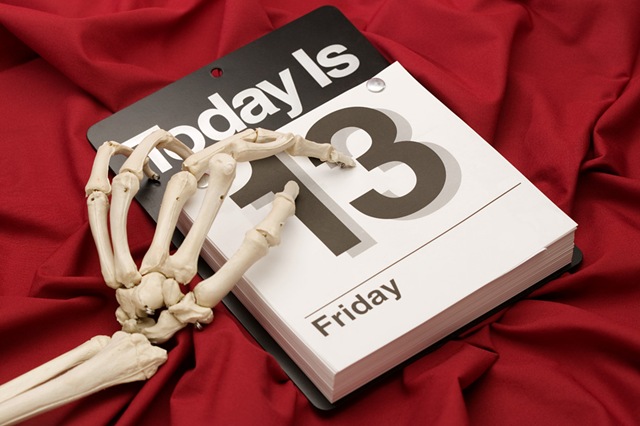 Why is it that Friday the 13th seems to be a bad luck day? I was curious about this, so I decided to find out. It appears that no one really knows how this came about, but there are some guesses. Here are a few of them:
It's believed to be a joining of two separate bad luck superstitions. Many Italians believe Fridays to be an unlucky day and 13 was an unlucky number. So, one could reasonably believe Friday the 13th would be doubly bad!
In Norse tradition, having 13 people sitting at a table is believed to result in the death of one of the people.
In 1907, Thomas Lawson wrote a novel in which a Wall Street trader created a financial panic on Friday the 13th. There were almost no mentions of Friday the 13th being unlucky prior to this book.
In Britain, Friday was the typical day for hangings. There were allegedly 13 steps up to the Noose.
Friday the 13th isn't unlucky everywhere though! In some Spanish speaking countries, as well as Greece, they consider Tuesday the 13th to be unlucky instead. In Italy, it's believed that Friday the 17th is the bad luck day.
So, there you have it. No one really knows how the superstitions regarding Friday the 13th came about.