St. Patrick's Day isn't too far away and what better way to celebrate any holiday than with some delicious desserts made with Guinness beer. Guinness beer is dark and has a very distinct taste to it – it's definitely not a subtle taste. If you're a fan of the stout, you might want to preheat the oven and get ready to try these recipes. They may not be for kids, but that's okay, us adults love a good cupcake or doughnut once in awhile, too!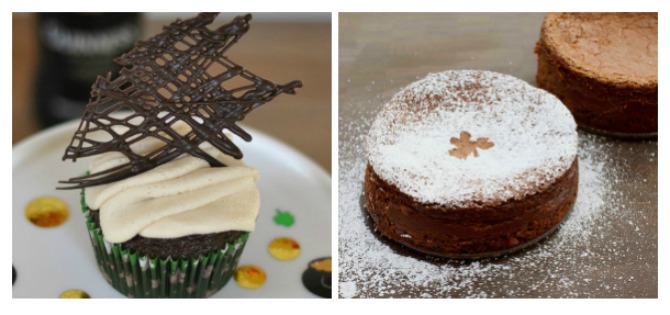 Enjoy the holiday – or any day, really – with some festive desserts made with Guinness beer. These all feature the deep flavor of this Irish brew. You'll be surprised at what kinds of recipes I found. Candied bacon, cookies, cakes, candies, and even marshmallows. I better be careful how many of these recipes I make – I'll be buying Guinness and sugar by the truck load! But it's such a delicious combo, can you blame me? Oh – if you're on a diet, don't you worry, I've got your back! There's a low-carb Guinness chocolate pudding recipe on the list.
22 Amazing Desserts Made with Guinness Beer
A Mother Thing – Chocolate Guinness Cake With Salted Caramel Sauce
Foodie Fun – Guinness Chocolate Cheesecake
Mom Foodie – Guinness Bread
Just Us Four Blog – Guinness Cupcakes with Irish Cream Frosting
Simplee Thrifty – Bailey's Ice Cream with Guinness Chocolate Ripple
Life Love Liz – Chocolate Guinness Baked Donuts with Bailey's Glaze
Heather Christo – Guinness Snickerdoodles
Cooking With Curls – Guinness Gingerbread
The Simple Sweet Life – Chocolate Guinness Macarons
Served From Scratch – Guinness Candied Bacon
Sprinkle Bakes – Guinness Cupcakes with Toasted Beer Marshmallow Meringue
Alll Day I Dream About Food – Low Carb Guinness Chocolate Pudding
Self-Proclaimed Foodie – Guinness Chocolate Sauce
Life Love Sugar – Guinness Chocolate Brownies
Gimmie Some Oven – Guinness Floats
Foodness Gracious – Guinness Chocolate Magic Cake
Beth Michelle – Chocolate Beer Covered Marshmallows
Cookie Named Desire – Beer Pretzel Caramels
Sherri's Berries – Stout Fudge
Serious Eats – Beeramisu Guinness Tiramisu
Two in the Kitchen – Boozy Irish Car Bomb Trifle
Sprinkle Bakes – Guinness Pretzel Truffles
Which of these desserts made with Guinness stout is your favorite?