It's officially spring! Well, almost. This Spring Break Mix and Match wardrobe from Target is perfect for 2023, and right on trend.
And since the items are from Target, you know it's affordable, decent quality, and that these clothing items are readily available, and pretty size inclusive.
Links may be commissioned.
Trust me when I say the items in this mix and match wardrobe for spring are affordable. There are several things on here under $10, and nothing is over $30. The V Neck Tee is $10, comes in sizes XS to 4X, and is available in 14 amazing colors. Whaaa???
The muscle tank comes in 8 colors, in sizes XS to 4X, and is $8. EIGHT BUCKS! Even the floppy hat is $10, which is a total steal.
There are 14 items, including the shoes and accessories, that make up these 15 outfits. And honestly, our mix and match wardrobe outfits are just the beginning.
Target Mix and Match Wardrobe for Spring 2023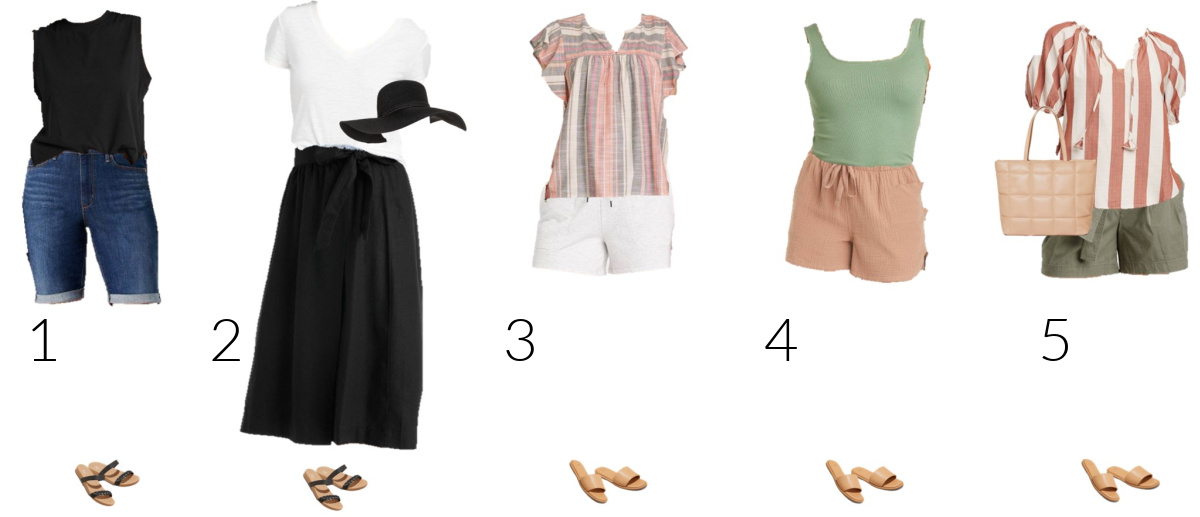 1 A New Day Muscle Tank Top + Levi's Denizen Bermuda Shorts +Dani Slide Sandals
2 Universal Thread Slim Fit V Neck Tee + Linen Wrap A-line Skirt + Dani Slide Sandals + Packable Paper Straw Floppy Hat
3 Knox Rose Flutter Sleeve Top + Stars Above Beautifully Soft Fleece Shorts +Lulu Sandals
4 A New Day Square Neck Tank Top + Stars Above Cotton Gauze Shorts +Lulu Sandals
5 Knox Rose Striped Blouse + A New Day High Rise Pleated Shorts + Lulu Sandals + Soft Tote Handbag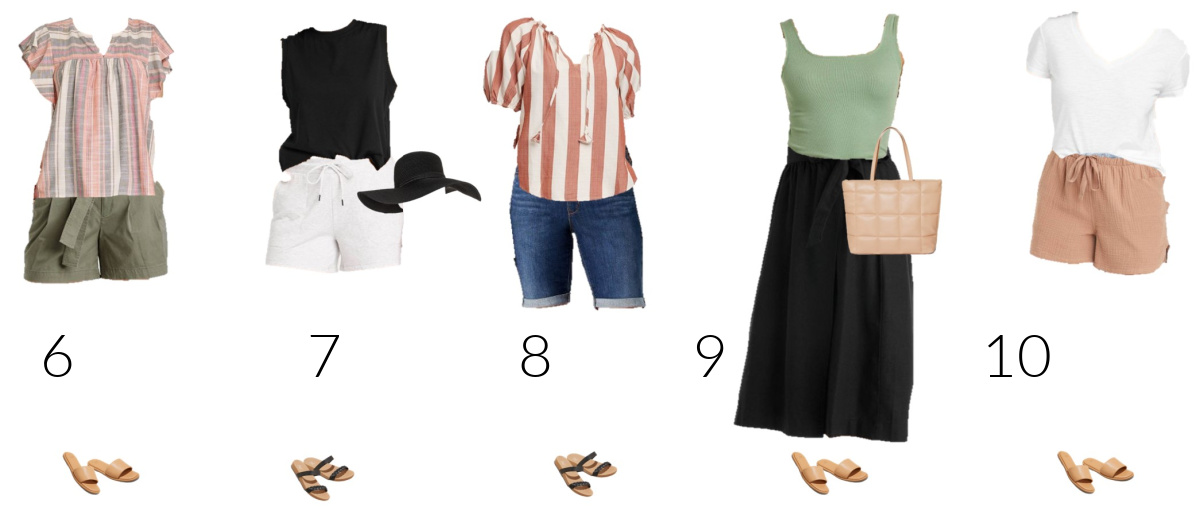 6 Knox Rose Flutter Sleeve Top + A New Day High Rise Pleated Shorts +Lulu Sandals
7 A New Day Muscle Tank Top + Stars Above Beautifully Soft Fleece Shorts + Dani Slide Sandals + Packable Paper Straw Floppy Hat
8 Knox Rose Striped Blouse + Levi's Denizen Bermuda Shorts + Dani Slide Sandals
9 A New Day Square Neck Tank Top + Linen Wrap A-line Skirt + Lulu Sandals + Soft Tote Handbag
10 Universal Thread Slim Fit V Neck Tee + Stars Above Cotton Gauze Shorts + Lulu Sandals
11 Knox Rose Striped Blouse + Stars Above Beautifully Soft Fleece Shorts + Lulu Sandals
12 A New Day Muscle Tank Top + Stars Above Cotton Gauze Shorts + Dani Slide Sandals
13 A New Day Square Neck Tank Top + A New Day High Rise Pleated Shorts + Dani Slide Sandals
14 Universal Thread Slim Fit V Neck Tee + Levi's Denizen Bermuda Shorts + Lulu Sandals + Soft Tote Handbag
15 Knox Rose Flutter Sleeve Top + Linen Wrap A-line Skirt + Dani Slide Sandals + Packable Paper Straw Floppy Hat