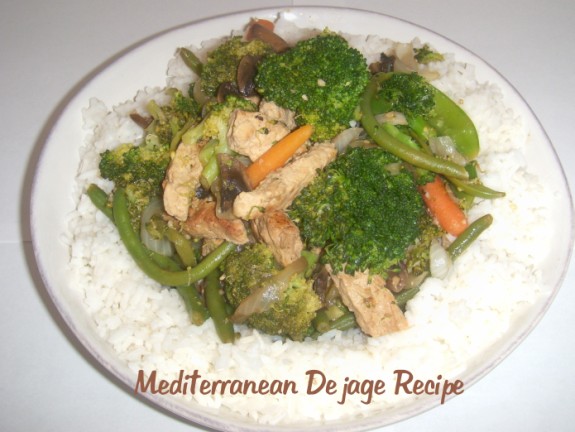 I'm all about quick, easy, and tasty when it comes to meals. I suppose I should throw healthy in there, but let's be honest – it's generally more about the first three. Minute Rice helps with all of these components. I'm a busy person, and I don't have the time, or desire, to slave over a hot stove. Especially when a lot of the time, I'm just cooking for me.
Dejage is a dish that I used to go out to have. There was a great Mediterranean restaurant locally, that, unfortunately, has closed. I scoured the internet looking for a similar recipe. Alas, there was nary a one to be had. After having it on a regular basis, I knew I could make a reasonable facsimile at home. As with most Mediterranean recipes, this is loaded with good for you ingredients like olive oil, lemon, and chock full of veggies. This recipe is as healthy as it is delicious. It's really easy to change up, too.
Mediterranean Recipe for Dejage

Ingredients
Olive oil
2 chicken breasts, cut into 1 inch pieces. I used a vegetarian chicken substitute. You can also omit the chicken completely.
1

Onion, roughly chopped
8 oz. Mushrooms sliced
2 tsp or more Chopped Garlic
1 lb broccoli florets (I used a bag of fresh mixed veggies – broccoli, carrots, snow peas)
1 cup fresh or frozen green beans
½ cup white wine
¼ to ½ cup fresh lemon juice
Feta cheese
Minute Rice, prepared as directed on box
Directions
Heat about 2-3 TBSP Olive oil in a large skillet on medium-high heat.
Add chicken cook until golden brown.
Add onions, mushrooms and garlic; sauté until onions and mushrooms are cooked.
In the meantime, steam the broccoli and green beans until cooked.
Drain thoroughly and return to pan.
Add the white wine and lemon juice to the chicken and mushrooms; simmer over medium heat for 5 minutes, until reduced slightly.
Season with salt and pepper to taste.
Add the cooked vegetables to the chicken mixture and mix gently.
Heat through, and serve over Minute Rice.
Top with Feta cheese, if desired. Serves 4.
Minute® Rice is so quick and easy to prepare and is great pantry staple. When meal time seems like a hassle, Minute® Rice is a go-to ingredient your whole family will love and allows you to have more quality time doing what your want with your loved ones.

Leftover rotisserie chicken or veggies from a meal earlier in the week? Minute® Rice can easily be paired with some of your leftover ingredients to make a quick, easy and wholesome meal your whole family will love in just a matter of minutes.

Visit http://www.minuterice.com/ to create a great main meal or side dish for your next family get-together or potluck.

This is a sponsored post written by me on behalf of Minute® Rice.