Marinate your turkey in a collection of fresh juices, spices, and olive oil for a real treat with this mojo turkey recipe.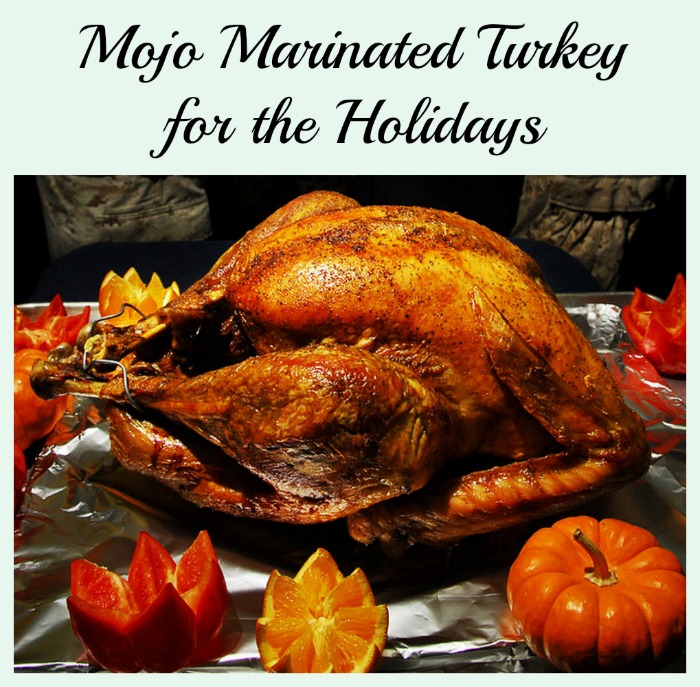 Are you always trying to figure out some new and exciting way to serve turkey?  I know we are.  We have one person that loves loves loves traditional Turkey and Dressing and all the fixins, and everyone else is kind of like "yeah, we eat it once a year."
You see, it's not that we don't like the traditional Turkey and Dressing and all that good stuff.  It's just that…we want something more.  Something different and exciting.  Something that makes us enthusiastic about the big meal.  Enter this Mojo Turkey recipe with mojo sauce.  Mojo is a Latin American sauce that contains loads of spices, olive oil, and something acidic, like citrus juices.  It's not usually spicy, just full of flavor.   When you serve this Mojo Turkey Recipe, your guests will be begging for more.
Over the next week, we'll be sharing many unique twists on the normal Thanksgiving dishes.  Be sure to join us for the whole series.
Latin Mojo Turkey Recipe
Bill Rosenberg
Mojo Marinated Turkey
Add some interest to your normal turkey with the addition of a Latin American mojo sauce.
10 hrPrep Time
4 hrCook Time
14 hrTotal Time
Ingredients
18-20 lb turkey
2 cups olive oil
1 1⁄2 cups chopped garlic
1 onion diced
1 cup fresh orange juice
1 cup fresh lime juice
1 cup pineapple juice
1 cup salt
1⁄4 cup cider vinegar
3 table spoons toasted cumin (grind)
1 bunch chopped cilantro & stems
1 teaspoon ancho chili powder
1 teaspoon cracked black pepper
Instructions
Thaw bird if frozen, remove giblets and excess fat.
Mix all mojo ingredients (everything except the turkey!) well to dissolve salt.
Pour marinade over turkey making sure to rub into bird and cavity.
Place into refrigerator overnight flipping the bird over at least once to redistribute marinade.
Place into a 375 degree oven for 12 minutes a pound.
Reserve marinade and place into a pot and bring to a boil.
Reserve as sauce for turkey when it's done cooking.
Once fully cooked, rest for 1⁄2 hour. Then carve and enjoy.
7.8.1.2
16
https://www.gretasday.com/liven-holidays-mojo-turkey-recipe/
You can make this mojo turkey recipe with a turkey breast too.  Just reduce the ingredients.
Will you be adding this Mojo Turkey Recipe to your repertoire this holiday season?
Special thanks to Bill Rosenberg & NoMa Social for this recipe.