I'm always looking for ways to jazz up my accessories, and change their look. Especially older ones that are either banged up and have seen better days or ones that are on their way out of style. If I mess up that bag or those shoes, am I really going to care? Probably not.
One of the things I've noticed lately is the abundance of sunglasses I seem to be acquiring. I'm a little ashamed to admit that I tend to lean towards one style of frame, and…well…let's just say that I have a pair in every color. And maybe more than one pair in some colors. Whoops! What am I supposed to do with these sunglasses? I'm gonna embellish them and jazz 'em up a little. Why not? Embellished sunglasses are so popular, and this embellished sunglasses DIY project is super easy!
Embellished Sunglasses DIY Project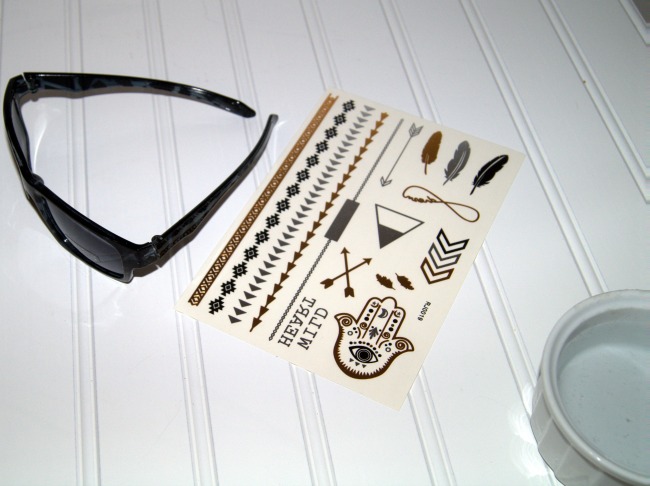 Materials
Sunglasses
Nail Decals or body tattoos. I'm using metallic body tattoos.
Water
Rubbing alcohol
Soft cloth
Clear nail polish (optional)
Directions
Clean your sunglasses really well with rubbing alcohol. This will remove all traces of dirt, grime, and grease.
Check out your nail decals or body tattoos, and see what you want to use. If you're using sunglasses that have a dark frame for your embellished sunglasses DIY, you'll probably want to go with a design that's very light or metallic. Otherwise, it just disappears into the frame. So not the look we're going for with our embellished sunglasses DIY.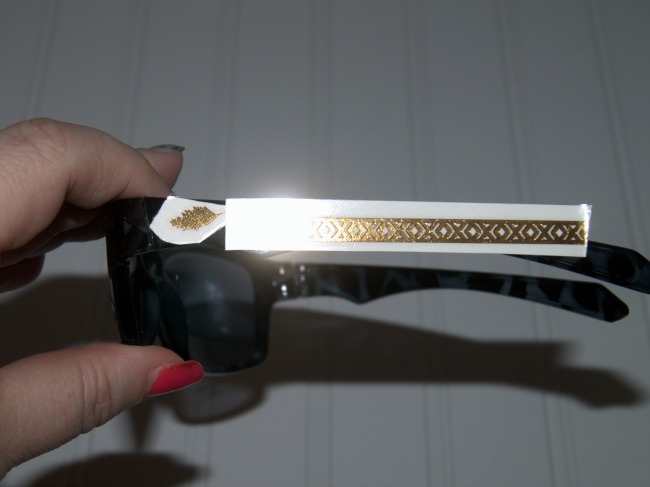 Cut out the images you plan to use. Carefully trim close to the image if you can. Peel the top liner (clear sheet) from your image.
Place your image where you want it to go on your embellished sunglasses. The body tattoos are slightly sticky, and this helps to hold them exactly where you want them.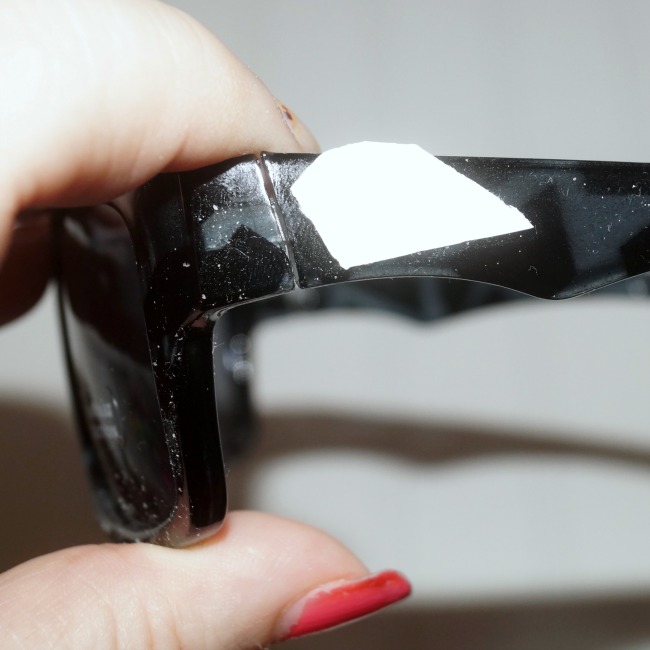 Wet the backing paper until saturated. Just get your finger wet and run it over the paper. It takes about 10 seconds, maybe. Peel off the backing paper, and your image should have transferred to your sunglasses.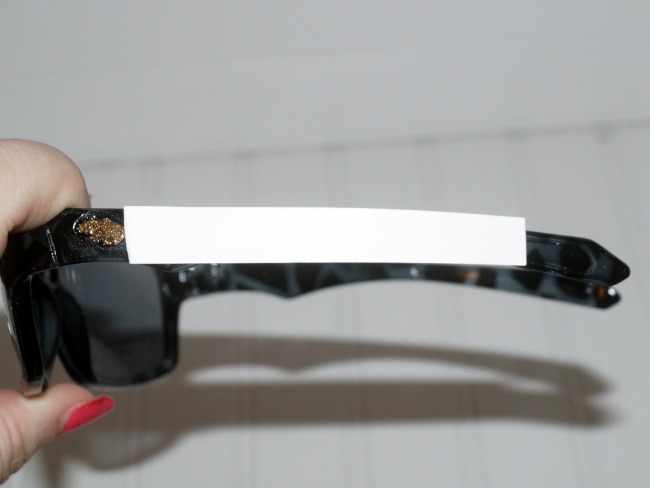 Continue until you've placed all of your designs on your sunglasses.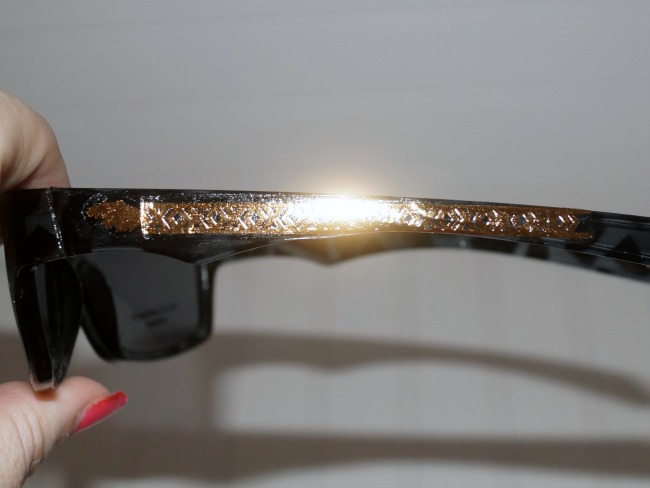 If you want, you can help to protect your decals with a coat or two of clear nail polish. This is recommended if you're gonna toss the sunnies in your bag and they're always knocking around.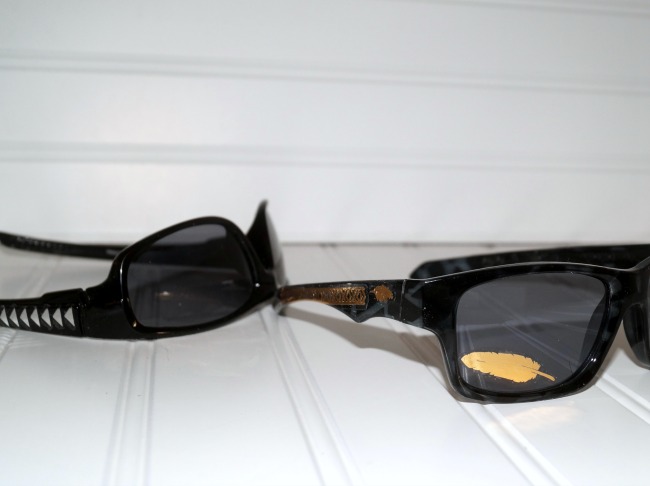 Easy, right? And the little embellishments totally change the look of your sunglasses with very little effort.  The gold ones have feathers and a sort of Tribal pattern.  The silver ones are bold triangles/modern arrowheads.  This Embellished Sunglasses DIY is a great gift for your best friend, the new grad, or even your super cool mom.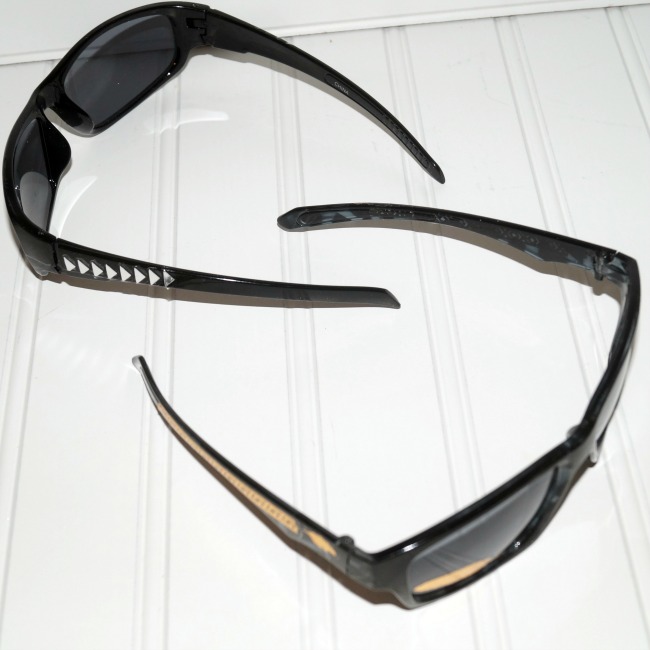 For more easy gift ideas, visit a few of my favorite bloggers: