Lately, I've been in a total home decor and renovation phase.  Since I live in a townhouse, and I rent, I can't exactly rip out my kitchen or totally redo the bathroom.  Not that I'd really want to anyway.  However, I have been lusting after a new living room.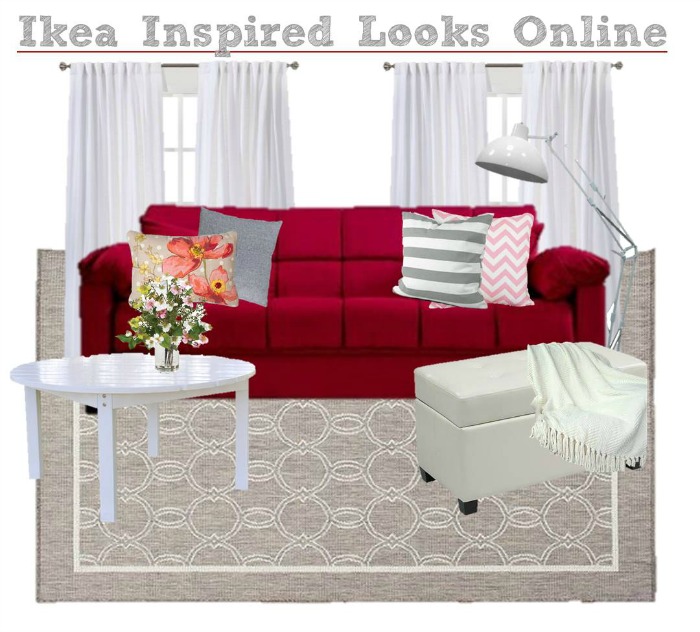 Recently, we had a new IKEA open not that far from us, in Kansas City.  Before this, we'd have to go Denver, Dallas, or Chicago to go to IKEA.  Now, you have to understand – IKEA is like my second home.  When I was a kid, they opened 3 stores in the US, and one happened to be around the corner from our house. I have been going to IKEA my whole life.
While the new Kansas City IKEA isn't far, it's not exactly around the corner, either.  So, while I love Ikea, and want to live in the catalog, a girl needs some options in her home decor choices.  These IKEA inspired living room selections were inspired by this catalog layout.  The Ikea inspired living room pieces are all items you can find to purchase online.  Most are in the same general price range, too.  There may be affiiliate links included.  If you make a purchase, I'll get a few pennies and that helps keep the site running.
Ikea Inspired Living Room Looks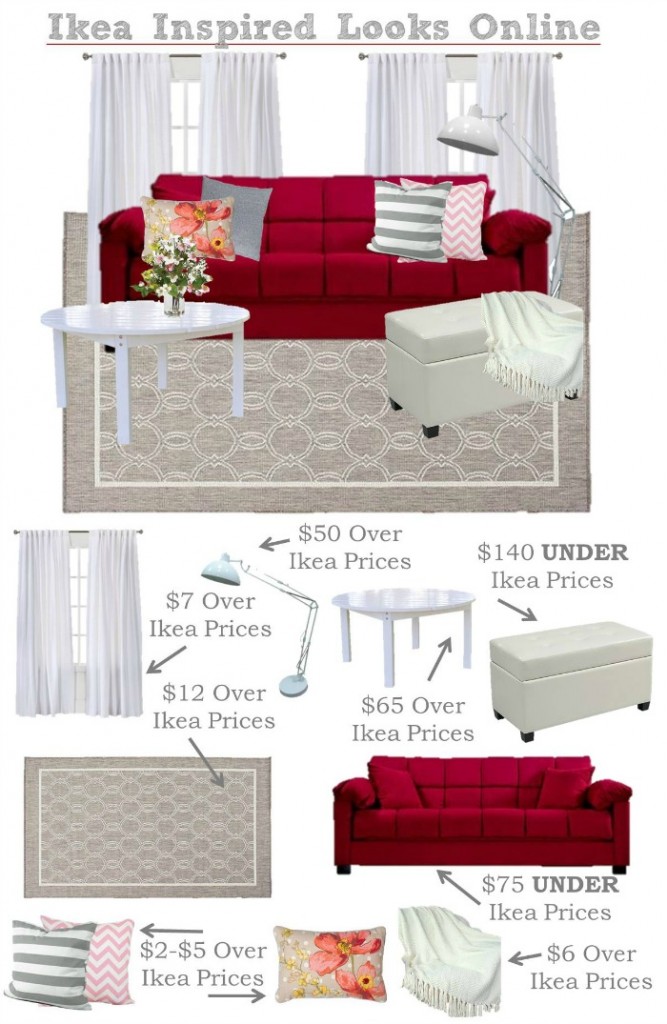 Red Sofa  //  Ottoman  //  Round Table  //  Floor Lamp  //  Rug  //  Grey Pillow Cover  //  Pink Chevron Pillow Cover  //  Grey Striped Pillow Cover  //  Floral Decorative Pillow  //  Knitted Throw  //  Curtains  //  Flower Arrangement
As always, prices are subject to change, and are just a guideline.  Check out this IKEA Mudroom Bench hack, too.
What do you think about this Ikea inspired living room?