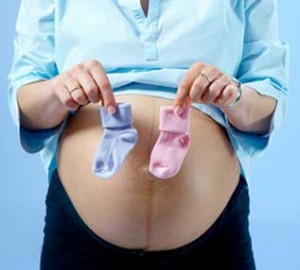 Your belly has started grow and for the past few weeks you have found yourself pondering the sex of your baby. Have you thought about a gender test to help you discover the gender? Waiting until the moment of birth is just one choice. But for those expectant mothers who just cannot wait, perhaps wishing the surprise family and friends before the birth, a baby gender test is the answer.
But there are so many gender tests around – where do you start?. The internet is flooded with information and tests which can be done to tell you the gender of your baby. Let's have a look at just a few.
Finding out without even doing a test
Have you been told that cravings can give an indication of sex of the baby? Well, supposedly if you are expecting a boy then you will find yourself reaching out for the bag of crisps or a nice juicy steak. In fact, according to this myth, women expecting a baby boy will crave salty food and proteins. On the other hand, if they are expecting a baby girl, they may have to deal with not just the occasional sweet tooth. Further to this, morning sickness is more intense when expecting a girl than when expecting a boy. Unfortunately, none of these are actually true. Some of these saying have lingered for centuries up until the present date and they get even more absurd. Apparently, if you nose spreads or if you wake up with your pillow facing north, then you have a baby boy but if your pillow faces south then it will be a baby girl.
You might perhaps want to try something more "tangible" and scientific sounding!
Gender tests: Finding out at home
There are many at home baby gender tests which claim to be able to confirm the sex of your baby. These tests can be quite colorful or smelly and might well recall your childhood "chemistry" experiments. The Drano test is probably the best example of smelly and colorful tests which you can do.
All you need to do for this test is mix your urine with some Drano (a solution of very caustic sodium hydroxide) and wait for the color change that follows. You may have to wait till the irritating smoke clears to be able to make out any color change and also be careful of the container which can become extremely hot. If the resultant solution is bluish, brown or yellow than it is a boy. If it is green, blue or colorless it is a girl. Besides the heat emitted and the irritating smoke, the color changes in the Drano test are anything but clear cut. It is sometimes difficult to decide on the exact color of the solution. But further to this, the test has been disproved by scientists over and over.
Whilst there actually is some chemistry going on in the Drano test, the ring test is anything but scientific. Supposedly you need to tie your wedding ring to a thread or hair. Somebody will then need to allow the ring to hang over the mother belly while she is of course, lying down. If the ring oscillates like a clock pendulum then you are having a boy whilst if it moves in circles then it is a girl.
Other types of tests might include the cabbage test or the Chinese calendar but then again these tests will tell you nothing you can rely upon. Of course, they are fun, so if you want to keep guessing till the day of the birth than these tests are just fine. But what about for those pragmatic couples who want to prepare for the baby as early as possible and want total accuracy?
DNA Gender Prediction tests
Baby gender DNA testing is the most accurate way of knowing the sex of your baby. Ultrasounds are fairly accurate as well but you might want to keep in mind the following:
You will carry out your first ultrasound at around 18 week
Ultrasounds are not always a reliable method of determining baby gender. This is because the position of the fetus, amongst other things, may inhibit identification of the sex organ.
So ideally, you should opt for a gender DNA test. These tests can be done at just 10 weeks and are very accurate. There are either baby gender tests with maternal urine samples or baby gender tests that use maternal blood. The blood sample needed for baby gender testing is not actually a medical blood draw but a sample collected by piercing the tip of your finger with a special, sterile needle. Blood testing for baby gender is slightly less reliable and accurate then the test that uses urine. Moreover, the collecting a urine sample is somewhat easier then collecting a few drops of blood from the tip of your finger.
So if you want to know with accuracy go for the scientifically validated tests – if not there are many old wives' tales to keep you guessing!
I was compensated for this post.