This is a Fashionista Event and a promotional item was provided to me by Chocolat Frey®. Hosts for this event are Still Blonde after all these Years and ModlyChic.
Easter is one of the holidays that it seems most people participate in.  In our family, we always had an egg hunt for the kids, a big meal, and Easter baskets for everyone in the family.  Yep, no matter your age, you had a basket full of goodies waiting for you.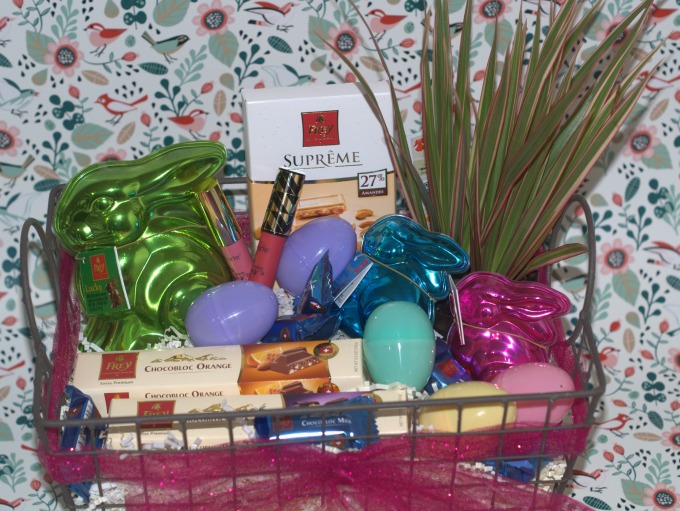 As I got older, the goodies got better.  The candy started getting upgraded, and so did the gifts.  Of course, as an adult, and no longer really living close to my family, this tradition has sort of fallen by the wayside.  Other people I know don't seem to do the Easter Baskets for everyone thing.
I've decided I'm bringing it back.  Easter Baskets for adults are awesome, and really pretty easy to put together. In this one, I purchased a sort of rustic, yet totally industrial chic basket, filled it with basket filler, and started adding some great goodies.  There's a small houseplant and a couple of chubby lip crayons in great colors for spring.  These are Lipsurgence from Tarte and are pretty fab! I then filled in the basket with some good chocolate from Chocolat Frey, and added a bow.  And all those plastic Easter eggs?  They're filled with the assorted pralines.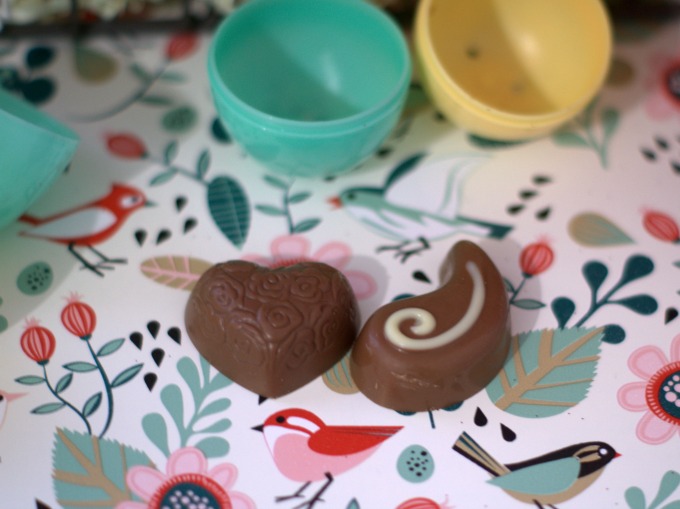 I can hear you now.  "Chocolat Frey?  What?  I've never heard of this brand."  Chocolat Frey is fairly new to the US, but has been popular in Europe for quite some time, and is the #1 chocolate in Switzerland.  Created by the Frey brothers in 1887, the company still believes in the bean to bar experience.  That's refreshing in an era that's full of food shortcuts.
What is Bean to Bar?
Bean to Bar is a term used in gourmet chocolatiering.  Basically, it's the process of using pure ingredients, knowing where your cocoa comes from, where your milk is raised, and how the ingredients used are grown.  Sustainability is a prime concern for Bean to Bar chocolatiers, as well.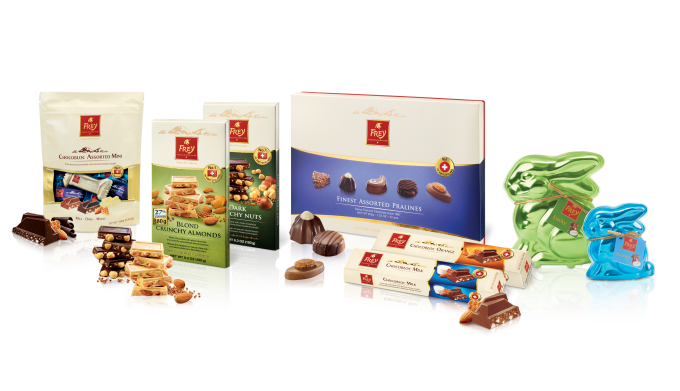 We were sent an assortment of Chocolat Frey Chocolates to try, and these are our thoughts.
Chocolate Bunnies – Good quality milk chocolate that's pretty pure.  There's no odd flavors or weird texture, and it melts smoothly.  The metallic packaging is super cute, yet chic enough for Easter baskets for adults.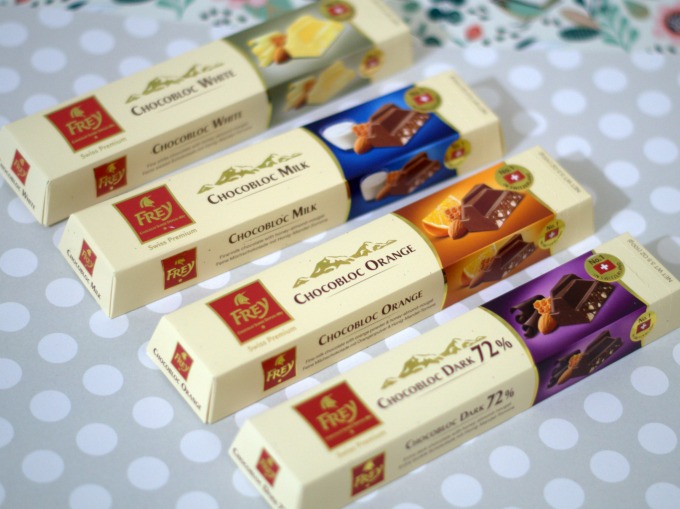 Chocobloc – A nice quality candy bar that's still pocketbook friendly.  The add-ins were a nice touch, and not overwhelming. Available in an Orange flavored chocolate, dark chocolate, milk chocolate, and white chocolate.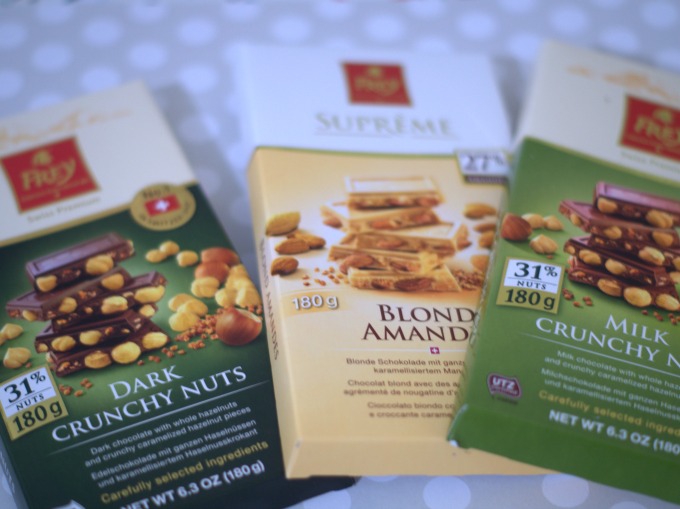 Supreme Bars – These are hefty chocolate bars, clocking in at over 6 oz each. The milk and dark chocolate are loaded with whole hazelnuts and hazelnut pieces.  The hazelnut pieces tasted more like a crisp rice cereal.  The Milk Chocolate Supreme bar was by far my favorite of all of the Frey Chocolate selections we were sent.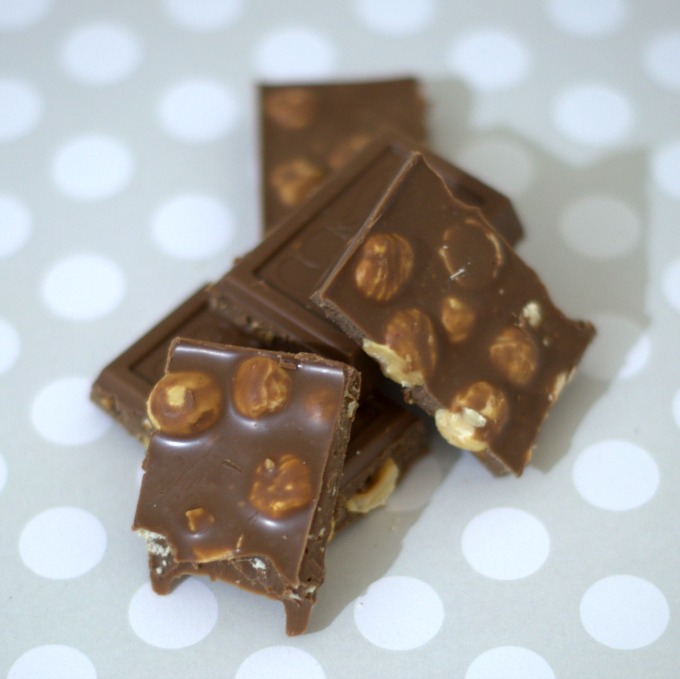 Assorted Pralines – Honestly, these were probably our least favorite.  They were okay.  All were filled with some kind of either hazelnut or almond filling, so there didn't seem to be a lot of difference between them.
Look for these goodies coming soon to a store near you!
Enter to Win
Chocolat Frey is giving one lucky How Was Your Day? reader the chance to win an assortment of chocolates to try for yourself.  The prize pack is a $50 assortment of the goodies mentioned above like Chocobloc, Supreme bars and chocolate bunnies!  Open to US Residents 18 and over only.  Enter in the Rafflecopter widget below.
Now that you've entered here, hop on along to the other participating blogs.  There's 24 more chances to win a Chocolat Frey gift pack!