This post brought to you by Nectresse™ Sweetener. All opinions are 100% mine.
Have you heard of NECTRESSE™Sweetener? Nectresse is an all-natural sugar replacement. It's the only sweetener that's made from monk fruit extract, and is 150 times sweeter than sugar.
Lisa Ling is a fan of the brand, too. Since her family has a history of diabetes, she's extra careful about her sugar consumption.
Now, I love sugar. In fact, when talks of a sugar ban were going around, it was enough to make me cry! I tried the Nectresse sweetener by sprinkling it over some berries that I had. They were sooooo good! Normally, I'd sprinkle a couple tablespoons of sugar over the berries, but with Nectresse, I only used a packet.
I also decided to make something with it. What did I make? My own Worcestershire Sauce recipe! Yeah, I did!!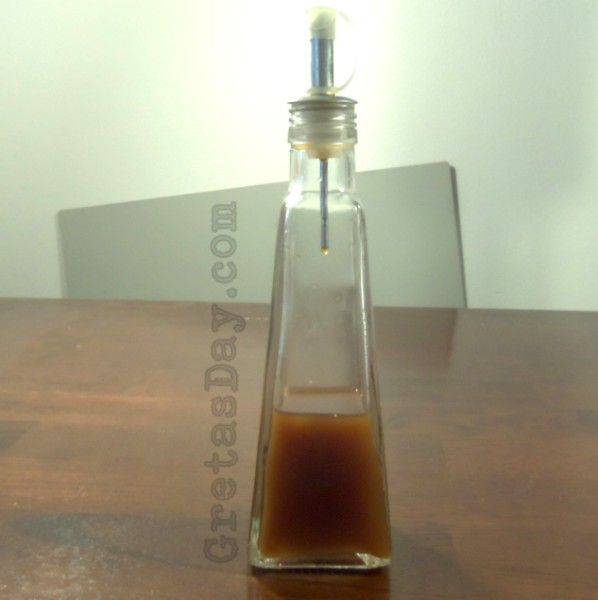 Greta's Homemade Worcestershire Sauce Recipe
In a small saucepan, combine the following:
¼ Cup Water
¼ Cup Soy Sauce (low sodium if you can find it)
1 Cup Apple Cider Vinegar
2 TBLS Nectresse sweetener
1/2 TSP Ginger, ground (you may substitute a piece of crystallized ginger)
1/2 TSP Onion Powder
1/2 TSP Garlic Powder
1/2 TSP Dry Mustard (I use Chinese Mustard)
1/4 TSP Cinnamon
1/4 TSP Black Pepper (I use a few Black Peppercorns)
Bring to a boil; simmer for a minute or two. Remove from heat. Pour into a glass jar and refrigerate. Strain through cheese cloth if you don't want the spicy bits in your sauce (I do, but only because I use Peppercorns and Crystallized Ginger). Pour into a glass bottle if you like.
Makes about 1 1/2 cups, and will keep for at least 2 months in the fridge.

This Worcestershire sauce recipe is low is sodium, sugar, and best of all, you know exactly what goes into it.
Ready to try it for yourself? Good! To introduce the product to the market, you can get a FREE sample of NECTRESSE™Sweetener.