Summer is upon us, and we want to spend more time outdoors. What are we gonna do though? Never fear, giant yard dominoes are here to save the day.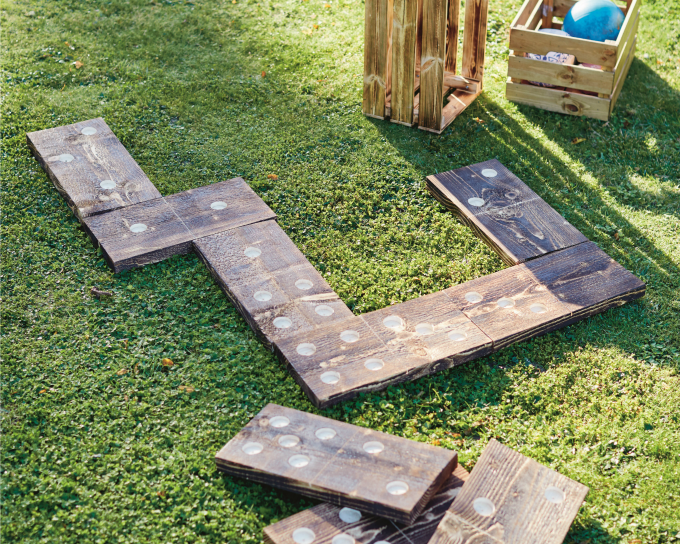 Get everyone away from the electronics. Lock up the tablets, PlayStation and phones and head outdoors to play yard dominoes. Before those electronics were around, we used to play board games like Scrabble, chess and, yes, even dominoes.
By making these games out of durable materials, you can share these experiences with your family and friends. It's a great way for everyone to interact while getting some much needed fresh air and entertaining them outdoors. Giant games are always a ton of fun at any party, and are a great ice breaker.
Let's face it – these dominoes also look pretty cool, with their charred finish. The charring technique makes it easy to see the number dots, brings out the gorgeous grain of the boards and, perhaps best of all, also makes the wood water-repellent.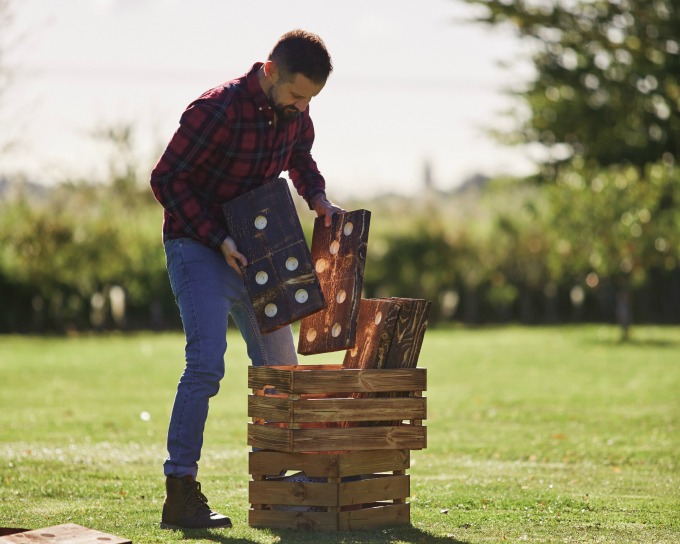 You can definitely paint the dots onto the wood dominoes. Since they'll be in outdoor conditions where they will be exposed to the elements, drilling the circular holes, and painting the inside for the dots, will last a lot longer. It also means that people don't have to be as careful. The giant dominoes can be thrown around and stored in their beautiful apple crate box without concern for the paint scratching off.
This DIY project is a ton of fun for everyone involved, and is relatively inexpensive. The set shown is made from salvaged scaffolding boards, but you can easily make them from new lumber as well.
DIY Outdoor Giant Dominoes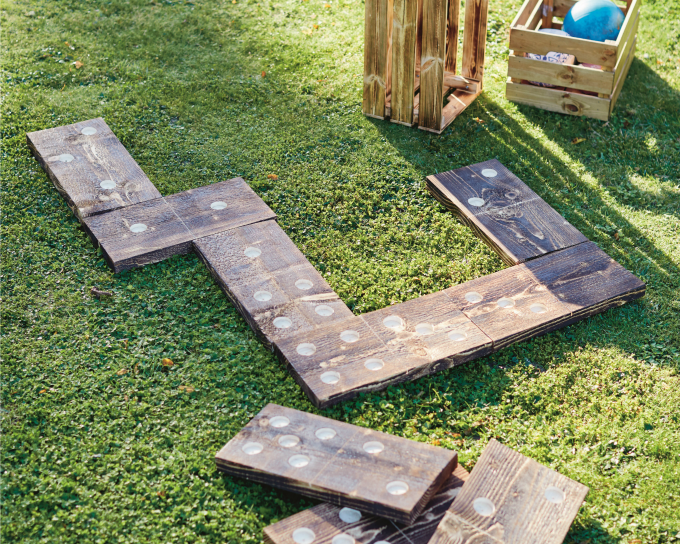 Make a set of giant dominoes that are great for any party or get together. Wholesome fun for all ages.

Prep Time 4 hours

Active Time 6 hours

Additional Time 1 days

Total Time 1 days 10 hours

Difficulty Moderate

Estimated Cost $75
Materials
Instructions
Cut the scaffold boards to equal-sized lengths with a hand saw. Each piece should be 16 inches (40cm) long, and you'll need at least 28 pieces in total. You'll need at least 38 ft of board for this project.
Sand the pieces all over until they're completely smooth. An electric mouse sander will make quick work of this. No one wants a splinter.
Char each domino piece all over, including the side edges, with a gas blow torch. This will darken the wood color, bring out the grain, and make the dominoes water resistant
Measure and mark the halfway point on each piece. Saw a shallow groove with a hand saw. Mark up and dot the centers of the number holes with a pencil..This is where you'll drill holes.
Using a Forstner drill bit, drill 35mm (11/2 inch) diameter dots about 1cm (3/8 inch) deep.
Paint the dots and the inside edges. Let dry completely.
Wax the entire board with clear furniture wax.
Find a smooth stretch of lawn and play
There's a lot of work involved, but the results are amazing. And these DIY Yard Dominoes are something that you'll play with again and again. And if you take care of them, they'll last you for a really long time.