Special thanks to Best Buy for sponsoring this post.
Just about everyone I know has a dishwasher. And for the few people that don't have one, it's high on their wish list. It just makes life easier.
Bosch, one of the top names in kitchen appliances, has just introduced a new line of dishwashers – the Bosch 100 series.
These dishwashers aren't your mama's dishwasher. Oh no. They're loaded with cool features that are designed for today's lifestyles.
About the Bosch 100 Series
I know some people are anti-dishwasher because they feel like it's always running, and they can't get all their dishes to fit in. The Bosch 100 series has added 30% more space with a third rack. Whaaa???  I know what you're saying now. How do you get those tall pieces in there, then? The adjustable Rackmatic™ rack has 9 different positions to fit all of your dishes, pots, pans, plastic containers, and whatever else in the dishwasher.
One of the biggest problems with dishwashers, though, is that they're so loud when they're running. Not so with the Bosch 100 series. Bosch is the quietest dishwasher brand in the US, and they have 18 built in sound reducing technologies.
Bosch dishwashers are super reliable too. They have the lowest repair rate of any of the major brands. Plus, they come in a variety of designs and styles to fit any kitchen size or décor. Not only that, but their models have 5 of the top 10 best drying scores, according to a leading consumer publication. That leaves your dishes sparkling clean and dry with no spots.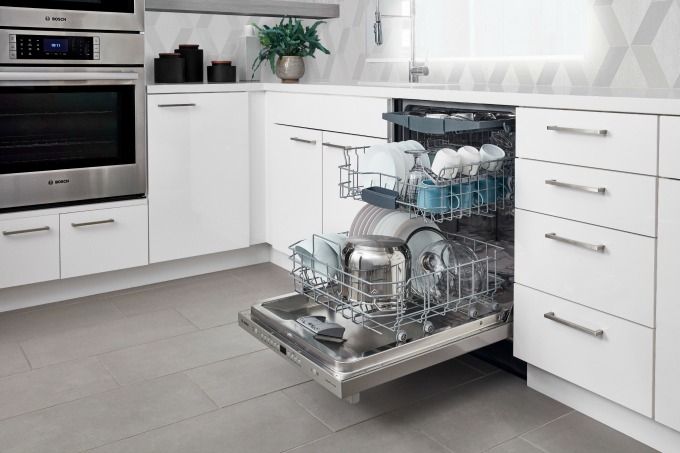 The new Bosch 100 Series has some additional features that you're totally going to want.
The utility rack lets you put those weird items that need to be washed in their own place. You know, like a whisk or ladles that you'd normally out in the top rack? No more! Pair that with the PrecisionWash, which allows you to skip pre-rinsing your dishes. PrecisionWash has sensors that gets every dish clean, every time. Just stick those babies in the dishwasher, which cuts down drastically on cleanup time. And when you add in the fingerprint resistant stainless steel? Oh yes please!
If you're doing a kitchen remodel, you're definitely going to want to take a look at the Bosch 100 line of dishwashers.