Delta Faucet invited me on an all expenses paid trip to their headquarters to learn about their latest designs and innovations.
When I was a kid, my mom always worked in plumbing showrooms. When she had to work on Saturdays, I would go to work with her, as would most of her co-worker's kids. We'd all claim a bathtub in the showroom, climb in, and watch cartoons. Isn't that what normal kids do?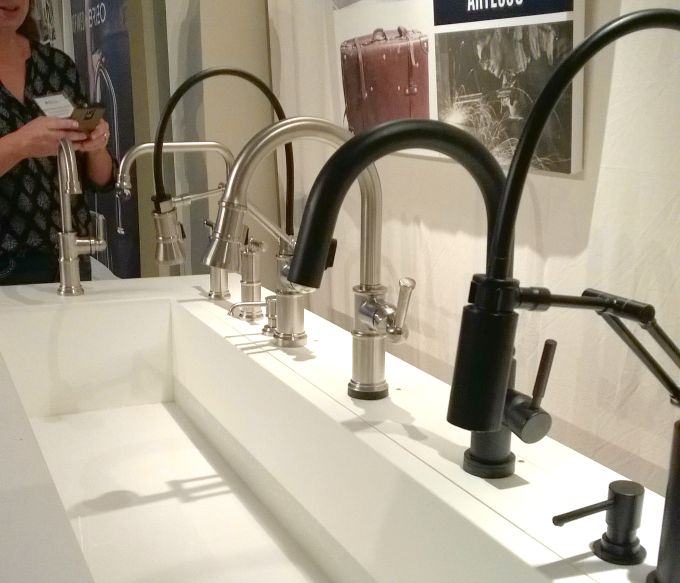 As I got older, I could identify faucets, toilets, and other fixtures in a bathroom – often by their part number. Oh dear, what was happening to me?!?! Total disclosure – I STILL DO IT! Albeit semi-subconsciously. So when Delta Faucet recently invited me on their annual blogger influencer trip, I was pretty excited. I mean, these were my people.
I flew out to Delta Faucet World HQ in Indianapolis, IN. When you first walk in, there are samples of just about every faucet they manufacture, in every finish, on display. Oh yes, I was home again. From there, we were ushered into a pretty luxe showroom (which we later learned was actually the gym) that had the upscale Brizo line on display. It was here that we learned about the process that goes into the design of faucets. I was sort of surprised at the amount of detail that really goes into each piece.
While hearing about the design of the faucets, we actually got to hear from each individual designer that worked on the faucets. I thought that was totally cool! You really got a sneak peek inside their heads, and how much work goes into a piece. Some pieces just come together and are meant to be, while others are total labors of love – or at least they started out as love! Who would have known that a pencil skirt, an airplane, or a baroque rose was the inspiration behind your kitchen and bathroom fixtures? Or how about the Brizo RSVP faucet with a giant Swarovski crystal on it?  OH YES PLEASE!!  Or how about any of the really awesome kitchen faucets from the Brizo line pictured at the top. Brizo has even created the first faucet that truly fits into a totally industrial aesthetic like a loft.
One of the other things that was interesting to hear about was the Touch2o, In2ition, and H2Okinetic technologies. Why do some items have sensors that stay on while other items have a different kind of sensor that shuts off when you move? What about the water temperature sensor? And how do you get an awesome shower using less water? It's all based on Delta Faucet's years of research, and watching how you really use the fixtures in your home. Intriguing, right?
I'll be sharing much more about my visit, including in depth coverage of the technologies, and some up and coming bathroom trends you'll want to be on the lookout for.