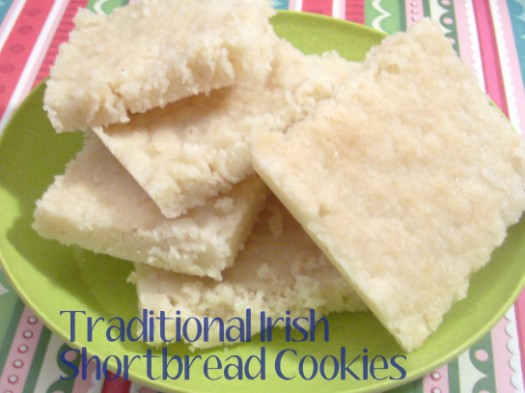 As you may know, I am a huge fan of shortbread! I love all kinds of shortbread cookies and I'm always looking for new recipes, new flavors, and different ways to make it. This recipe is for Authentic Irish Shortbread and would be a fabulous addition to your St Patrick's Day meal.
Oh. did I mention it's pretty easy to make, too.
Authentic Irish Shortbread Cookies Recipe
Makes an 8 inch round, or a thinner 8 x 8 inch pan
Ingredients
½ Cup Butter – no substitutions
¼ Cup Sugar
¼ Cup Cornstarch
¾ Cup Flour
¼ tsp. Salt
½ tsp. Vanilla
Additional sugar or colored sugar for top.
Directions
In a mixing bowl, beat the butter and sugar well. Add the cornstarch and beat until all is combined.
Add the flour, mixing until combined. Your shortbread will probably have a dry 'mealy' texture, and not be perfectly smooth. Add the salt and vanilla.
Pour the mixture into an 8 inch round or square pan. Pat out evenly, and pres together to make a smooth surfaced dough. Sprinkle with additional sugar.
Put the pan in the fridge for about 10 minutes. Then, bake at 325 degrees for about 12 – 15 minutes, until the cookies just start to turn golden around the edges. Remove from oven, and cut into wedges or squares.
When cool, remove from pan and serve.
These are very crisp, and using real butter makes a big difference in the flavor and texture of the shortbread.
Total time: 35 minutes
Looking for other great Irish recipes for St Patrick's Day? Check out these other great posts!