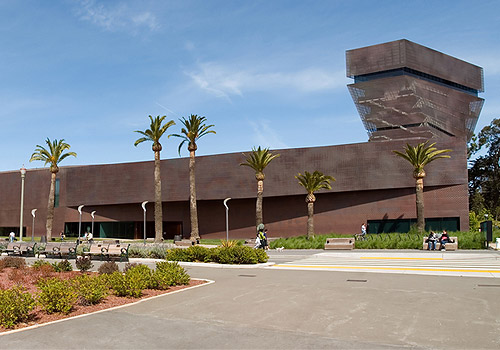 San Francisco is one of the great cities in not just the United Stated, but in the world. There are tons of fantastic places to see. Fisherman's Wharf. Ghirardelli Square. The amazing Chinatown. And you can't forget the iconic cable cars. You'd definitely want to hit Alcatraz, too. And of course, you can't forget about the Golden Gate Bridge!
In Golden Gate Park, which is like a west coast version of Central Park, there's an amazing museum. the M.H. de Young Memorial Museum, or simply, the de Young Museum, opened in 1895 where the California Midwinter International Exposition had been held. With more than 27,000 pieces in their possession, the museum has outgrown its original structures several times. The current home of the de Young Museum, shown above, was opened in 2005.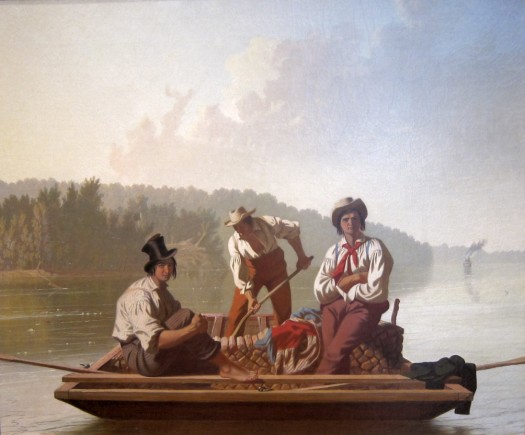 Boatmen on the Missouri painting. On display at de Young Museum.
The de Young Museum has an impressive collection of art that ranges from the 1600s up through modern day. Their American art collection is massive, with pieces ranging from Native American art to South American pieces straight through to modern day pop art. The de Young Museum's American Art Study Center is the preeminent American Art research center on the West Coast.
With more than 12,000 pieces, the de Young Museum houses one of the largest and most important collections of textiles and costumes in the United States. With pieces dating back more than 5,000 years from 125 countries, and spanning all types of textile making, there's something for everyone. The textiles and costumes exhibit also has a gigantic collection of couture fashion from some of the biggest designers.
One other category of art that the de Young museum has a large collection of is African art. With pieces crossing all genres from fine craft like pottery and basketry to artworks like sculpture and lithics, There's also a huge collection of artifacts ranging from a house post to feather money to wood carvings from different regions.
I always love going to museums when I travel. I think they're interesting, and even when the family acts like they don't want to go, generally they can get into it, too.