These tips for Feel Good Moments were brought to you by Ozarka® Natural Spring Water.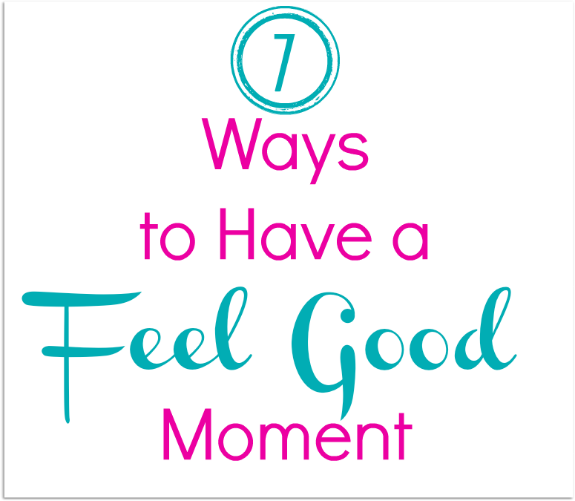 By Wednesday, I'm usually ready for a morale boost. Seriously…We're two days in to the work week, but we're also three days from the weekend. UGH! For me, personally, Wednesdays are the suckiest of sucky days. It just seems to move at about slug speed. There are a few ways that I give myself a pick me up. Some are good for you, some are less good for you but more indulgent. Remember, everything in moderation, right?
Manicures. I love love love nail polish, and cannot resist it. Usually, I do a DIY manicure, but occasionally I'll spring for a manicure at a salon. Sometimes, I'll even go pick up a new polish or two. Ooh la la!!
Walk it out. There's something about the endorphins from exercise that puts you in a good mood. While I'm not necessarily in the mood for a full on workout, I'll go walk the trails by my house. A lot of times, it just makes the stress of the day wash away.
 A tasty drink. Not necessarily an alcoholic beverage, but something that feels special. I like to mix lemonade or fruit juice with sparkling water. It lightens it up, makes it fizzy, and feels like an indulgence.
Trash TV – Classic escapism. If there's nothing good on tv, I'll choose something from Netflix or Hulu.
Baked goods. My choice is generally a good slice of cake or a tasty bar cookie. Yeah, this one isn't such a good indulgence. BUT, if you do so in moderation, it's not horrible. Plus, there are great options for making baked goods healthier, if you choose to go that route.
Going out with friends. Sometimes, you just need to blow off that steam! Rant, vent, and talk to others. Flirt with the cuties, chat, and have an adult beverage. Whatever.
Indulge in my favorite hobby. My favorite hobby happens to be crafting. So I'll get a bunch of my craft goodies out, and go to town.
Every hump day (or Wednesdays for those who don't know), Ozarka® Brand Sparkling Natural Spring Water is sharing some of their favorite ways to feel good and escape the midweek hump.
Head over to the Ozarka® Brand Sparkling Natural Spring Water Facebook page every #HumpDay to have a feel good moment and share your own.
Use these tips for any sucky day, not just Wednesdays. What's your best tip for a feel good moment?