Venice, Italy is notorious for being a great place for couples to go. Now, I'm not going to tell you that it's a great place for families or friendship groups too, although it probably is. I'm simply going to reiterate what you already knew: that Venice is the most romantic place for couples to visit, like, ever! Continue reading if you want to learn more about what Venice has on offer for you loved up people:
Romantic Things to Do in Venice Italy
Go for a Water Taxi Over a Gondola
Gondola Shmondola. Seriously, if you've already planned on going on a gondola ride, forget about it. I'll tell you the most romantic, exciting way to make your way into Venice: a water taxi! With a water taxi, you could be on your way to your hotel or apartment within minutes of landing at the airport. It isn't cheap by any means, but you'll feel like a star for a short while. A gondola is very tamed when compared with a water taxi, plus a whole lot more expensive.
Stay in an Apartment Not a Hotel
An apartment in Venice Italy would suit couples more than a hotel, but that's just my opinion. It's up to you where you stay, but the apartments are really lovely and will be the perfect base for your trip. The Italian site Venere can give you plenty of inspiration if you're trying to find somewhere to stay.
Cook Your Own Food Sometimes
Sure, eating out is fun. However, Venice has a range of fresh ingredients for sale – you'd be silly not to cook something yourself with the delicious produce! You can shop like a local, and buy any ingredient that takes your fancy. Seafood is a must when in Venice. The giant prawns are to die for! The vegetables aren't something to be sniffed at either. You might want to research recipes before you go though, or you'll be bowled over with the choice.
Eat Like a Local
If you want to really experience Venice, then I suggest you stay away from the usual touristy places and head on over to Bacaro. It's one of the small bars that locals frequent, and is perfect for a glass of vino and a small snack. It's cheap too, so it won't break the bank. There are a few more places like this around Venice too, so keep an eye out.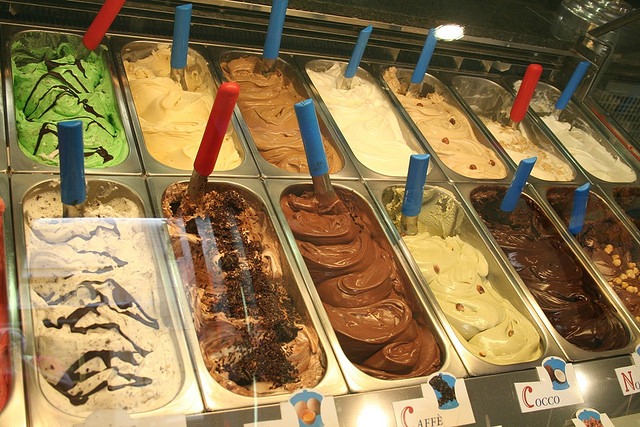 Enjoy Real Gelato
Have you ever tried real Italian ice cream? Well, now you can! You can't get any better than Boutique del Gelato in Venice. It's only small, but there's always a massive crowd waiting to be served. I promise, you won't think about the wait once you've tasted that yummy ice cream. Fresh ingredients are used, and the flavours are amazing!
Drink at a Waterside Bar
There's water all over Venice, as you probably already know. There are some fabulous places to drink too. So, why not drink at a waterside bar? My favourite is Al Chioschetto.
You can't get any better than the activities listed here for couples in Venice Italy. Go and enjoy your romantic trip away!
Image Credit antonychammond  Daniele Muscetta