I am a paper addict. One of the ways I reward/bribe myself is with a trip to the scrapbook store, or a new slab of paper from the craft store. I find that these things help get my creative juices flowing, and I can turn to them when I'm looking for inspiration.
Recently, I purchased the DCWV Tres Chic stack. This is a premium stack, so it's a heavier weight of paper and a lot of the pages have some type of embellishments. One of the pages that caught my eye was the sheet of tags and plaques.
 Here's how to make a set of French themed tags – quickly and easily.
Materials Needed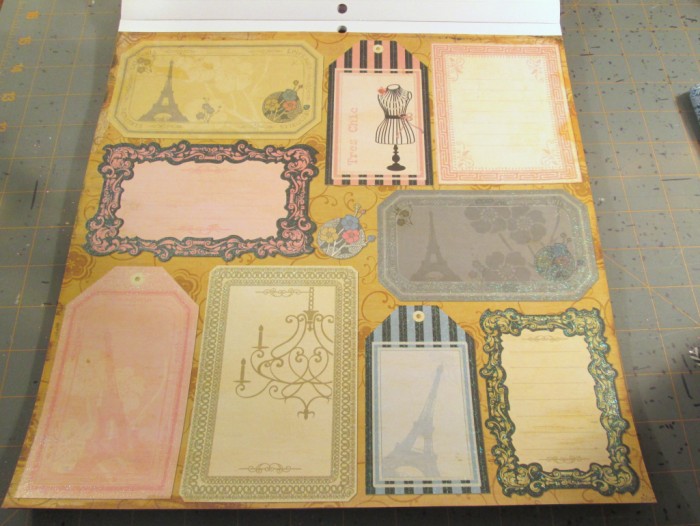 Tags page from Tres Chic paper stack
Fibers and ribbons
Grommets (optional)
Brown Marker (optional)
Scissors
Hole punch
Corner Rounder (optional)
Xacto Knife (optional)
 Quick and Easy French Tags Directions
Take the sheet of paper, and remove it from the stack. Cut all the tags and plaques apart.
Choose the tags from the rest of the pieces. Save the other pieces for another project. Trim around them, carefully. Because they were all straight edges, I just used scissors. You may find an Xacto knife and straightedge or a small paper cutter to be easier.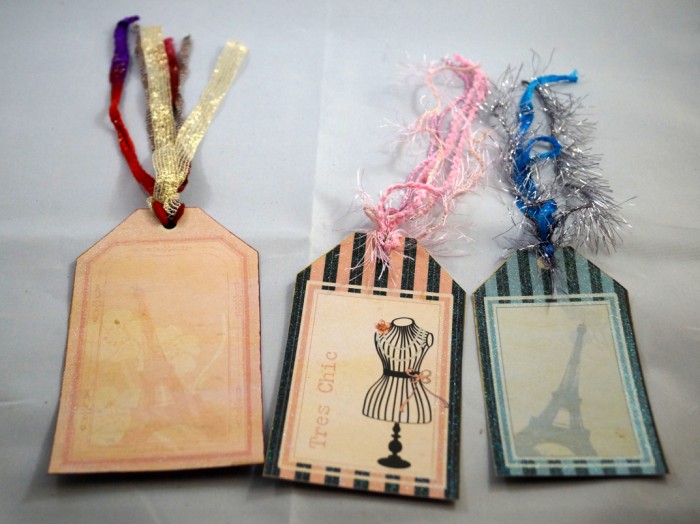 Once the tags were all trimmed, I ran a brown marker around the edges. This was mainly to get rid of the white of the freshly cut paper and to give them a very slight aged look.
Punch the hole out with your hole punch. I couldn't find a small one (story of my life!!) so I used a regular hole punch. Add the grommet, if desired. It helps to reinforce the hole and add a little sumtin-sumtin. I skipped it.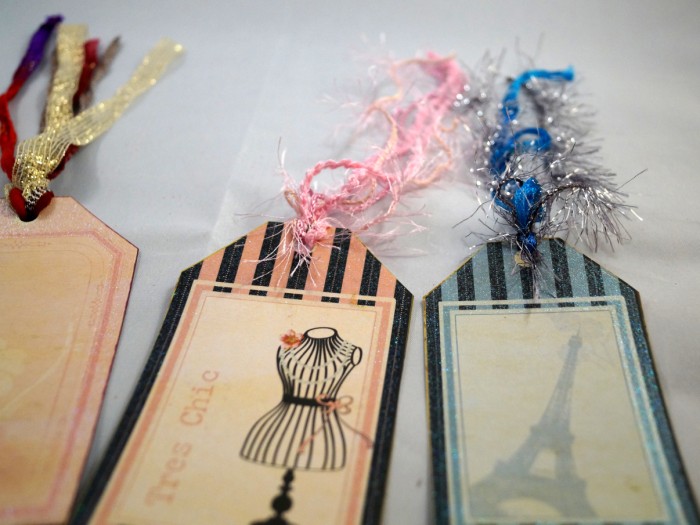 Add fibers and ribbons. I cut about a 6 inch length of three or four decorative fibers, and half-hitched them through the hole in my tag. Because I used a large hole punch, I used more fibers. If you use a smaller hole punch, you may only have room for one or two fibers or ribbons.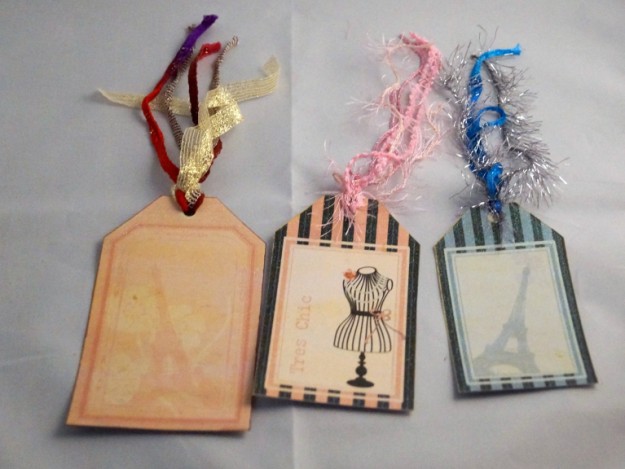 Voila! Your tags are finished! Super quick, super easy, super cute!
Total time: 10 minutes
Total Cost: The paper stack is $19.99, but can almost always be found on sale from $9.99-$11.99. The fibers I used are $6 a pack for 30 yards, and I used two different packs, but only about 18 inches from each. Starting cost is $22, but total project cost is about $0.50.