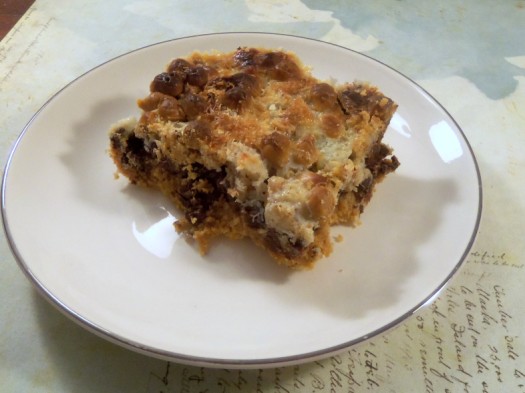 In all my many years of cooking and baking, I had never made Magic Cookie Bars. Heck, until a few years ago, I didn't even know what they were called! Whenever I wanted one, I'd have to explain it to people "It has cookie base and coconut and chocolate…and it's really sweet and tastes good?"
Anyway, in honor of National Cookie Day, I decided I was going to make Magic Bars. All by myself! Turns out they're pretty dang easy to make. A little pricey, but really easy.
Magic Cookie Bars Recipe
1 1/2 cups graham cracker crumbs

1/2 cup butter, melted

1 (14 oz.) can sweetened condensed milk

1 cup ( half of a 12 oz. pkg.) semi-sweet chocolate chips

1 cup ( half of a 12 oz. pkg.) butterscotch chocolate chips

1 1/3 cups flaked coconut – I used unsweetened. Because I had it, and this is already really sweet.

1 cup chopped nuts – Optional. I used some walnuts I had left over from another recipe.


Non Stick Spray
Directions
HEAT oven to 350°F. Coat 13 x 9-inch baking pan with no-stick cooking spray.
COMBINE graham cracker crumbs and butter in small bowl. Press into bottom of prepared pan. Pour sweetened condensed milk evenly over crumb mixture. Layer evenly with chocolate chips, coconut and nuts. Press down firmly with fork.
BAKE 25 to 30 minutes or until lightly browned. Loosen from sides of pan while still warm; cool on wire rack. Cut into bars or diamonds.
Try not to devour!

Recipe adapted from EagleBrand.com