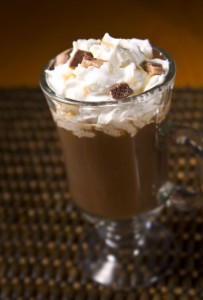 I am not much of a coffee drinker. Drip coffee, that is. If you're talking froufrou coffee drinks – well, that's a different story altogether. Want to go out for a latte? I am so there!
A fair amount of my pocket money goes to these ridiculous(ly good and tasty) coffee beverages. It doesn't have to be that way, though! You can make your own at home. And you don't need a $1,000 machine, either.
With Eight O'Clock Coffee, you can bring the coffeehouse to your house.
Here's what you need:
Caramel O'Clock Coffee (like a Caramel Macchiato)
1 Cup hot brewed Eight O'Clock Original Coffee
2 Tbsp Milk
1 Tbsp Caramel Syrup
Whipped Cream
Chocolate Toffees, chopped into small pieces

Drizzle half of caramel syrup into the bottom of mug. Pour coffee. Add milk. Add whipped cream. Drizzle remaining caramel syrup over whipped cream. Garnish with chocolate toffees.
Pretty easy, huh?