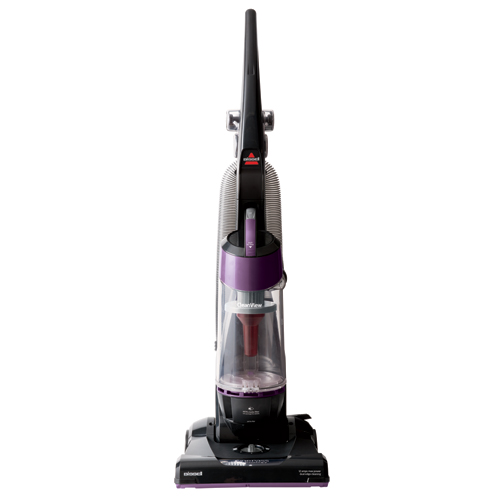 Spring is a time of renewal. The winter cold fades away, the trees start leafing out, and before you know it, there's flowers and baby animals everywhere you look. Doesn't your home deserve some of this rejuvenation? I'm starting with spring cleaning and the BISSELL CleanView Vacuum.
I thought that my current vacuum was doing a good job. Sure, every once in a while I'd have to stop, untangle stuff, and then get back to work, but that was no biggie. I probably shouldn't have vacuumed over all that stringy stuff anyway. But, it seemed to clean up the dirt and debris with no real issues.
Then, I tried the BISSELL CleanView Vacuum. Holy heck, what a difference! I mean, I vacuum regularly but this was really something else. It pulled out all kinds of deep-down dirt and yucky stuff. Stuff that was in my carpet! I have to admit, I was kind of grossed out. I walk around barefoot. I lay on the floor sometimes. And this…stuff…was right there.
The BISSELL CleanView is a bagless vacuum. That means there's a big ol' tank where you can see all the stuff that's getting sucked out of your carpet. It even makes the claim that it cleans better than Dyson DC25 and Eureka Airspeed Zuum. I've never used either of those vacuums, so I can't say for sure.
BISSELL CleanView Vacuum details –
Fast and easy cleaning in a lightweight vacuum with powerful suction and innovative brush design that cleans more on the initial pass
Innovative brush design rotates down into carpet to clean more on the initial pass
Cyclonic System for long-lasting, powerful suction
TurboBrush® tool for stairs, furniture, upholstery, and more
Easy Empty™ dirt tank, HEPA media filter, and washable foam tank filter
Extra long power cord.
The BISSELL CleanView vacuum got right up to the wall. None of those big, wide strips that don't get vacuumed. It also goes under furniture without too much work. There's a couple of different brush head attachments, and a crevice tool, too. Due to the clear tank, you can really see when you need to empty the tank. I had a bit of difficulty getting the tank off, and then opening it to empty. I didn't realize that the whole bottom opened up to dump the debris tank out. I also ended up dumping some of the debris back on my floor while trying to get the tank open. However, putting it back on was a breeze, and I just vacuumed up the stuff that had fallen out.
Not only did the BISSELL CleanView vacuum suck up hidden dirt and debris, it vacuumed up all kinds of other stuff. Packing peanuts, crinkle shred, a coin, a Q-tip, and rock salt were all sucked up with ease. It was pretty standard as far as noise and weight went. I was really surprised at how well this vacuum worked. Even if you think your vacuum is good, you may want to take another look.
"I participated in a campaign on behalf of Mom Central Consulting for BISSELL. I received a product sample to help facilitate my review."