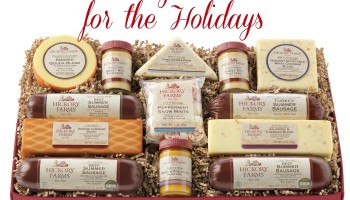 Thanks to Hickory Farms for sponsoring today's conversation about the holidays!
One of my favorite things about the holidays has always been the food.  While I enjoy all the family meals, the cookie exchanges, the homemade cakes and candy, and the holiday get together, there's one thing that just tops it all for me – those fantastic gift baskets that everyone seems to send you!
You see, my mom worked in an office, and they had a lot of customers and salespeople that would both send them these amazing gift baskets.  Loaded with lots of goodies like sausages and salamis, various cheeses and candies, these were something that I looked forward to.  A trip to the mall wasn't complete without a stop at the Hickory Farms pop up shop.  The workers were almost always handing out samples, and you'd think that I had died and gone to heaven!  Usually, we would pick up a little sumtin sumtin, too.