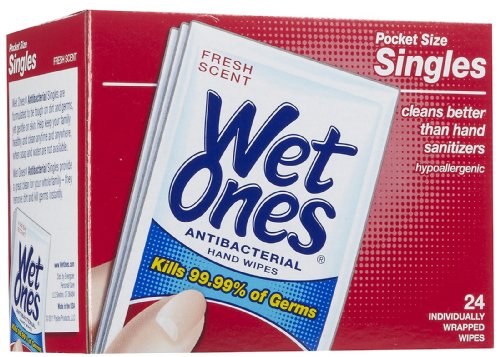 In our family, I seem to be the messy one. I am always dragging my sleeve through something or putting my hand down on something sticky. It seems that if there's something messy in a store, I will inadvertently find it. Not to mention all the germs, viruses, and bacteria that are laying in wait.
Because of this hidden talent, I always have Wet Ones on hand. I cannot tell you how many times they have been a lifesaver. I keep a couple in my purse and a few in my car. Heck, I even carry them in my gear when I'm out hiking.
Getting your little one prepared for school is much the same. They come into contact with the same kind of stuff I seem to attract. Plus, as we all know, once one kid has a cold, cough, or other illness, it seems to spread like wildfire. Did you know that some viruses and bacteria can live on hard surfaces for 2 hours? Yikes!
While thorough washing with soap and water are more than adequate for killing germs, that's not always feasible. That's why Wet Ones antibacterial wipes are such a great thing to carry with you. The wipes are available in several package variations. These include a 40 ct canister that fits into a cup holder in the car, a 15 ct travel pack, or a 24 ct box of individually packaged wipes. They also have a larger size for bigger messes.
Personally, I prefer the individually wrapped wipes. That way, I don't have to carry a big thing of them around with me. I do tend to keep a travel pack in the center console of my car, though.
You can toss a few of the Wet Ones wipes in your kids' backpacks, a lunchbox, or even their coat pockets. A canister or two would make a great addition to the classroom supplies, too.

I wrote this review while participating in a blog tour by Mom Central Consulting on behalf of Wet Ones. I received a product sample to facilitate my review and a promotional item to thank me for taking the time to participate.