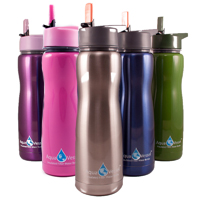 I have always been a big water drinker. I've never been much of a fan of soda. One of my greatest joys is bottled water. However, bottled water is sooo bad for the environment. I mean, all those bottles have to go somewhere. Plus, buying a couple bottles of water a day starts to add up. A water filter bottle is a great alternative.
Water filter bottles have been around for a while, but it's really just been in the last couple of years that they've gained in popularity. Prior to this time, you almost had to go to a hard-core camping supply store or even a survivalist catalog to get your hands on one.
Those days are no longer! You can find water filter bottles in mainstream stores and catalogs now. Eco Vessel has a line of water filter bottles called Aqua Vessel. Aqua Vessel bottles are stainless steel bottles that come in fashion colors. Better than that, though, these bottles can filter up to 100 gallons of water! That means that the 17 oz bottles can be filled 753 times before the filter needs to be replaced. How awesome is that? I say very.

Some of the other features of the Aqua Vessel water filter bottle include:
BPA free
Made from top quality 18/8 Stainless Steel
Insulated to keep your water cool
100% recyclable
Fun colors
Activated coconut shell carbon filter
Improves taste of water
The filter filters out
99.9% of Giardia and Cryptosporidium
Reduces toxic chemicals, including DDT, MBTE, and Arsenic.
Reduces heavy metals like Copper, Lead, mercury, aluminum, and chromium 6.
Reduces microscopic pathogens, chlorine, sediment, and dirt.
Just think about how much cleaner your water will be? Or maybe you don't want to, because the thought of it can be rather icky. The MiraGuard antimicrobial technology even keeps the filter and straws from getting moldy. Don't think that you can only drink tap water with your Aqua Vessel water filter bottle. Oh no. It will filter all this nastiness out of creek and river water, too!
The Aqua Vessel water filter bottle is designed to go anywhere you do. Whether it's just running errands around town or trekking through the wilderness, Eco Vessel has you covered!

You can connect with Eco Vessel on Facebook and Twitter, too.