It's Summertime- and you know what that means.  Lots and lots of get-togethers.  Block parties.  Birthdays.  BBQs.  Family Gatherings.  Weddings.  Bridal Showers.  Heck, in my life, there's a ton of baby showers.  And you know that you're gonna need invitations.
However, we're gonna focus on birthday invitations for adults.  Because the most awesome people have summer birthdays.  Like yours truly!  TinyPrints has a really great selection of invitations for everyone.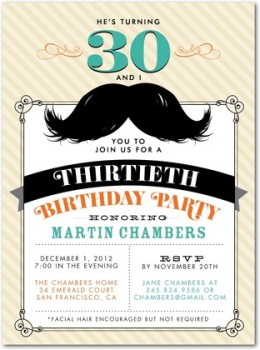 Magnificent Mustache – How great are these for a guy's birthday?
Lovely Table Invites – I love these!  These would work for so many things, including a Bridal Shower or an engagement party.  Even a simple brunch or dinner party.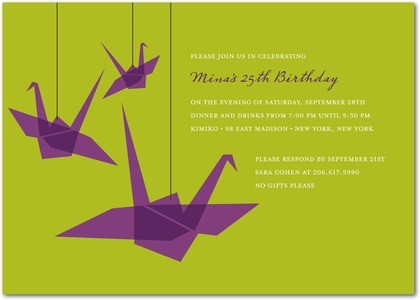 Ornate Origami – I love the elegant simplicity of these!
These are a few of my favorites.  What are yours?