Have you ever wanted to start a business?  Have you thought that it wasn't for you?  "I could never do that" you might say.  Well…you're wrong.  The first thing you need is a good idea. It doesn't matter if it's already out there – is there only one car company or one kind of jeans?  No, there are tons, each with their own selling point.  That's the point of the book The Barefoot Executive by Carrie Wilkerson.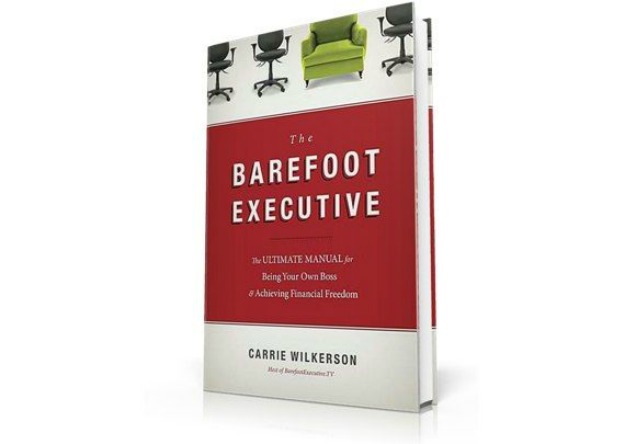 In her book, Wilkerson provides lots of useful advice in plain English.  You don't have to decipher business jargon.  Some of it seems really basic – like chase your own dream.  You might think "no duh!"  But that's one of the reasons businesses fail or people get burned out.  It's not their dream!  If you don't like to cook, you certainly don't want to start a cupcake business.  Such a simple concept that so many seem to forget. 
The Barefoot Executive helps to guide you through the decision making process, in simple, easy to understand language.  There are information boxes, referred to as "Barefoot Action Steps" scattered throughout the book.  Things like discussing your financial situation – and not just your income, but analyzing your spending habits. 
 In addition to these info boxes, The Barefoot Executive has compiled quite a few "case studies" from other small business owners.  The one glaring thing I noticed about these case studies is the fact that not a single one dealt with a physical product.  All of the case studies involved some type of online service business – like life coaches, business coaches, public speakers, and similar.   While that's all well and good, there's quite a difference between selling services and managing goods. 
 If you're seriously considering starting a business, I would definitely recommend reading The Barefoot Executive.  It's also a quick read.  You could easily read this in a weekend. 
Info about The Barefoot Executive
The Barefoot Excecutive by Carrie Wilkerson
Published by Thomas Nelson
$24.99/US for the hardcover.
I received a copy of this book for review purposes only and no other compensation. All opinions are mine. Links may be affiliate links, and we earn a small amount if you purchase through them.