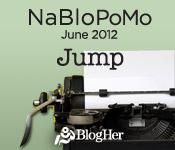 Should you look before you leap? I suppose one should. Of course, one doesn't always takes one's own advice, if you know what I mean. There have been quite a few instances where I should have looked before I leapt. Buying a house was one of those times. While there was nothing really bad about the experience, I was not really prepared to be a homeowner.
Of course, I've often been a fly by the seat of my pants kind of person. Even when I have investigated things thoroughly, they don't always end up well. Liiiiikeeee…moving halfway across the country, as my parents did when I was a wee one. For some reason, they decided to build a house, and…well…it was quite the experience!
Sometimes it pays to be cautious and other times, you have to take the leap of faith.