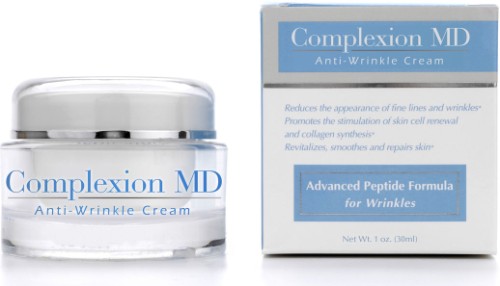 My skin is fairly normal, but leans a little on the dry side; and if I'm not careful, little lines and wrinkles start to appear.
I'm also at that age – approaching (gasp!) 30, where I am starting to think about how I might mature, and what steps I can take now to make my skin look as good as it can in 10-20-30 years.
The thought of invasive procedures petrifies me; no facelifts, fillers, injections on this girl!
So, I set out to find a less invasive solution to my dry skin and little lines problems.
I wanted something that didn't just conceal the problems I was having, but would actually be beneficial to my skin.
I read about
Complexion MD Anti-Wrinkle Cream
's Advance Peptide Formula and thought I would give it a try.
Complexion MD Anti-Wrinkle Cream not only reduces the appearance on fine wrinkles and lines, it also promotes healthy skin and collagen, and repairs some skin damage.
It also helps fade skin discoloration, like age spots.
It uses three types of peptides to repair and build healthy skin cells.
All are dermatologist tested and clinically proven to be the building blocks for healthy, smooth and supple skin.
After just a few short weeks, I noticed a big difference in my skin; the color was more even, it seemed to be more toned, and was very soft!
Many of those annoying little lines were smaller, and some had even disappeared!
I was pleased with the results I had achieved with the Complexion MD Anti-Wrinkle Cream.
One last thought – Complexion MD does offer a money-back guarantee if you aren't happy with their products.
What more can you ask for in a skin care product?