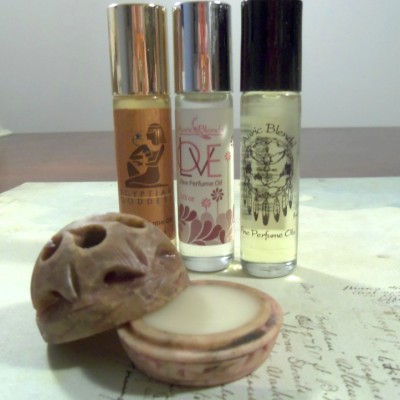 I love perfumes. It's another one of the surprises about me. One of the great things about perfume is that you can match it to your mood. Are you feeling frilly and feminine? How about something delicate or flowery? Having a sporty day? Try a unisex scent.
Auric Blends
is a fantastic boutique perfume company. With more than 40 different and unique scents, they have a little something for everyone. Even better, their scents come in a variety of styles. Prefer an atomizer spray? They have that. Rather have a perfume roll on that you can take everywhere? They've got you covered. Like your scent in a solid form? Well, Auric Blends even has a great perfume balm.
Auric Blends was kind enough to send me an assortment of their wonderful scents. I received Egyptian Goddess, Love, Water Goddess, and Dark Opium. This is a great collection of the main scent categories.
Love is a sweet, flowery scent. This is a fabulous everyday scent. It's subtle and not overpowering. It's girly without being froufrou. Know what I mean? This is their #2 best seller.
Water Goddess smells very fresh. Claire says "It's sort of a Floral-Based Earth Mother scent." I think it has a slight scent of fresh grass. I've been wearing this regularly.
Egyptian Goddess is a light musky scent. This is Auric Blends' #1 best seller. This scent is also available in soap and a candle.
Dark Opium was Claire's favorite, by far. In fact, she's been wearing it every day for the last week! It's earthy and spicy, not floral at all. She says it reminds her of her granola days. This one was a solid, in one of Auric Blends' great carved soapstone containers. This looks so much fancier than the $8.50 pricetag.
No matter what your fragrance style, Auric Blends has you covered.
Connect with them on
Facebook
and Twitter, too.