Rachel at Rachel's Reviews and Giveaways is in training for a half marathon! Can you imagine? I could never ever ever run a half marathon. Heck, I'm not sure I could run a 5k or a 10k. Nor would I really want to, honestly.
I've never been a fan of running. I'm sure part of that is being full-busted. I don't really need two black eyes from my workout, know what I mean? Swimming has always been my preferred form of fitness. We've always had a swimming pool though. If not in our own backyard, at least in our subdivision or complex.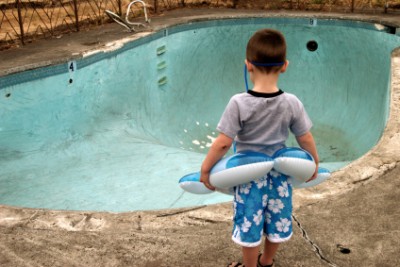 Since moving to the Midwest, I haven't gotten to swim nearly as much as I like to. Pools are a lot more uncommon here. Plus – they don't open them until Memorial Day weekend, at the earliest. That's crazy! And then they close the pools at the middle to end of August. Don't they know that's still prime swimming season? It makes me so sad. It makes me feel like this picture.
When I can't get to a pool, I usually end up walking for exercise. This works pretty well for me, as there's a couple of great paths by my house. One's about ¾ of a mile, one is ½ a mile, and they just opened a new trail that's exactly a mile. Depending on how I'm feeling that day, the weather, and other assorted factors, I decide which path to take.
I try to get out every day and walk. It helps me to clear my head and really focus on what needs to be done. I'm sure it has something to do with the fresh air and the endorphins, as much as the getting away from my desk.
Of course, the toning and slimming effects don't hurt at all! How about you? What do you do for a workout or fitness?