Stars are always in style. While they seem to pop up during the summer months, there's never a bad time to wear 'em. Whether it's a pair of subtle star earrings, a great pair of star printed shoes, or a seriously awesome star skirt, wear your star fashions with pride.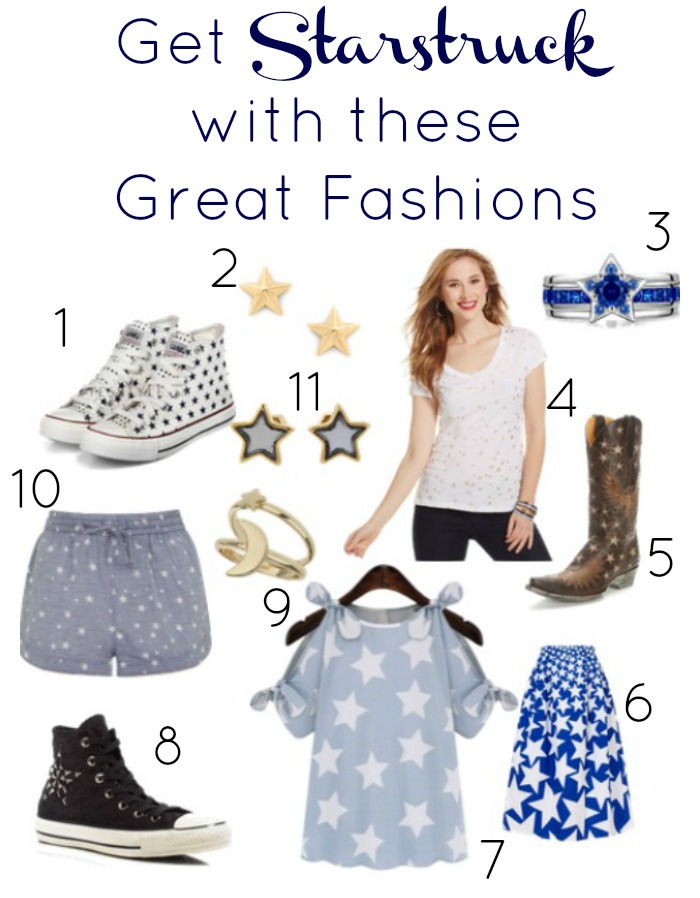 Stars can easily be mixed and matched with other patterns, too.  Stars and plaid? Check.  Circles?  Uh huh.  Stars and stripes?  Um, of course! These are a few of our favorite star fashion items that left us totally starstruck.
These star fashion items may have affiliate links.  We get a few pennies, at no cost to you, should you decide to make a purchase. It helps with our cupcakes and nail polish addictions.
1. Star Print Sneakers ($36)  2. Rebecca Minkoff Star Earrings ($28)  3. Dark Blue CZ Star Ring ($130)  4. Style & Co Star Print Shirt – I actually own this shirt and LOVE it. ($22.50, on sale for $11 as I write this.  Available in plus sizes, too!) 5. Old Gringo Star Cowgirl Boots ($560)  6. Blue Star Lauren Skirt ($600)  7. Scoop Neck Loose Fitting Star Print Dress ($37)  8. Converse Lurex High Tops ($65)  9. Star and Moon 2 piece ring set ($9) 10. Rails Finley Star Print Denim Shorts ($108)  11. Marc by Marc Jacobs All Stars Stud Earrings ($42)