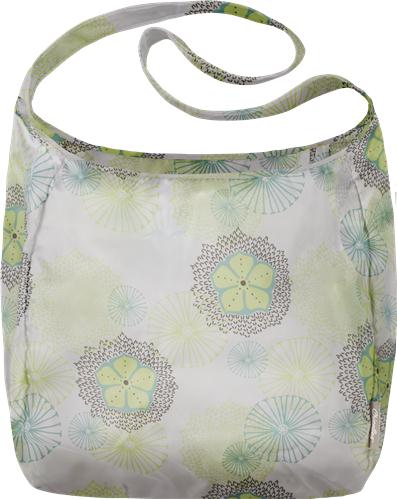 I'm one of those people that always has a few bags in the car. Generally they're some type of tote bag or satchel that I received for free from some event or a book club. Lately, though, I've been bringing
reusable bags
with me. The latest addition to my collection is from Chico Bags.
There are several reasons that I like the reusable grocery bags. One is that they fold up to be pretty small. This one folds into a pouch that's about the size of a pocket pack of tissues, maybe a little bit bigger. Another is that these bags are pretty big and can hold a lot of bulky items. I often use them to transport my mail home from my office or to tote packages on the way to the post office.
The new Sling Solstice bag in White Sunburst has a totally different design than my other bags. It has almost a messenger bag design, minus the flap. With the long strap, you can wear this one cross-body as well.
While these Sling bags are large, they are incredibly lightweight. Each one probably weighs a couple ounces at the most. And even though they're light, they are incredibly strong. Each Sling bag can carry somewhere between 30 and 40 pounds! That's like putting a small child in this bag and carrying him or her around. And if the bag gets dirty or you have a messy spill, just toss it in the washing machine with a mild soap! How awesome is that?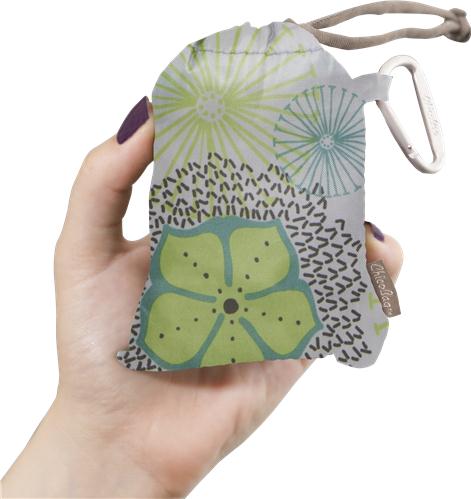 I also love all the colors and patterns that these bags come in. There is literally something that will appeal to everyone. While I like the fun colors and patterns, others may enjoy some of the patterns that are more natural looking or even pretty. You can even find solid colored reusable grocery bags.
Reusable bags are one of those things that make a small difference. But, as we all know, small changes can equal huge results!