It's that time of year again!  You know the time when Pumpkin Spice everything invades our lives?  Yep, it's upon us, and it is glorious.  Fall just so happens to be my favorite season, for many reasons.  These include getting sweaters out, leaves beginning to change color, and the crisp, cooler weather. When Pumpkin Spice starts showing up, I know it's just a matter of time…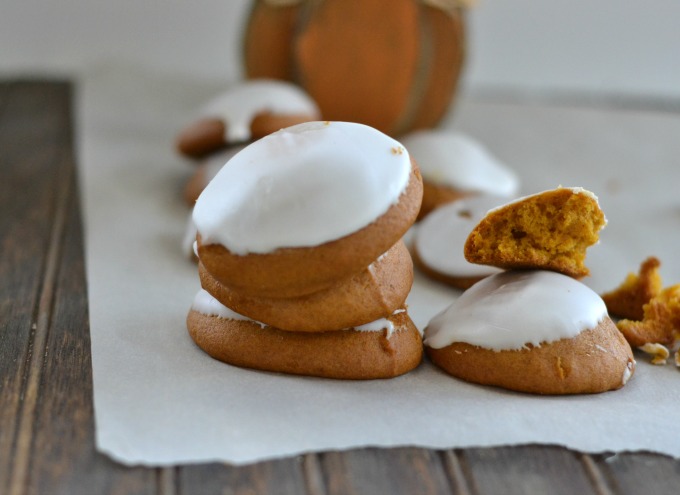 These soft pumpkin spice cookies are destined to become one of your new favorites. The flavor is good on their own, but then adding a really decadent cream cheese frosting?  Oh mama! These are reminiscent of those soft sugar cookies you can get at the grocery store, only better.  So much better.
Soft Pumpkin Spice Cookies with Cream Cheese Frosting
Soft Pumpkin Spice Cookies with Cream Cheese Frosting
Ingredients
2 1/2 cups all-purpose flour
1 teaspoon baking powder
1 teaspoon baking soda
2 teaspoons ground cinnamon
1/2 teaspoon ground nutmeg
1/2 teaspoon ground cloves
1/2 teaspoon salt
1/2 cup butter, softened
1 1/2 cups white sugar
1 cup canned pumpkin puree
1 egg
1 teaspoon vanilla extract

For the Frosting

1/2 cup softened butter
1/2 cup softened cream cheese
2-3 cups powdered sugar (2 ½ cups was about the right sweetness for my
taste)
1 tsp. vanilla extract
Instructions
Preheat oven to 350 degrees.
Combine flour, Baking soda, Baking powder, cinnamon, nutmeg, and salt in a medium bowl and set aside.
Cream together the butter and white sugar.
Add pumpkin, egg, and vanilla to butter mixture, and beat until creamy.
Add dry ingredients gradually and beat until combined.
Drop on cookie sheet by tablespoonfuls. The dough will be pretty soft.
Bake for 15 to 20 minutes.

For the Frosting

In another bowl, cream butter, vanilla, and cream cheese together.
Add 1/2 c of powdered sugar and mix well. Continue adding 1/2 c of powdered sugar at a time until you get your desired consistency and flavor.
When the Pumpkin Spice Cookies are cooled, spread frosting on top with a spatula or table knife
7.8.1.2
81
https://www.gretasday.com/pumpkin-spice-cookies-with-cream-cheese-frosting-recipe/
Pair these Pumpkin Spice Cookies with some really good tea, or a cup of coffee, and you're completely set.