I love snacks. Love them! While I like cookies and stuff, I much prefer salty snacks like pretzels, crackers and chips. You can add Pretzel Crisps to that list, as well.
Pretzel Crisps are the best part of the pretzel. You get all the good outside part without the huft and bulk of the bready part of the pretzel. They're thin and crispy, like a cracker. You can eat them by the handful. Or you can be graceful and have Pretzel Crisps with traditional toppings or dips. I really like them with Hummus.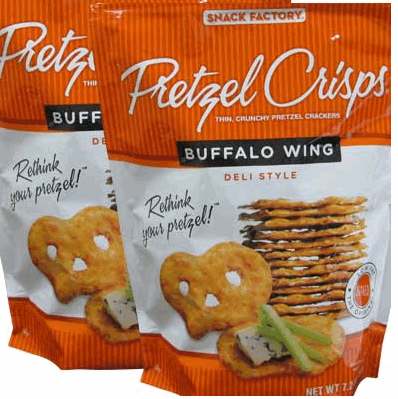 I had the opportunity to try the entire Deli line. The flavors include
Original – Like a normal pretzel. Only as crackers!!
Sesame – Just like Original, but with the addition of sesame seeds
Everything – Everything bagels have been a favorite here for 20+ years. Everything pretzels? Yes please!! Garlic, onion, poppy seeds, salt, and sesame seeds. mmmmmmm
Garlic Parmesan – These are the pretzel base, with a powdered garlicy cheese coating.
Chipotle Cheddar – These have a spicy cheddar coating. Duh, right?
Jalapeno Jack – Spicy Jalapeno flavor combined with smooth jack cheese.
Buffalo Wing – Just like the traditional Buffalo wings.
I will admit that the Everything flavor were my favorite. In fact, when I opened the box, I went for those first and we ate them while checking out the other varieties. There are a ton of the Pretzel Crisps in a package, too. It felt like we kept eating them, reaching in for more, and never hitting the bottom of the bag. Until we reached the bottom of the bag and the sads hit.
Pretzel Crisps are a fantastic, healthier option to chips. I take my lunch to work just about every day, so I know that these are going to be a great addition to my lunch bag.
You can connect with Pretzel Crisps several ways. A few of those include Pinterest, Facebook, and Twitter.